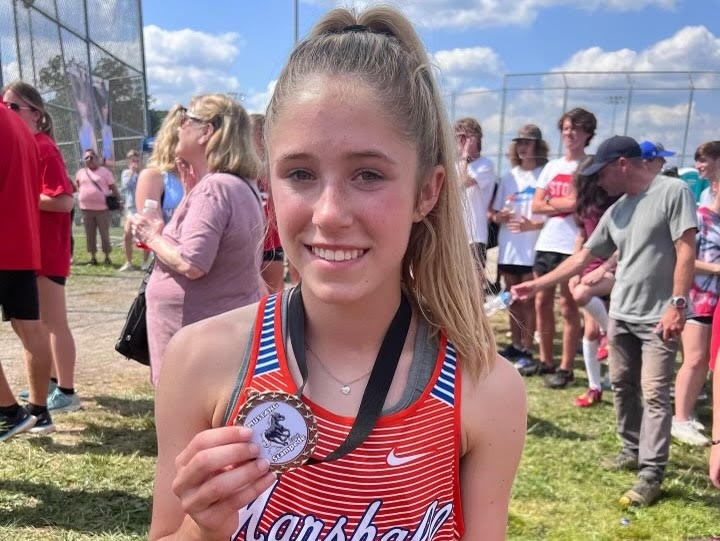 Addison Lyles finished in the top five at last Saturday's Mustang Stampede cross country race hosted by Muhlenberg County. She crossed the finish in fifth place with a 5K time of 20:45.23. Addison McKinney and Delaney Miller completed their first 5K race for the Lady Marshals. McKinney placed 75th (27:08.01) and Miller 104th (30:32.88).
Head Coach Chris Kerrick said of Lyles fifth place finish, "She is simply a beast." He was also very proud of McKinney and Miller on their first ever 5K race.
Morgan Kobylinski from Ohio County took the win with a time of 19:28.65 and Thomas Ashby from Apollo won the boys race in 15:42.81.
Ethan McCarty placed 26th in 17:46.83 and Sawyer Collins finished 44th in 18:45.26 for the Marshals top two results. Daniel Walker's time of 19:32.42 was good for 62nd, Walker Jones finished 68th in 19:42.47 and Fisher Beth 76th in 20:03.66. Also running for the Marshals, Sam Martin (22:08.10), Gabriel Niloff (25:29.42) and Kasey Wyatt (30:30.55).
"Our boys' team showed some improvement with some big PRs from a few like Sam Martin", said Kerrick. "He PRed by 45 seconds. We still have a way to go, but their attitudes are much more focused than before."
The Marshals finished ninth in the field of 17 teams. The team from Apollo took first.
The team will race on home soil Saturday when they host the Marshall County Invitational. The meet gets underway at 9:00AM with the one-mile elementary school race. The varsity girls go off at 9:30 followed by the boys at 10:15. Middle school girls 4K race is at 11:00 and the boys take off at 11:30.