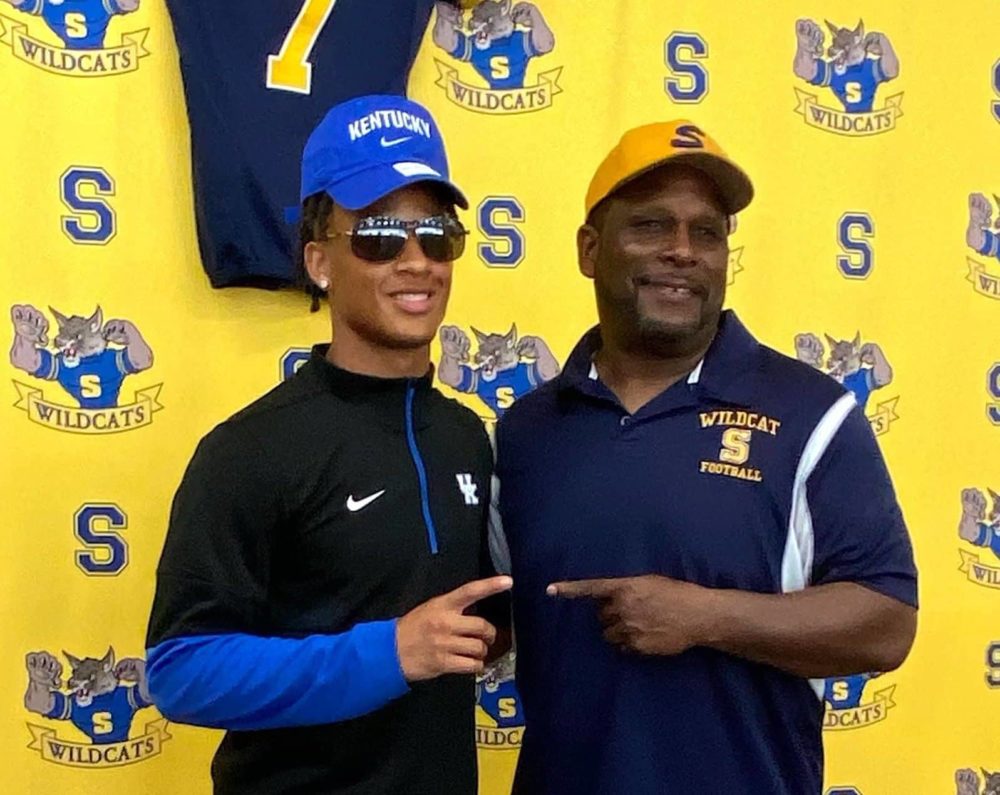 By LARRY VAUGHT
Kentucky has some terrific freshman receivers on campus this year which makes sense after what offensive coordinator Liam Coen and quarterback Will Levis did with the offense in 2021.
However, Kentucky also already has two big-time receivers — four-star prospects Anthony Brown and Shamir Porter — committed for the 2023 class even though the Cats have a new offensive coordinator (Rich Scangarello) and Levis figures to be NFL bound after this season ends.
"I think it shows the direction coach (Mark) Stoops and his staff have the program headed. They have done a tremendous job the last 10 years and kids believe in the NFL-style offense they have now and know coach Stoops will have a quarterback to make it work," said Maurice Douglass, Brown's high school coach in Springfield, Ohio, and a 11-year NFL defensive back.
Brown had 29 scholarship offers, including Michigan, Oklahoma, Penn State and Cincinnati. He had 57 catches for 822 yards and seven touchdowns, including a 74-yard play, in 12 games last season. As a sophomore in 2020 he had 40 catches for 829 yards and nine scores in 10 games.
Several recruiting analysts have said Brown reminds them of Wan'Dale Robinson, Kentucky's record-setting receiver last year who is now with the New York Giants. Kentucky coaches also envision the same type of role for Brown.
"I think he could be that good," Douglass, a former UK defensive back, said. "I thought Wan'Dale did a tremendous job for the Wildcats. I really see a lot of Wan'Dale in Anthony but he's also a blend between Wan'Dale and Lynn (Bowden).
"Anthony has the ability to get in and out of breaks. He might be more polished than either Wan'Dale or Lynn coming into college because he has played the position (receiver) more than they did in high school with Lynn being a quarterback and Wan'Dale a running back. Anthony is already so polished and explosive and could be a really great player."
What makes him so special to even be mentioned with Robinson and Bowden, two great playmakers at UK?
"His suddenness. His first step off the line he climbs on you. As a defender, he steps on your toe," Douglass said. "He is able to get in and out of cuts extremely well."
Douglass has known Brown since he was in fourth grade and has watched him work to make himself a special player. The coach calls him a "grinder" who will work out three or four times a day.
"We had to shut him down last year because he was training too much. Not a lot of kids do that," Douglass said. "He will go to a trainer in Dayton or Columbus but then still work out with us because he wants to be special."
Brown, who has a brother who plays receiver for Minnesota, missed three games last season because of a shoulder injury.
"We had three receivers with over 800 receiving yards last year and all had over 40 receptions," Douglass said. "Our quarterback had a little under 900 yards rushing and we had two running backs with about 500 yards each rushing. We had an explosive offense and expect to have the same thing this year and I am sure he will put up some crazy numbers again. I think he should have 65 to 70 catches or more."
Brown actually played cornerback some as a sophomore and had two interceptions and five pass breakups.
"I told him two weeks ago if something happens to our first corner, he's going in," Douglass said.
Douglass says the only thing keeping Brown from being a high-level collegiate defensive back is his size.
"He's more like 5-9 and now teams are looking for 6-1, 6-2 corners. His toughness cannot be questioned," Douglass said.
That toughness is aided by not only the schedule Springfield plays — "We think it is one of the tougher schedules in the state," Douglass said — but also the level of competition Brown faces daily in practice.
"We like to believe our practices are tougher than our games. Every day you are going against a kid who is going to probably be playing college football," the Springfield coach said.
That includes 6-1, 160-pound junior defensive back Aaron Scott, a four-star prospect with almost 20 Division I offers, including Kentucky.
"Our other corner has six or seven offers and one safety has three offers. Our other safety is a junior and first-year defensive back but has a lot of talent," Douglass said. "Our one-on-one battles are good every day and it prepares our guys to go out and work."
Douglass says Brown is not only a talented, hard-working athlete but also is a special person.
"Every day during the school year during his lunch period he comes down and sits at my desk," Douglass said. "He is a guy you want your daughter to marry. He is just a great kid off the field. Very well mannered. His parents just did a great job raising him.
"He is a great decision maker. He goes out but not to party like a lot of kids do now. He's very responsible and makes sure he does the right things."
---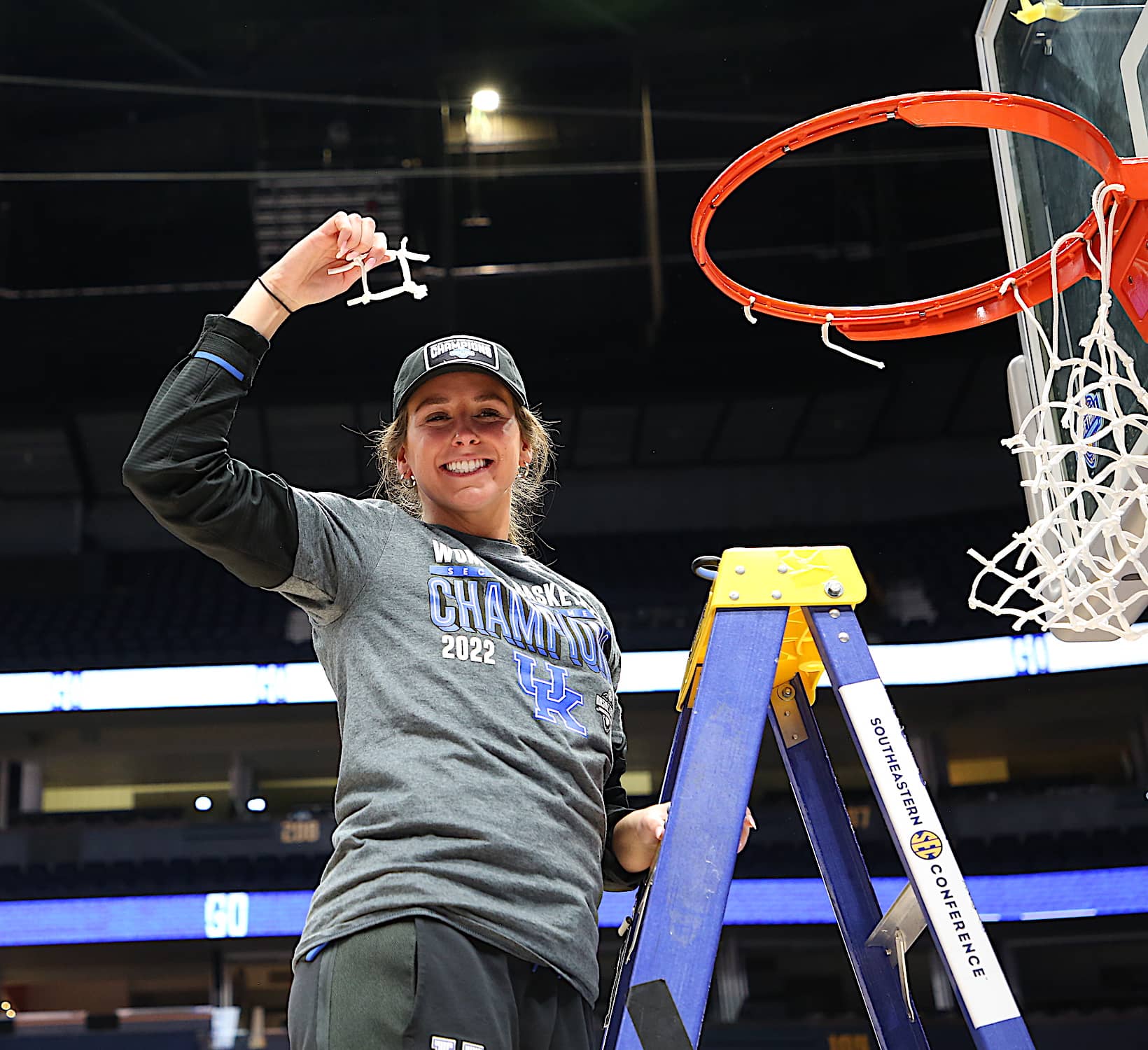 If guard CJ Fredrick is healthy, Kentucky coaches know he can space the court and is a crafty scorer who not only can hit a 3-point shot but also runners and other shots.
Fredrick missed last season with a hamstring injury after transferring from Iowa. His girlfriend, UK women's basketball player Blair Green, also missed her season after a preseason Achilles' tendon injury.
Green said the two helped each other during rehab to get back to where they are ready to play this season.
"He got injured a week after my surgery. He was my partner and was such a great encourager and motivator," Green said. "His mindset is always relentless.
"It was really good to have somebody like him go through all that with me and hopefully I was good for him."
She said they would "celebrate" their small victories daily during rehab and also see how far they could push each other.
"It was constant communication and motivation with him," Green said. "He helped me so much."
Green is also a 3-point threat and creates space for her teammates like Fredrick hopefully will do for John Calipari's team.
So who is the better shooter?
"I am not going to out CJ," she laughed and said. "I don't know if we should really get into that. He can shoot the lights out but it is back and forth (on who is the better shooter). All I will say is that he can shoot the ball but so can I. I will just leave it at that."
---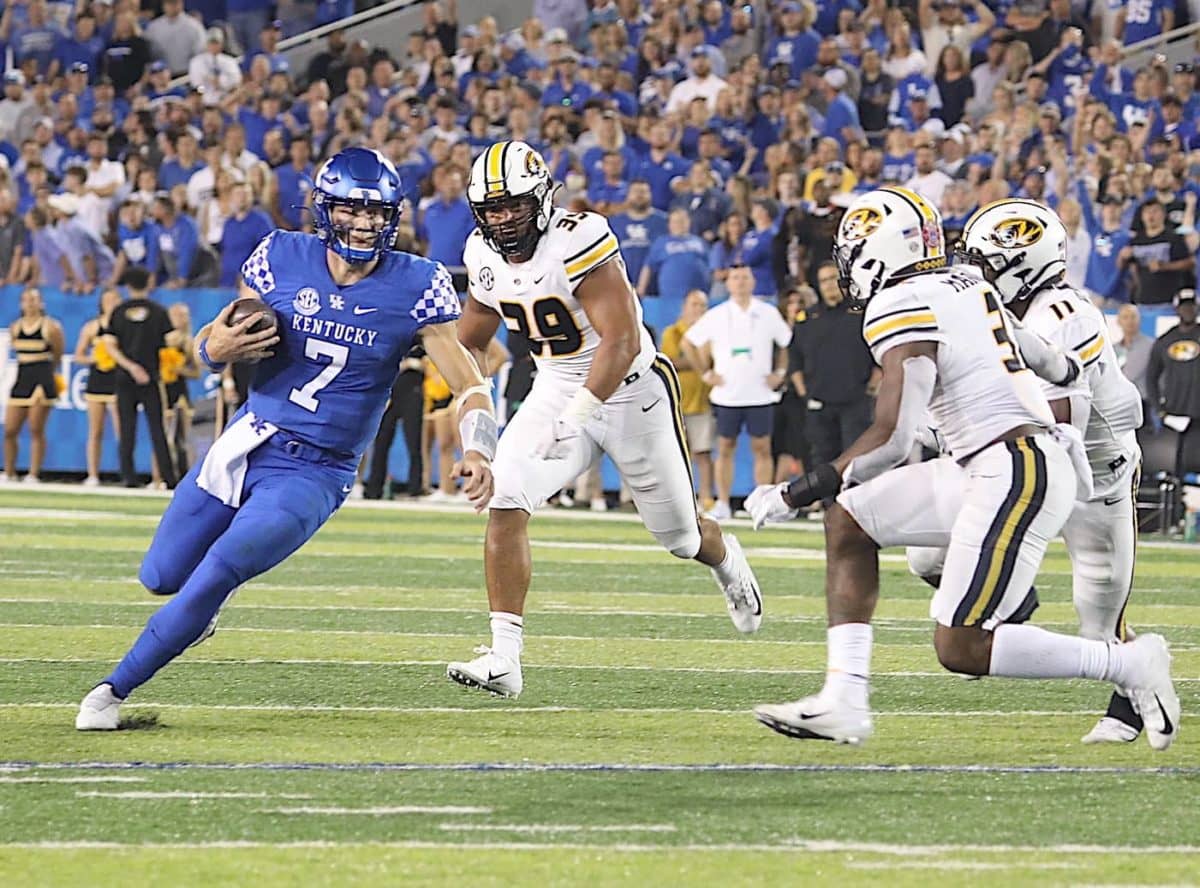 Missouri coach Eli Drinkwitz praised Kentucky's Mark Stoops — as did several other coaches — at last week's SEC Media Day.
"Coach Stoops does a tremendous job," Drinkwitz said. "Obviously knows exactly what the blueprint of his program is and how he wants to develop it. He's had the benefit of some really strong defensive schemes and defensive players.
"Their defensive line is as impressive as anybody we play against, save for (national champion) Georgia. I have a lot of respect for Mark and that program, what he's been able to do."
The Missouri coach expects another good game with Kentucky when the Wildcats visit Missouri this season.
"We get 'em later in the year (Nov. 5) which has been the first time that we've done that. I think we've played 'em either week three or last year was week two. It will be interesting to see where our teams are at at that point in the season," the Missouri coach said.
However, Missouri defensive back Martez Manuel made it clear that Kentucky is not just another game for the Tigers.
"I feel like Kentucky to me is more of a rivalry game than Arkansas personally," Manuel said. "Arkansas is like a border line rivalry, but we don't have bad blood there.
"We don't like Kentucky. They don't like us. It's been that way since I was a senior in high school and Kentucky played Missouri and they won on a PI (pass interference) call and they got like a timeless down, something stupid.
"And then we lost to them that next year and that was actually my first career start. So that was pretty personal to me. Then my sophomore year we beat them at home and that was amazing and then obviously, last year we lost to them by seven or something crazy last minute after a blocked kick."
He said there was some bad blood with Arkansas but that he hated "that White and Blue" of Kentucky.
Kentucky has lost just once to Missouri since 2015 going 6-1 against the Tigers with the only loss coming at Missouri in 2020.
Manuel did admit Kentucky quarterback Will Levis was a "stud" last year.
"Probably one of the best quarterbacks in the country, honestly," Manuel said. "When me and my friends, we always talk about last year and stuff and I always say he's one of the best quarterbacks I've faced since I've been in college.
"Looking forward to seeing what he does with new guys around him at the receiver position and looking forward to those guys to come to Columbia."
---
Remember the questions about why Kentucky took 6-5, 230-pound running back Dee Beckwith when he transferred from Tennessee.
Some thought it was to add depth at running back due to the still unclear status about star running back Chris Rodriguez this season.
During SEC Media Days, Stoops called Beckwith a "large athlete, big boy" who can do multiple things offensively that new offensive coordinator Rich Scangarello likes.
"He's a guy that can confuse you at times because he can play so many different positions. That's the nice thing. That's what Rich really liked about him, and we liked about him as a staff, was that we could be very multiple with him," Stoops said.
"If you watched the (San Francisco) 49ers in the past, some of the creativity, different things we could use with a big guy like that, could play wideout, H-back, different things, so we'll move him around."
In two years at Tennessee, Beckwith carried the ball four times for 27 yards.
---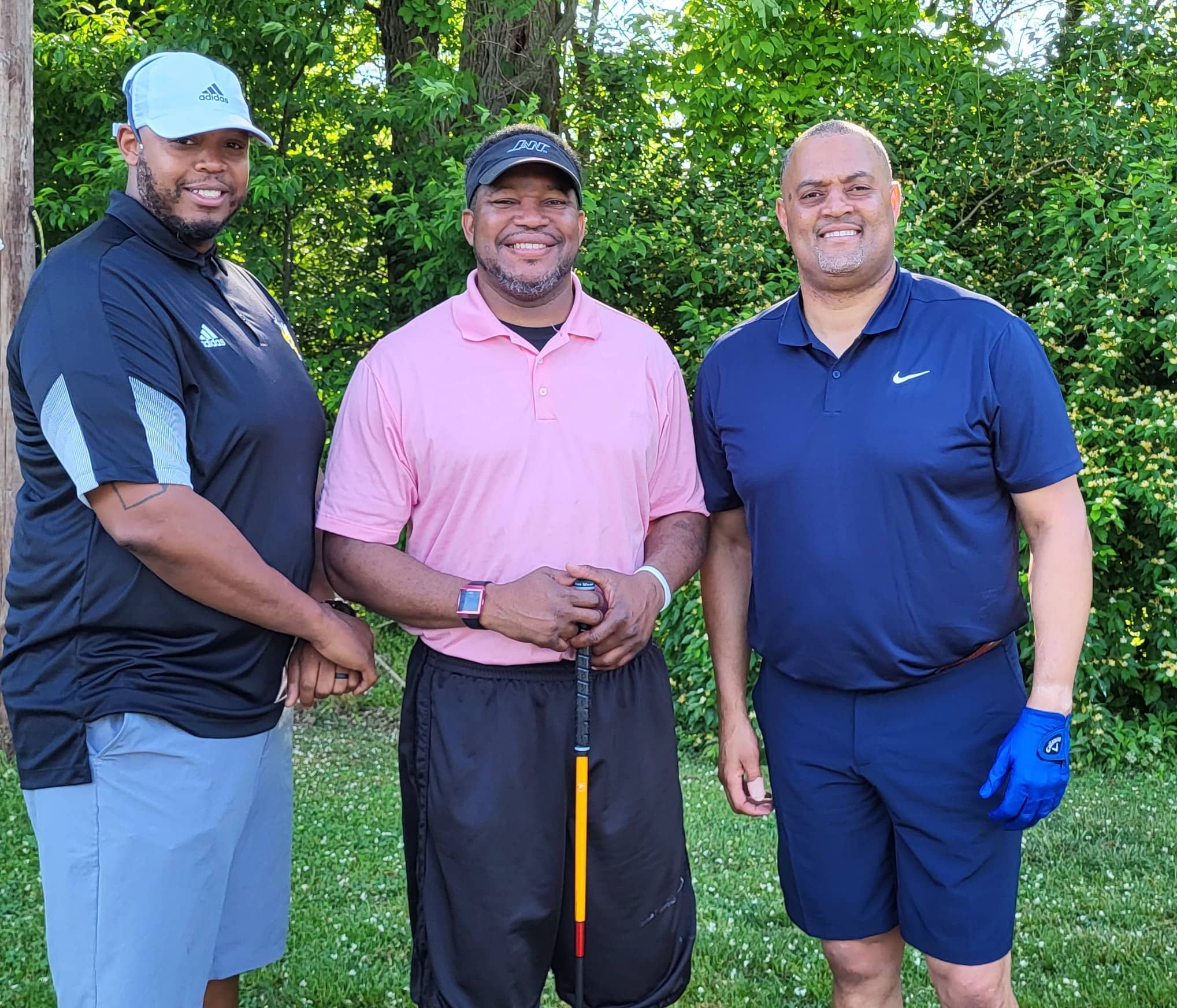 Recently when I talked to Kentucky freshman receiver Jordan Anthony, an elite sprinter, about his plans to play both sports at Kentucky it reminded me of how close former UK football stars Tim Couch and Dennis Johnson also came to playing basketball for the Cats.
Couch scored 3,024 points at Leslie County High School and led the state in scoring his junior year when he averaged 36 points per game. As a quarterback he set national records for touchdown passes (133) and passing yards (12,104). He eventually became the No. 1 pick in the 1999 NFL draft.
"I had every intention of playing both sports at Kentucky. I loved both sports and they were one of the few schools that told me I could play both," Couch said. "Coach (Rick) Pitino told me I could walk on, and that was a big selling point for Kentucky.
"Once I got (to Kentucky), it just didn't work out and I stuck to football."
Johnson was the USA Today Defensive Player of the Year at Harrodsburg High School his senior season in 1997 and a Parade Magazine All-American. In basketball, he finished his career with 2,306 points and 1,347 rebounds. He also had 335 blocked shots, 315 assists and 161 steals.
Johnson, who also won eight individual state high school track titles, had 32 points, 21 rebounds and seven blocked shots in two state tournament games at Rupp Arena.
Johnson, a third-round pick in the 2002 NFL draft, picked UK over Notre Dame and Florida in part because coach Tubby Smith was also going to let him play basketball. He even got a basketball jersey from then UK equipment manager Bill Keightley.
"After my freshman year coach (Hal) Mumme told me I just needed to stick to football, so that's what I did," Johnson said. "But I still think I could have played basketball, too."
---
Quote of the Week: "I run the sweeper, take out the garbage, Pledge the refrigerator. Nobody knows how well I do all those things," Alabama coach Nick Saban at SEC Media Days on what people might not know about him.
Quote of the Week 2: "I think the world of (Will) Levis. Top two talent in all of SEC. But part of ranking a quarterback is what's around him. Lost Wan'Dale (Robinson), and three studs from OL. Offense is gonna be different this year, lot of questions. Ceiling is super high," ESPN/SEC Network analyst Jordan Rodgers on UK's upcoming season.
Quote of the Week 3: "I got to know him over a few showcase tournaments and events. Just seeing him on my team now and playing together is pretty cool because he can pretty much do a little bit of everything. He is really good," Kentucky freshman Cason Wallace on freshman teammate Chris Livingston.