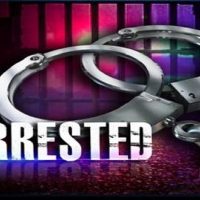 The McCracken County Sheriff's Office arrested a McCracken County man at his home on Benton Road on Wednesday morning and charged him with drug trafficking.
On 06/22/22 McCracken County Sheriff's detectives and officers with the Kentucky Department of Probation and Parole conducted a joint investigation that led them to the home of 27 year old Joeshawn Starks located at 3606 Benton Road in McCracken County. During the investigation detectives and probation officers searched the home and located several Fentanyl pills and several pounds of Marijuana.
Joeshawn Starks was arrested and lodged in the McCracken County Regional Jail. Starks was on parole for robbery at the time of his arrest.
ARRESTED: Joeshawn K. Starks 27, of Benton Road (McCracken County, KY)
CHARGES: Traff in Cont Sub 1st Deg, 1st Off (Fentanyl), Traff in Marijuana over 5lbs, 1st offense and Possession of Drug Paraphernalia
End of release