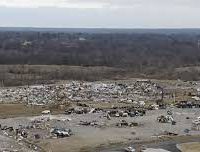 FRANKFORT, Ky. (June 23, 2022) – Today, Gov. Andy Beshear announced Mayfield Consumer Products LLC, a manufacturer of candles and other home fragrance products, will invest a total of $33.3 million and employ more than 500 people full-time over the next five years as the company builds back following last December's destructive tornado outbreak.
"Following last year's devastating storm in Western Kentucky, we are glad to see jobs returning to the area," Gov. Beshear said. "This reinvestment by Mayfield Consumer Products is good news for Graves County and the surrounding region as they work to rebuild and recover from the deadliest tornadoes in our state's history."
Leaders at MCP already have begun construction on a 40,000-square-foot expansion that includes a $2.3 million investment. They now plan an additional 63,000-square-foot expansion with a $31 million commitment, pushing total space at its Hickory Industrial Park facility to 300,000 square feet. The project will consolidate operations in Graves County following the total loss of a separate facility during last year's storm. Company leaders expect the expansion to be completed by 2023.
"We dearly love this community and its citizens," said Mary Propes, founder of MCP. "MCP's resolve to rebuild here and to play a central role in helping to restore the place we call home has been a top priority since the morning of Dec. 11, 2021. This community has a bright future, and we are committed to being a big part of that progress."
Founded in Mayfield in 1998, MCP is a family-owned company retained by the Propes family after divesting interests in MVP Group International. The company currently employs 160 people in Western Kentucky. MCP contract manufactures for many top global brands, such as Bath & Body Works.
Graves County Judge/Executive Jesse Perry is glad to see the operation bounce back and create jobs for local residents.
"We are excited that Mayfield Consumer Products will continue to grow in Graves County. After the devastation we encountered last December, it is uplifting to see progress move forward," Judge Perry said. "The capital investment and new jobs in our community is a strong boost to the rebuilding process."
Mayfield Mayor Kathy O'Nan noted the company's resilience in rebuilding following last year's storm.
"Mayfield Consumer Products is a remarkable example of perseverance as the company continues to plant its roots even deeper into Western Kentucky," Mayor O'Nan said. "The Propes family certainly has the people of Mayfield and Graves County in their hearts, and this expansion is just one of many steps in the process of economic healing as our community moves forward in building back better than we were prior to the devastating tornado of December 2021."
Jason Lemle, president of Graves County Economic Development, is encouraged by MCP and its continued growth in Graves County.
"Mayfield Consumer Products is just one model of enterprising spirit that thrives in our community and we are all grateful for their ability and desire to continue to be such a strong community-oriented business," Lemle said. "We look forward to the future of this company and the opportunity to help them continue to grow."
David Smart, president and CEO of West Kentucky Rural Electric Cooperative, noted the partnership that made the project possible.
"West Kentucky Rural Electric is pleased to partner with TVA and Graves County Economic Development to foster economic opportunities for the community," Smart said. "This project represents an important step forward in the ongoing effort to rebuild and recover from the devastation left behind by the tornado. We applaud MCP's continuing commitment to Graves County."
MCP's investment and planned job creation further recent economic momentum in the commonwealth, as the state builds back stronger from the effects of the pandemic.
In 2021, the commonwealth shattered every economic development record in the books. Private-sector new location and expansion announcements included a record $11.2 billion in total planned investment and commitments to create a record 18,000-plus full-time jobs across the coming years. Kentucky's average incentivized hourly wage for projects statewide in 2021 was $24 before benefits, a 9.4% increase over the previous year.
In the last year, the Beshear administration announced the two largest economic development projects in state history. In September 2021, Gov. Beshear and leaders from Ford Motor Co. and SK Innovation celebrated a transformative $5.8 billion investment that will create 5,000 jobs in Hardin County. And in April of this year, the Governor was joined by leadership at Envision AESC to announce a $2 billion investment that will create 2,000 jobs in Warren County. These announcements solidify Kentucky as the EV battery production capital of the United States.
The economic momentum has carried strongly into 2022, with both S&P Global Ratings and Fitch Ratings upgrading Kentucky's financial outlook to positive in recognition of the commonwealth's surging economy.
And Site Selection magazine placed Kentucky at 6th in its annual Prosperity Cup rankings for 2022, which recognizes state-level economic success based on capital investments.
For April 2022, the state budget director reported the highest-ever monthly General Fund receipts of $1.84 billion. That is up 34.9% over last April's collections, bringing Kentucky's year-to-date growth rate to 16.4%.
Also in April, the state reported a 3.9% unemployment rate, which was the lowest rate ever recorded. In May, the rate fell to a new record low of 3.8%.
To encourage investment and job growth in the community, the Kentucky Economic Development Finance Authority (KEDFA) in April 2018 preliminarily approved a 10-year incentive agreement with the company under the Kentucky Business Investment program. It is anticipated the company's incentive agreement will be modified at the time of final approval to reflect the additional investment and job growth.
This past April, KEDFA approved the company for up to $100,000 in tax incentives through the Kentucky Enterprise Initiative Act (KEIA). KEIA allows approved companies to recoup Kentucky sales and use tax on construction costs, building fixtures, equipment used in research and development and electronic processing.
By meeting its annual targets over the agreement term, the company can be eligible to keep a portion of the new tax revenue it generates. The company may claim eligible incentives against its income tax liability and/or wage assessments.
In addition, MCP can receive resources from Kentucky's workforce service providers. Those include no-cost recruitment and job placement services, reduced-cost customized training and job-training incentives.
For more information on employment opportunities at Mayfield Consumer Products, visit MayfieldEmployment.com.