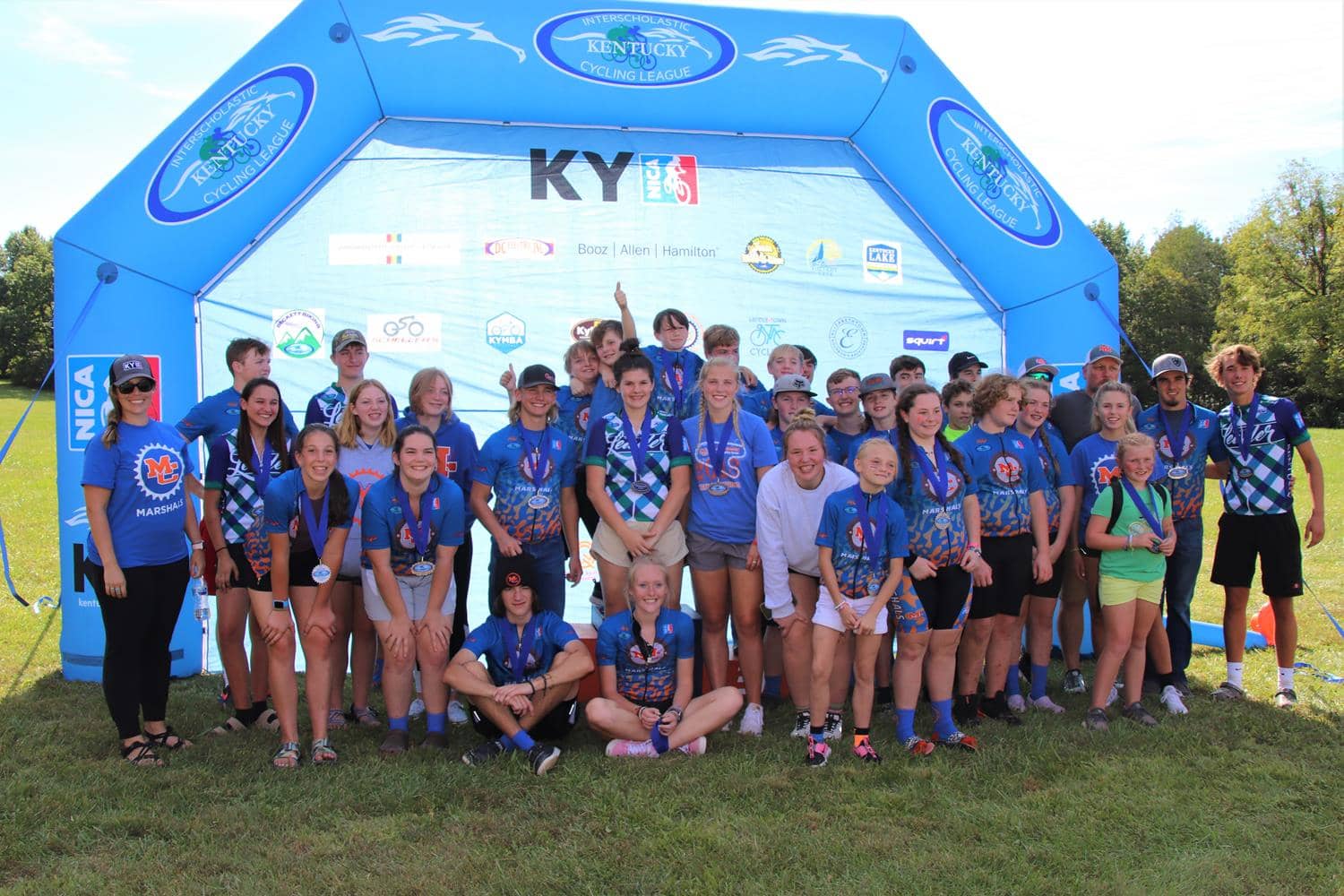 Buffalo Lake in Elizabethtown was the site of the third race of the Kentucky Interscholastic Cycling League season. Over 100 riders rolled up to the start line on Sunday and at the end of racing, the Marshall County team placed nine riders on top of the podium out of 14 races.
Race distances varied on the five-mile course from sixth grade making one lap to four for the boys' varsity riders.
The Marshall County High School team is in first place after three races with two left to go. Race #4 takes place on October 10 in Lexington at Veteran's Park and the State Championship race will be held in Marshall County on October 24 at the Kentucky Dam Village State Park course.
In second place overall is the Bluegrass Berms Composite Team and in third the Hardin County-Elizabethtown Composite Team among 12 teams competing.
Five crossed in first in the high school races for Marshall County – Arianna Akins (freshman girls), Memphis Ford (sophomore boys), Claire Austin (sophomore girls), Allie Burkeen (JV girls) and Chase Binkley (varsity boys). All five will wear the Leader's Jersey at the next race in Lexington.
Also wearing the Leader's Jersey from Bluegrass Berms Composite Team, David Komprs won the freshman boys' race and George Frazier, independent rider, won the JV boys' race.
In middle school races, four riders placed first – Dalton Powell (6th boys), Aiden Penn (7th boys), Brady Atkins (8th boys) and Emma Roberts (8th girls).
Marshall County results:
Varsity girls (3 laps)
2nd – Presleigh Jennnings
3rd – Olivia Myhand
5th – Alyssa McClain
Varsity boys (4 laps)
1st – Chase Binkley
3rd – Caleb Pahl
4th – Marshall Gregory
JV girls (3 laps)
1st – Allie Burkeen
Sophomore girls- (2 laps)
1st – Claire Austin
2nd – Evie Powell
Sophomore boys (2 laps)
1st – Memphis Ford
2nd – Ty Elrod
3rd – Chase Yarbrough
6th – Landon Gipson
10th – Ty Barrett
Freshman girls (2 laps)
1st – Arianna Akins
Freshman boys (2 laps)
6th – Owen Lepisto
14th – Eli Rudd
8th grade girls (1 lap)
1st – Emma Roberts
2nd – Addison Roberts
8th grade boys (2 laps)
1st – Brady Atkins
2nd – Braxton Lima
6th – Donaven Watson
11th – Ian Dillon
7th grade girls (1 lap)
3rd – Emmalee Downs
7th grade boys (1 lap)
1st – Aiden Penn
6th – Avery Criswell
6th grade girls (1 lap)
2nd – Amelia Miller
6th grade boys (1 lap)
1st – Dalton Powell
8th- Max Dittman
12th – Adam Miller

Marshall County Mountain Bike Team- Race #3