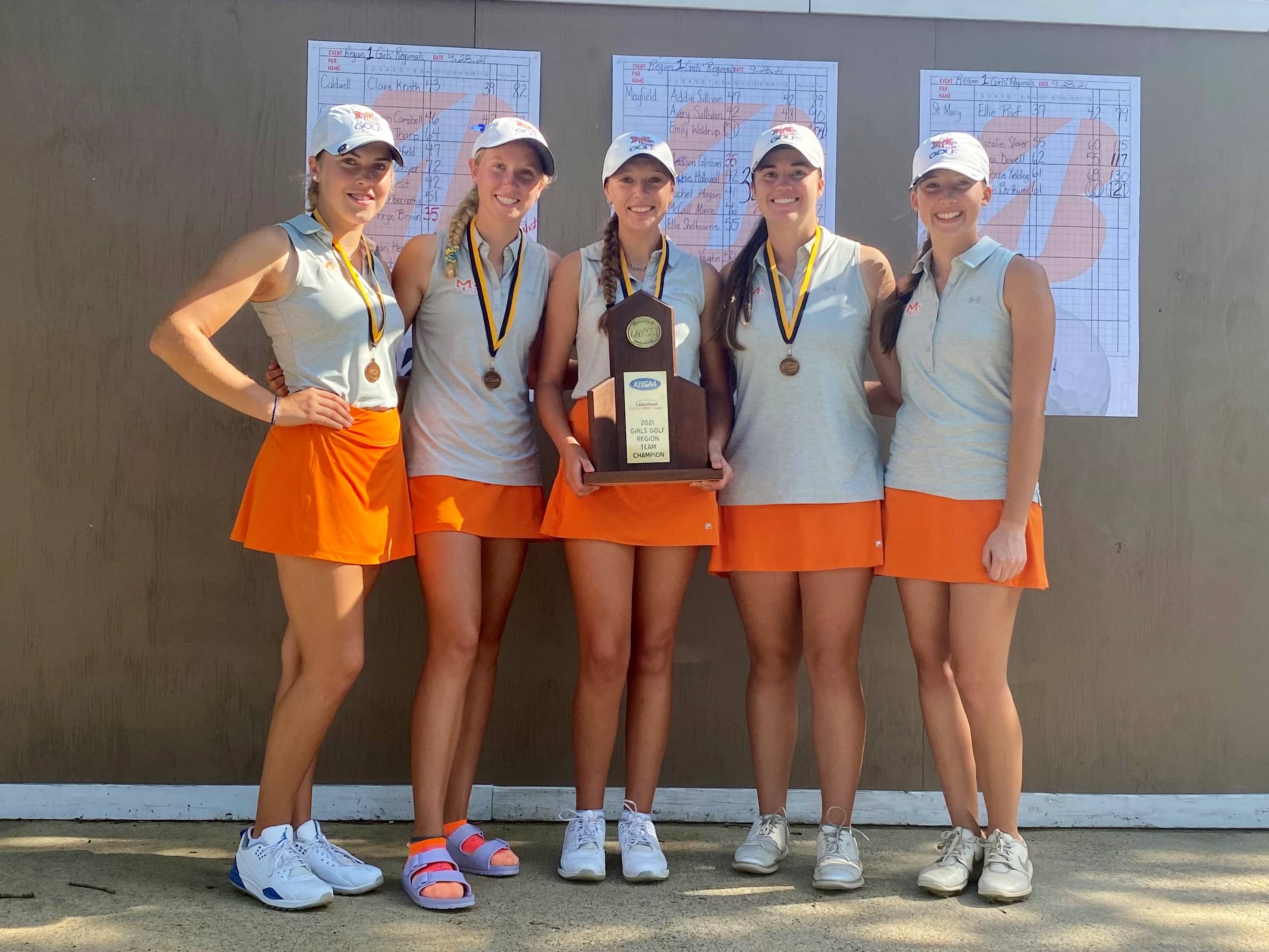 With a team score of 305, the Lady Marshals hoisted their fifth straight 1st Region Tournament trophy Tuesday at Murray Golf and Country Club. They won by 20 strokes over second place McCracken County with a score of 325.
"That's exciting to be able to have that consistency over a period of time and shows what type of players we have coming through", Coach Aaron Beth said of the fifth straight regional title. "Megan and Savannah have been a part of all those and we've had some younger kids the last two years years step up."
Megan Hertter and Trinity Beth led the team effort, both shooting 1-over par 74's to finish tied for third individually, Savannah Howell shot 4-over 73 to finish fifth, Katie Riley's 7-over 80 placed her in seventh and Elsie Riley finished with a round of 87.
Lyon County's Cathryn Brown was medalist, shooting a 1-under par 72. Brown won by one stroke over McCracken County's Madison Glisson with an even-par 73. Sixth place went to Ellie Roof of St. Mary who shot 79 and eighth place was Sophie Hollowell of McCracken County with 81.
The seven qualifiers for state as individuals are Cathryn Brown 72 (Lyon County), Madison Glisson 73 (McCracken County), Ellie Roof 79 (St. Mary), Sophie Hollowell 81 (McCracken County), Ellie West 82 (Graves County), Claire Knoth 82 (Caldwell County) and Rachel Hagan 84 (McCracken County)
"Really excited about our score, 305 on a par 73 is like a 301 on a par 72, so when we get our fourth score down to around 80 like it was today…I really like our chances", Beth said. "We're not taking anything for granted, I didn't take today for granted. We've played well all year and things can go bad and they're just kind of out there on an island by themselves from an emotional and mental toughness standpoint."
The Lady Marshals will look to repeat as KHSAA State Golf Champions. They won the 2020 title by 39 strokes over South Warren and it was the first state title for the Marshall County girls program.
"The pressure this year is so much different than last year", Beth said. "I knew we had a real solid team last year but it was kind of new as far as us winning as much as we won by. We had a great All-State last year and won by 32 strokes, this year we shot two strokes better and won by two strokes as a team."
Beth said the team has to have all five individuals with the mindset going to Bowling Green next week that they've got to go shoot their best score of the year.
Madison Central will be a team to contend with for the Lady Marshals at state, a team that has really stepped it up this season. Beth said, "Their 3-4-5 scores have really dropped. I knew their 1-2 were really good."
The state tournament will be the last rounds as part of the Lady Marshals for seniors Savannah Howell and Megan Hertter. Both are going on to play at the next level. Howell at Western Kentucky University and Hertter at Florida Southern.
"Megan, Trinity and Savannah have played really consistent over the past two years", Beth said. "Those three are going to be right around par to 77 or 78 on a bad day. On good days they are going to shoot even or under. They've got to do that and have someone else step up for that fourth score and give us around 80 and it can be an exciting week."
Stealing a quote from NBA coach Phil Jackson, Beth said – "You're only a success at the moment you perform a successful act". We're successful today…we won the region…but next week we've got to go do it again."

1st Region Tournament