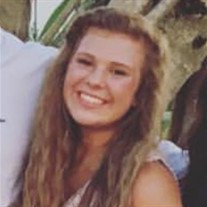 Konstance Faith "Coco" Logothetis, age 17 of Benton, KY passed away Friday, March 15, 2019 from a car accident in Benton, KY.
She was born Tuesday, October 23, 2001 in Gulfport, MS to Sideris Logothetis of Yuma, Az and Christy (Wallace) May-Logothetis of Benton, KY.
She was a Junior at Marshall County High School and she was a member of Christian Fellowship Church.
She is survived by her parents; two brothers, G. Wesley Logothetis wife Jill of Pensacola, FL, S. Shanne Logothetis wife Candra of Naples, FL; three sisters, Bre'onna J. Logothetis of Benton, KY, Sydney A. Logothetis of Pensacola, FL, Angeleenia G. Logothetis of Benton, KY; and two nephews Elias and Everett Logothetis.
A Funeral service will be at 11:00 AM on Tuesday, March 19, 2019 at Collier Funeral Home located at 211 West 5th St. Benton, KY 42025 with the Rev. Richie Clendenen officiating.
The family will receive friends from 5:00 PM to 8:00 PM on Monday, March 18, 2019, at Collier Funeral Home.
The family asks that memorial contributions to DiGeorge syndrone, also known as 22q11.2 syndrone to: International 22q11.2 Foundation, P.O. Box 532, Matawan, NJ 07747 or to www.22q.org.