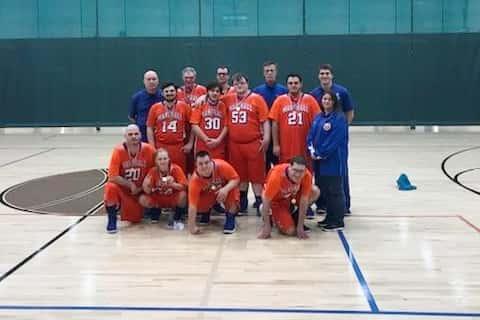 Marshall County's Marshall 2 Special Olympics basketball team has advanced to the state tournament the last four years, winning the last two state titles and hope to make that a three-peat this weekend when they head back to the state tournament for the fifth consecutive year.
The Marshall 2 team won the regional tournament to advance to the state tournament and will play the Louisville Wizards at 1:00 on Saturday to earn a spot in Sunday's championship round. This year's tournament will be held at the Mid-America Sports Plex in Louisville.
Fifty teams will head to Louisville this weekend, broken up into divisions and brackets according to skill level. The Marshall 2 team plays in the 1A Green Level division. Marshall I will be making the trip to compete in the Skills competition that will be held at Christian Academy of Louisville. The Marshall I team drew a tough first round opponent in Caldwell County in the regional tournament and did not advance past that game.
"This team is pretty good", Coach Jonny Byrd said. "We've got to buckle down and play basketball. It's all about Sunday. We've got to get past the Saturday game to  make it to Sunday."
Since the Feb. 10 regional tournament, the team has played two games in preparation for this weekend, two weeks ago against a really good Owensboro team that won Team Kentucky and a game this week against Christian County.
Marshall County High School will send off the team with a pep rally Friday morning at 9:30 am.