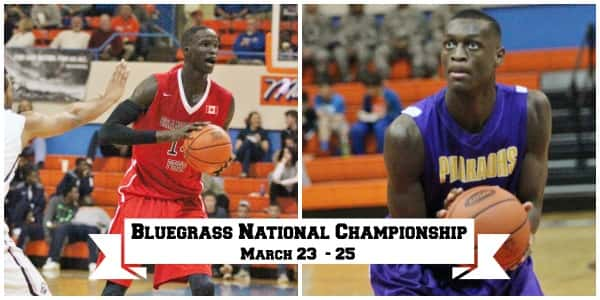 BENTON – Marshall County and McCracken County Athletics is very pleased to announce the field for the first ever NATIONAL CHAMPIONSHIP in the Bluegrass State March 23-25 presented by Tanager Sports. The Bluegrass National Championship field is second to none and the reason to have the event in Kentucky is because of the fans and facility's.
Many of the top players in the country will be displaying their talents at the Bluegrass National Championship. The bracket is now set and can be viewed below, ticket information and players that will be in attendance for the event.
The Championship kicks off at McCracken County High School on Monday, March 23 with second round games being played at Marshall County High School on Tuesday, March 24 and the championship game back at McCracken County on Wednesday, March 25 at 7:30.
TICKETS
Students: $5 – per session
Adults: $7 – per session
Marshall chair seats: $10 -1 session (So far at Marshall County 12 chair seasts have been released for sale.)
McCracken: $25 –2 sessions
For tickets, call Dan Hudson (270-293-9398), Jeff Stokes (270-527-6714) or Tim Steward (270-994-6156)
Teams of 10 plus two coaches can come for $40 per session – BEST VALUE
Players coming to the Bluegrass National Championship:
Josh Jackson- #1 2016
Jarred Vanderbilt- #4 2017
Thon Maker- #5 2015
Terrance Ferguson- #7 2016
Billy Preston- #8 2017
Jamal Murray- #18 2016
Isaac Humphries- #25 2016
Matur Maker- #27 2017
Jalen Coleman Lands- #39 2015
Mark Vital- #49 2016