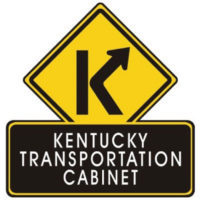 Kentucky Transportation Cabinet • District 1
Eastbound lane restriction at RR Viaduct from 8 a.m. to 3 p.m., Wednesday
PADUCAH, Ky. (September 25, 2023) – The Kentucky Transportation Cabinet (KYTC) plans an eastbound work zone lane restriction along U.S. 45/Jackson Street in Paducah on Wednesday, September 27, 2023.
Eastbound traffic on U.S. 45/Jackson Street will be restricted to one lane at the P&L Railroad Viaduct at mile point 9.618.  This is in the 2900 Block of Jackson Street between South 31st Street and South 29th Street.
A contractor plans to repair the concrete sidewalk and curb under the RR Viaduct.
This eastbound work zone lane restriction is expected to go up promptly at 8 a.m., CDT.  It is expected to remain up until approximately 3 p.m., Wednesday.
Appropriate caution is required where equipment, flaggers, and maintenance personnel are along the roadway in close proximity to traffic flow.
To get traffic advisories and alerts for KYTC District 1 counties via email, please go to https://public.govdelivery.com/accounts/KYTC/signup/13651. Click on the District 1 counties you regularly drive through, or on any of the specialty corridors you travel.  Check your SPAM filtering to ensure Gov Delivery is on your approved list.
Timely traffic advisories for the 12 counties of KYTC Highway District 1 are available by going to www.facebook.com/kytcdistrict1. You do not have to be a Facebook member to access this page.
Navigate traffic at goky.ky.gov, at waze.com, or with the WAZE App.
###