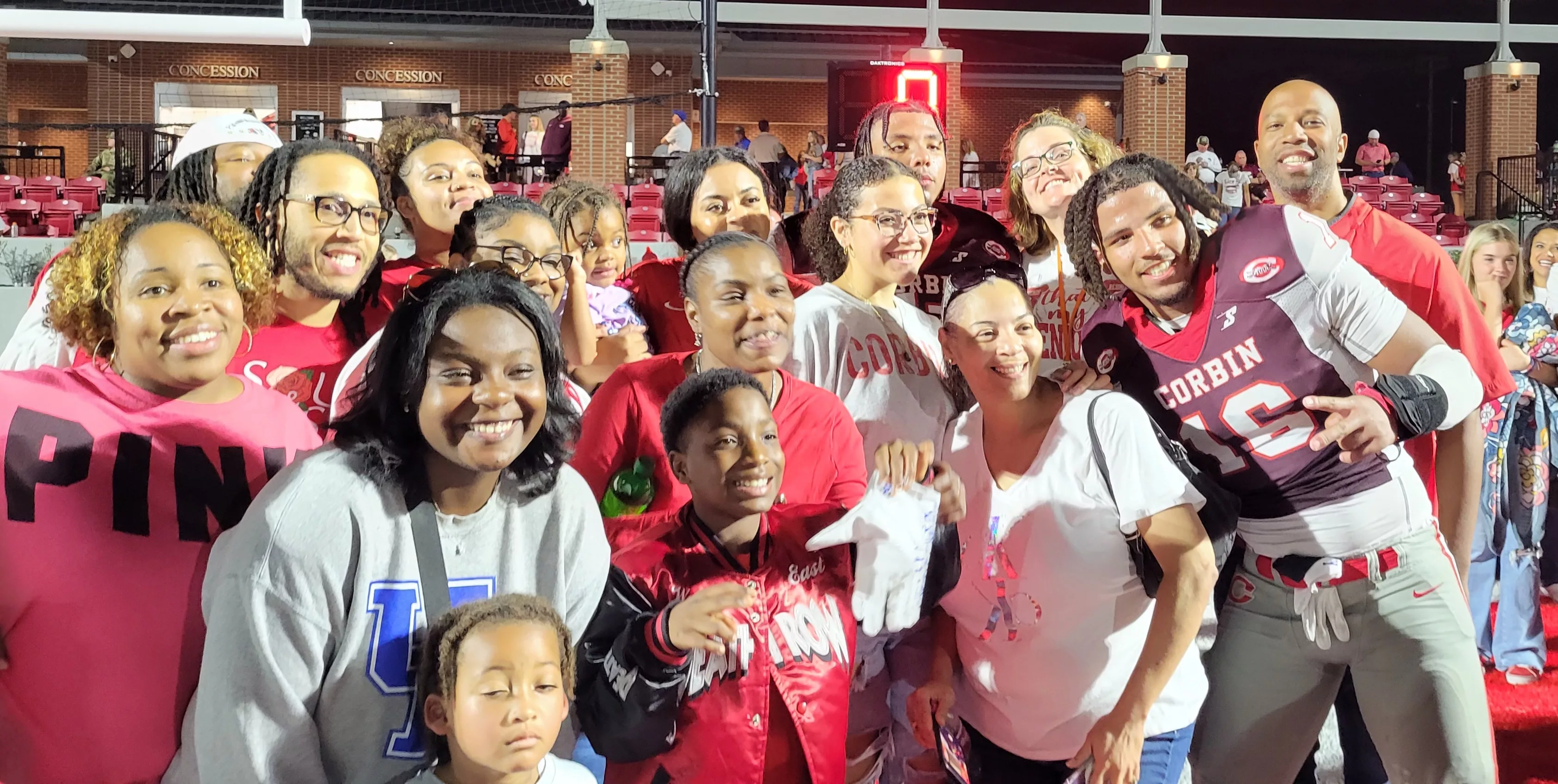 By LARRY VAUGHT
Jerod Smith did not care where his twin sons Jerod and Jacob decided to play college football.
"I want them to go wherever they feel will do the best for them long term and give them the best opportunity to get themselves to the next level (NFL). They are playing to make the next level and also to proceed in life," Smith Sr. said.
They are both ranked among the nation's top 250 players and each amassed about 30 scholarship offers, including some of the nation's most prestigious football programs. They verbally committed to Michigan but that changed last week after the twins helped Corbin beat state power Frederick Douglass 6-0.
Jacob, a 6-5, 230-pound edge rusher, is ranked 239th overall in the 2024 recruiting ranking by 247Sports Composite, and Jerod, a 6-3, 265-pound defensive lineman, is ranked 224th.
"I personally did not care where they went but I am extremely happy it is home," the players' father said. "I love that the boys will be at home where their grandmothers and other family members can watch them play on Saturdays."
They played at Somerset High School in 2019 and 2020 before playing in Connecticut in 2021 and 2022. They came back to Kentucky in early summer.
The father said his sons were happy with their commitment to Michigan and stayed in touch with Michigan coaches.
"They really were not talking to Kentucky when they moved. Then they (UK coaches) invited them to a game and I told them to go but also said when you are committed to another school you really should not be talking to other schools. But they went and enjoyed talking with (defensive coordinator) Brad White and (recruiting coordinator) Vince Marrow," the father said.
"They enjoyed being back home. They go to Somerset all the time on weekends. It's kind of like they never left. The fact they can be home playing college football was really exciting for them."
Jerod Smith Sr. knows social media will not be kind in all instances to his sons' decision to flip to Kentucky.
"I do know it will be kind of hard when people on social media jump in on it. But other schools thought they could get the boys to flip, too, and I know Michigan is heartbroken," the father said. "I told the boys to stay off social media. I got my wife off social media because she really gets caught up in it. I told them all nobody's comments matter except for the coach you are going to play for. Not my comments, not my wife's, not any reporter's."
Their childhood friend, Guy Bailey, transferred from Somerset to Corbin this year and is the Redounds' starting running back. He's got a preferred walk-on offer at UK.
"It's like they are back with a family member. Guy wants to go to Kentucky and they want to be able to play with him again at the next level," Jerod Smith Sr. said. "They are already talking about when they will be able to move off campus and live together.
"Jerod is like a big teddy bear/crybaby. He can get going sometimes and won't want to listen to me. But then (Bailey's mother) Charlie (Crawford) will be like, 'Stop.' And he does. When Charlie says jump, he says how high. That's how close they all are."
The father is also glad his sons will get to listen to White, who was at the Frederick Douglass game along with Marrow.
"I am a very huge fan of coach White. From the beginning of the process, he's been the main guy. He's a nice guy and smiles as much as I do," the father said. "People who smile a lot are just natural people and I know he will do what is best for the boys. I don't see any way he causes any harm for them with his knowledge and he'll provide great techniques for the boys to use on Saturdays (in games)."
---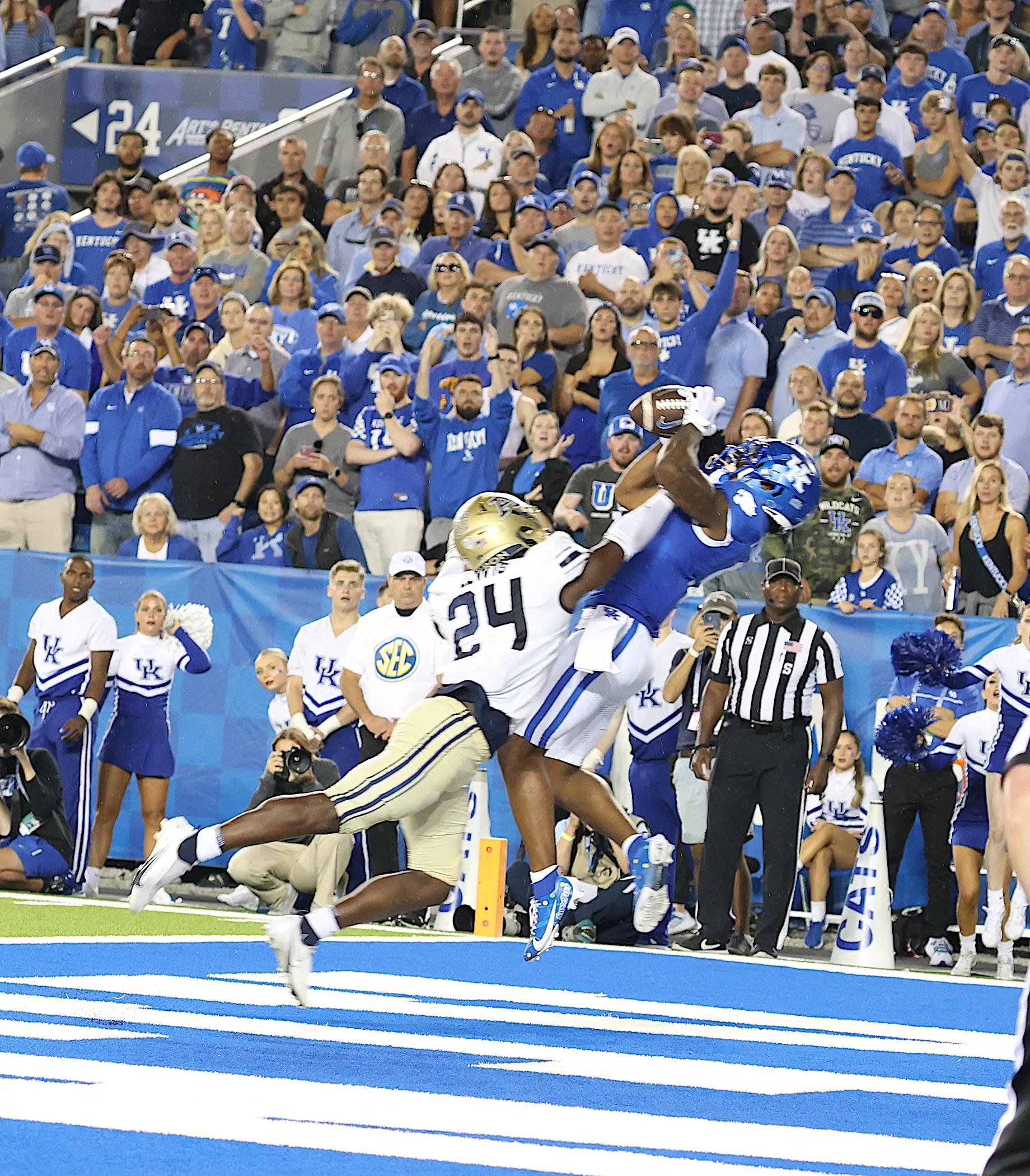 Sophomores Barion Brown and Dane Key came into this season touted as Kentucky's go-to receivers based on what they did as freshmen in 2022. However, offensive coordinator Liam Coen warned that a second season could be more difficult and talked about how the two needed to get even better running routes.
Senior receiver Tayvion Robinson's productivity fell off dramatically the second half of the 2022 season but Coen's return to UK seems to have rejuvenated Robinson.
"I think he is becoming that one of those guys (quarterback) Devin (Leary) looks for and is becoming very comfortable in his route running," UK Radio Network analyst Jeff Piecoro said.
Leary certainly made it sound that way about Robinson's big game against Eastern Kentucky.
"He's a gamer. He's one of those dudes that's going to do what he's coached to do. He's going to do his job, but when he calls for the ball, when he wants to make a play, you gotta get the ball in his hands," Leary said.
Former UK running back Anthony White knows Robinson has "really good" footwork while Brown is just an athlete running routes and Key is mainly running vertical routes.
White ran for 1,758 yards and 11 touchdowns at UK from 1997-99 and averaged 4.8 yards per carry. He also caught 194 passes from Tim Couch and Dusty Bonner in those three years for 1,520 yards — 7.8 yards per catch — and eight scores. The only UK players with more catches are Craig Yeast (208) and Derek Abney (197).
To get separation (from defensive backs) you have to put your foot in the ground and break sharp. Tayvion does that really well," White said. "Dane has had some tough catches to try and make but that's because he's not setting guys up and getting separation. If you put your foot in the ground and round off guys have a chance to jump the route. You have to break it off sharp."
Former all-SEC defensive back Van Hiles believes Leary does trust Robinson more than Brown and Key.
"He knows he (Robinson) will be where supposed to be and he will catch the ball. When you don't catch the ball for a veteran quarterback, he will get the ball to someone else," Hiles said. "His first look will be to Tayvion Robinson until the other guys earn his trust again. That's just where it is.
"Barion Brown has been missing too many balls. Dane Key's are tough catches but ones he should make. We need the super sophomores to run better routes and catch the ball cleanly and then this offense can be more explosive."
White said when former NFL No. 1 overall draft pick Tim Couch was his quarterback that receivers knew if they wanted the ball they better get open.
"Guys don't like to throw interceptions. If there is a question or whether or not you will catch the ball or if the coverage is too tight and it might get intercepted, then you may not be an option (for the quarterback). That's just the way it is with big-time quarterbacks," White said.
Robinson had five catches for 86 yards and one touchdown in the win over Akron. He now has 14 catches for 260 yards and three scores, all team-high totals.
---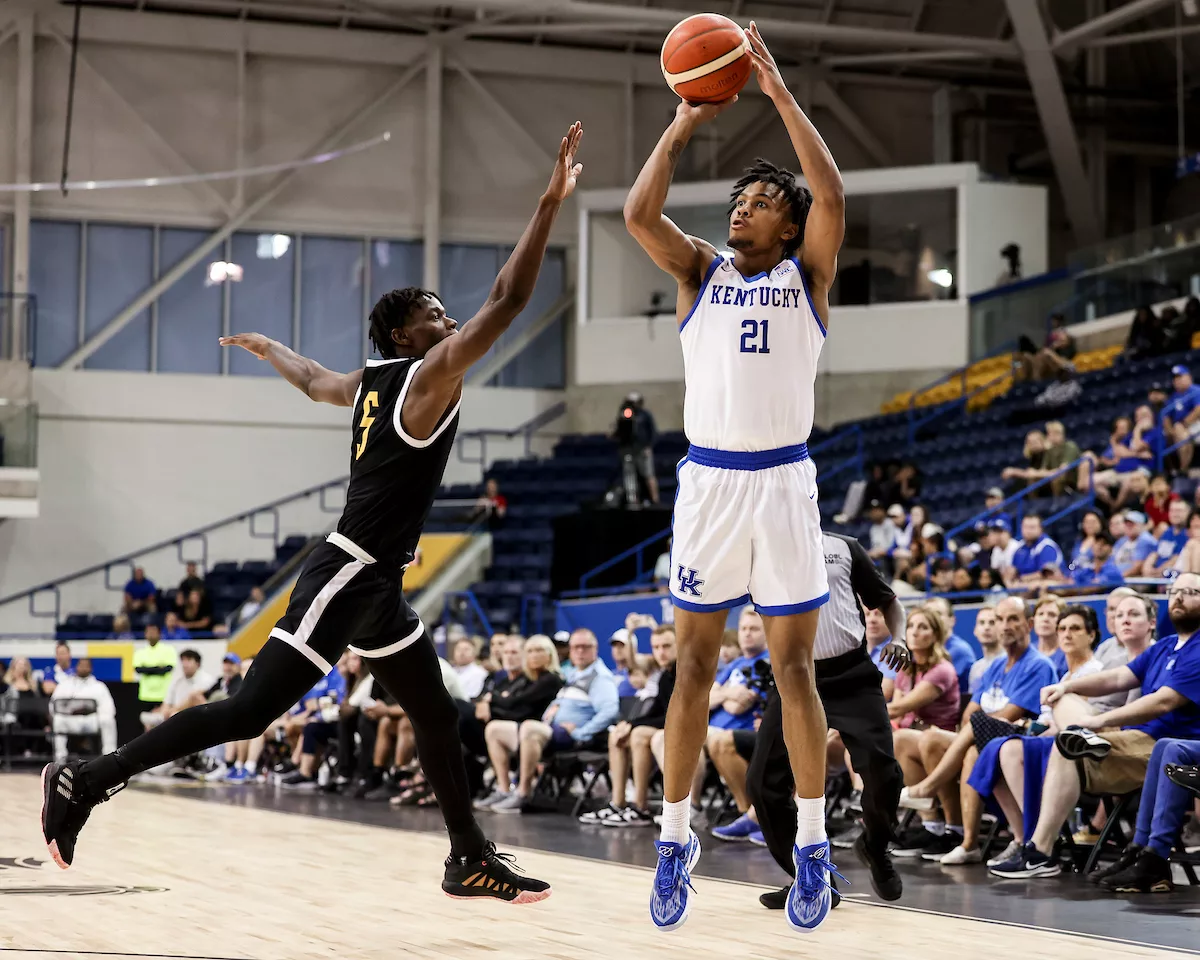 ESPN basketball analyst Seth Greenberg has already seen enough of coach John Calipari's team to feel good about the 2023-24 season for Kentucky.
"The biggest things with this team are that it has great versatility, more shotmakers, more floor gamers. They have guys who can break you down off the dribble because they put it on the ground with purpose and that is important," Greenberg said.
He knows the lack of NCAA Tournament — or even SEC Tournament — success UK has had the last three years. He thinks that might be changing.
"This team has a totally different DNA. Look at the bench (during UK's games in Canada) and how they reacted to each other. This team looks like it has a real joy for each other," Greenberg said.
He thinks Kentucky's perimeter players led by freshman DJ Wagner are going to be extra special.
"Wagner is an explosive guard. He has got to develop a better runner or pull-up midrange game and be shot ready," Greenberg said.  "He is a competitive defender and an explosive on-ball creator with a high basketball IQ. He loves being in the gym.
"I think all those perimeter guys' ceilings are really high and that has a chance to make John's team really special this year."
---
Kentucky's offensive line was a focus of UK's offseason work to make sure the unit was better than it was in 2022. It's still early but despite injuries to two starters, the new Big Blue Wall has been progressing in coach Mark Stoops's opinion even though he would like to see even better execution.
Veteran guard Kenneth Horsey Jr. was hurt in the first game but walk-on Dylan Ray, a transfer from West Virginia, has more than held his own so far.
"When we lose one guy, it's got to be the next man up because there's so many of us out there," UK senior right guard/team captain Eli Cox said. "He's (Ray) done a great job, just stepping in and replacing Kenneth and we haven't really missed too much of a beat.
'Obviously, it's hard to replace Kenneth, his leadership and his experience that he's got, but Dylan's has done a great job communicating and just making sure he's studying each week and being a valuable part of the wall for us."
USC transfer Courtland Ford started games at left tackle before but switched to right tackle at UK. He didn't get the starting nod in the opening game but became the starter when Jeremy Flax was injured going into game two.
"I think he's very fluid in a stance and his set. He has good length, plays with good balance and is just continuing to work on the details because, again, he's new to this," Cox said. "This is a completely different system and stuff he's run before, where it's a lot more of a college spread.
"This is a little more pro-style. There's a lot more that goes into each play, which is partially why plays are a little slower-paced. There's a lot more that goes into it, so he's adjusting. He's eager to learn. He's always up here watching film, asking questions."
---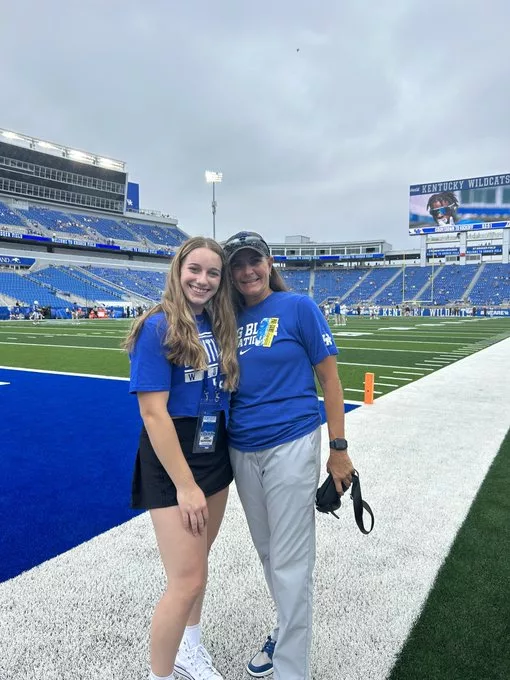 Lexington Catholic junior softball standout Abby Hammond has always been a Kentucky fan who dreamed of playing for the Wildcats but just in case she had any doubts, Hammond had an "inside" source about UK softball.
Former high school teammate Ella Emmert is a junior catcher at Kentucky. Her younger sister, Ava, is a Lexington Catholic senior who is verbally committed to the Cats.
"I could not make a decision about my future on who is there but having Ella at Kentucky and Ava committed to be there help me understand what it will be like to be a Kentucky Wildcat," Hammond said. "Ella could tell me what practices are really like because you can't really have a feel for what a day in the life of a Kentucky player is like until you get there. Ella could tell me about early morning practices, weightlifting and conditioning."
Hammond knows UK coach Rachel Lawson well because she went to her first week-long UK softball camp when she was 8 years old.
"I think coach Lawson is very genuine at camps and practice. I've always thought she acts exactly the same all the time," Hammond said.
Lawson could not reach out to Hammond until Sept. 1 and even when Hammond attended UK's softball camp Lawson could not talk about recruiting. Hammond had some other Power-Five and in-state college opportunities but knew it was UK for her.
Hammond was the 2022 Gatorade Softball Player of the Year and has hit over .500 the last two seasons. She has 29 home runs and 103 RBI's the last three seasons. She's even more dominating on the mound as she's had 796 strikeouts and 77 wins over the last three seasons.
Hammond is "good" friends with Missouri junior Alexa Riddle who also verbally committed to UK last week.
"We took our official visits together," Hammond said. "I am super excited she is coming to Kentucky. I have never played against her but I have heard so many great things. She's an outfielder who is at least 6-feet tall and she is super nice."
---
Because the United States did not win a medal there was not an abundance of media coverage about the recent FIBA World Cup but former Kentucky guard Shai Gilgeous-Alexander was one of the brightest stars in the international event.
He helped Canada beat the USA team in the bronze medal game. Gilgeous-Alexander, 25, averaged 24.5 points, 6.4 rebounds and 6.4 assists per game as Canada won its first FIBA World Cup medal with wins over France, Spain, Slovenia and the U.S.
"He's slithery and he knows how to get away from you," USA's Mikel Bridges said about Gilgeous-Alexander, who plays for the Oklahoma Thunder. He's first team (all-NBA) for a reason. He's tough. He's an unbelievable player."
Ken Tolliver of The Washington Post said the former UK star was "smart, patient and even-keeled in the high pressure environment."
He had 31 points, 12 assists and six rebounds against USA in the bronze medal game.
---
Quote of the Week: "He is a different dude. He has that pretty boy face outside of football and is a 4.0 (grade-point average) student. But between the lines he is a beast. You have to calm him down," UK assistant coach Vince Marrow on sophomore tight end Josh Kattus.
Quote of the Week 2: "Working with Coach Kidd was an honor.  He was easy to find-go to Roy Kidd Stadium, turn on Roy Kidd Drive and go to the Roy Kidd Office Building, and look for the office with Roy Kidd on it #RIPcoach," Kentucky Sports Radio host/former WLEX-TV anchor Ryan Lemond on the passing of former Eastern Kentucky coach Roy Kidd.
Quote of the Week 3:  "It's great. Even when I can take risks on some plays, I know that he got that catch up speed to make me right no matter what," UK defensive lineman Deone Walker on UK linebacker Trevin Wallace.