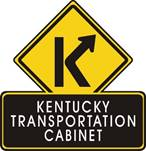 Kentucky Transportation Cabinet • District 1
Closures from 9 a.m., to 3 p.m., CDT, each day for inspection
PADUCAH, Ky. (March 21, 2023) – A contractor for the Kentucky Transportation Cabinet (KYTC) plans daytime closures of the U.S. 45 Ohio River "Brookport" Bridge starting Monday, March 27, 2023.
These daytime closures are to allow a detailed inspection of the bridge structure.  Due to the limited deck width and use of an Under Bridge Inspection Vehicle (UBIV) during the inspection process, the bridge will be closed to all traffic from 9 a.m., to approximately 3 p.m., CDT, each day.  Climbers will also be assisting with the inspection to help reduce the length of the closures.
The daytime closures are planned for March 27 to March 31.
The inspection crew then plans to return with a daytime lane restriction on the bridge the week of April 3 to April 7, to allow climbers to finish out the inspection work.
This inspection is scheduled on a weather permitting basis.
KYTC District 1 and the inspection team will attempt to provide timely updates as the inspection progresses.
Also known as the Brookport Bridge and the Irvin S. Cobb Bridge, the US 45 Ohio River Bridge is at McCracken County mile point 12.882.
The 10-span bridge carries approximately 6,000 vehicles across the Ohio River each day between Paducah, KY, and Brookport, IL.
The 5,385 ft. structure at Ohio River navigation mile point 937.3 was opened to traffic in 1929. Due to deck width, the bridge has a 15-ton load limit.  It is currently restricted to vehicles no more than 8 feet wide and has a 9 ft.-6 in. vehicle height restriction, which prohibits most commercial trucks and prohibits all SEMI/STAA Trucks.  Farm equipment and permitted loads of any kind are prohibited from crossing the structure.
To get traffic advisories and alerts for KYTC District 1 counties via email please go to https://public.govdelivery.com/accounts/KYTC/signup/13651. Click on the District 1 counties you regularly drive through, or on any of the specialty corridors you travel.  Check your SPAM filtering to assure Gov Delivery is on your approved list.
Timely traffic advisories for the 12 counties of KYTC Highway District 1 are available by going to www.facebook.com/kytcdistrict1. You do not have to be a Facebook member to access this page.
Navigate traffic at goky.ky.gov, at waze.com, or with the WAZE App.
###