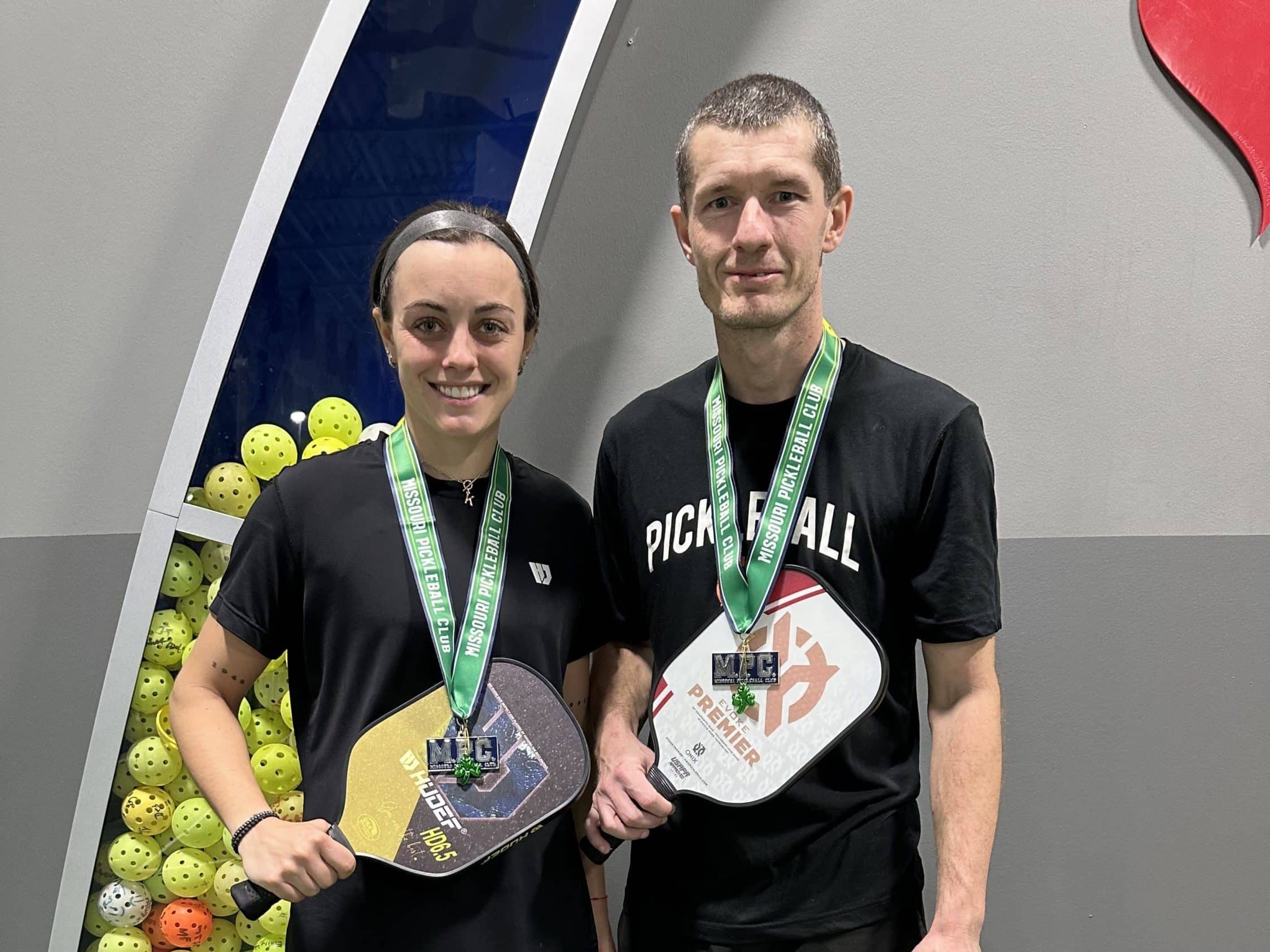 Pickleball players went to Fenton, Mo. to participate in the MPC's St. Paddy's Paddle Battle March 17-19.  The Missouri Pickleball Club is one of the largest indoor clubs in the US with 18 courts and five championship courts.
Pickleball tournament ratings vary from 2.5 to 5.0 with anything above 5.5 being for the very best professional players. Last week Jenny Travis (Kayla's mom) became the first Calvert City Pickleball player to win a gold medal in a Women's Doubles 4.5 event. Fast forward to this weekend, daughter Kayla Travis became the first CCPB player to win a silver medal playing in a Mixed Doubles 5.0 event.
Kayla excelled playing high school and college soccer and now adds pickleball to her sports resume.  Kayla is sponsored by HUDEF Pickleball Paddles. Kayla's dad, Marvin, has been playing 4.5 level partnering with Kayla for a few months now. The Travis' are known for their competitiveness and they along with several of our tournament players do a great job coaching one another.
Some of our newer players, we call our next generation players, are playing 3.0-3.5 events. Jennifer Wilson played her first singles tournament and brought home a silver in 3.0 Women's Singles and she partnered with Rhiannon Greer to win Silver in 3.0 Women's Doubles.  Some strong competition with 362 players entered, nine local players brought home four Silver Medals.
Silver Medal Winners:
Kayla Travis and James Tapley – 5.0 Mixed Doubles
Rhiannon Greer and Jennifer Wilson – 3.0 Women's Doubles
Jennifer Wilson – 3.0 Women's Singles
Other participants included:
Brigette Thompson, Brent Thompson, Landon Wilson, Mackenzie Wilson, Drake Butler, Cody Dalton
Darlene and Parvin Latta
USA Pickleball Ambassadors Marshall Co.