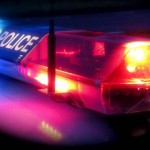 On 3/15/23, an off-duty Corporal with the McCracken County Sheriff's Department observed a 2007 Pontiac sedan being operated on US-60 inbound towards the city limits in a reckless manner.  Corporal Davis was able to contact E-911 dispatch and relay the information to on duty deputies and officers.
Deputies and Officers with the Paducah Police located and performed a traffic stop on the vehicle on Kentucky Avenue.  During the approach, an open alcohol container was observed being held by the passenger.  Both the passenger and driver exited the vehicle for a DUI investigation.
While exiting the vehicle, deputies observed a black handgun in the passenger door pocket.  Due to alcohol involvement and ultimately drug possession, a criminal background was obtained.  The driver of the vehicle, 49 year old Robert Jeffrey of Paducah, KY, was found to have several felony convictions.
Paducah Police investigated the DUI and arrested Jeffrey for being under the influence of alcohol and/or drugs.  Jeffrey also had an amount of marijuana on his person.  Paducah Police charged Jeffrey with the drug and DUI charges.
McCracken County Sheriff's Department charged Jeffrey with Felon in possession of a handgun.  Jeffrey was lodged into McCracken Regional Jail.
The passenger, 40 year old Tarus Dixon of Paducah, KY, was cited and released for marijuana possession by the Sheriff's Department.