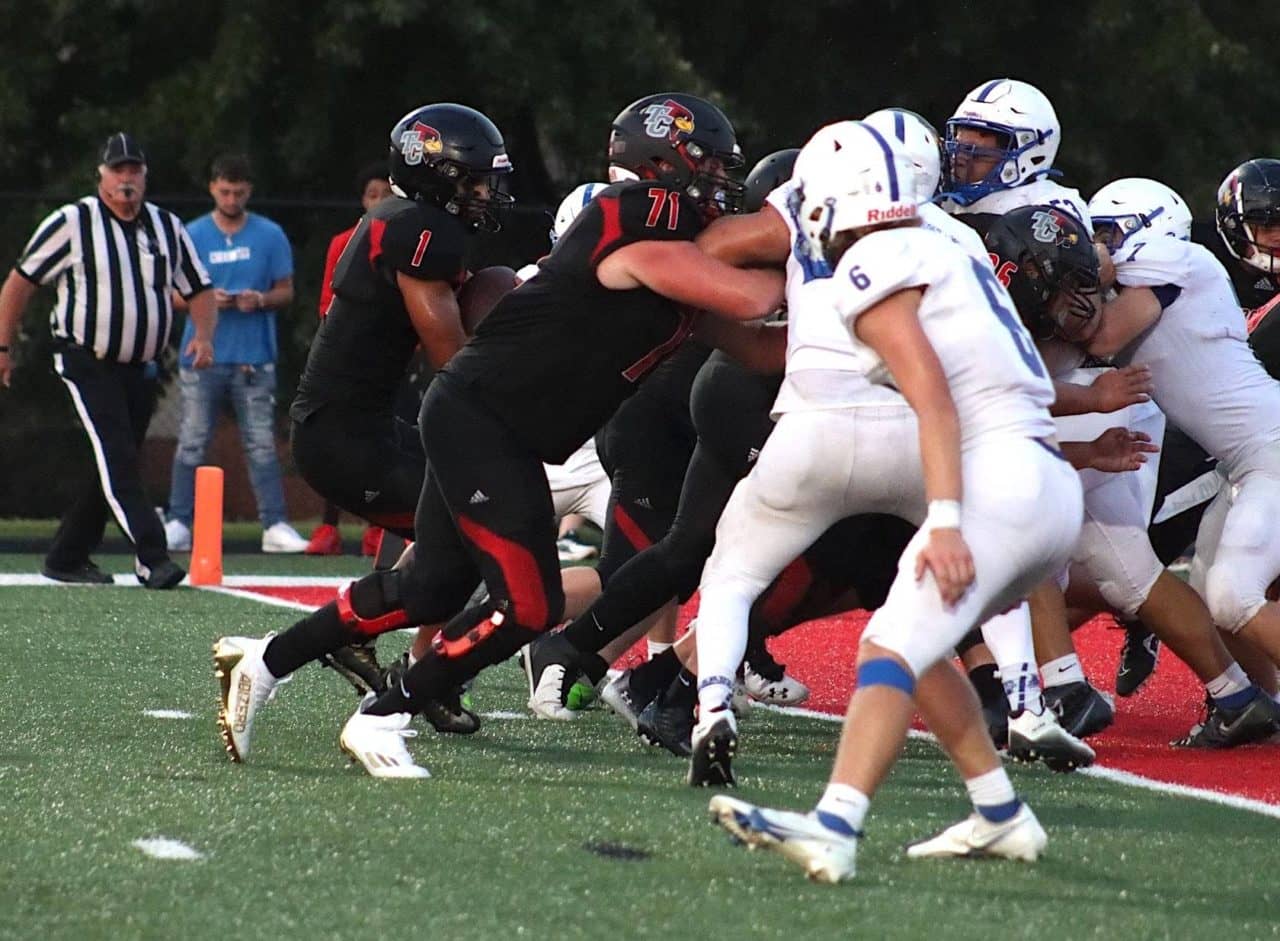 By LARRY VAUGHT
Hayes Johnson knew recruiting would start picking up again after college coaches had a month with national signing day, the transfer portal and bowl games to deal with. Now those coaches like Kentucky associate coach Vince Marrow who visited him last week will turn their attention to the 2024 recruiting class.
Johnson is a 6-5, 295-pound three-star junior prospect from Taylor County High School with eight scholarship offers, including Kentucky, Tennessee, Baylor and Louisville.
"I still talk with Kentucky a lot. Ever since coach (Jeff) Brohm settled in at Louisville, we have talked a lot. Tennessee has been on it. So has a coach from Baylor," said Johnson.
Johnson originally thought he would let his recruitment play out and take visits to Kentucky, Louisville and other places during the next few months. He had talked about taking a trip to Baylor.
However, that thinking changed and now Johnson will announce his college commitment Thursday at his high school. He said he thought about making his commitment while he was on Christmas break and "just decided to do it" now.
"I don't think you can really describe how much pressure has been lifted off my chest," Johnson said about his decision to commit now. "I have enjoyed building relationships with coaches but this is the right time to commit. I want to build the relationship with the school where I am going even more. You can only build a relationship so much without being committed. Once you commit, that relationship can get a lot better."
He says a team's 2022 record really did not impact his thinking a lot because he was not on those teams.
"I wanted all the teams recruiting me to do great," Johnson said. "When I do get to college, I will just try to thrive and do the best I can to just play football."
Johnson took some time off after Taylor's season ended and during Christmas break when he went hunting and did a few other things.
"I got refreshed and ready to go again," he said. "I was ready to get back to work and that's what I have tried to do. I have to get in the weight room. We really got after it the week we played Paducah Tilghman (in the playoffs) and we have to do that every day in the weight room.
"We have got to build a culture here at Taylor County that when we come to practice we are going to walk in and not like anybody and then off the field be friends. I am attempting to get our guys working and light a fire under them. Losing by 40 to Paducah Tilghman is just not acceptable. We got our butts kicked and I don't want that to happen again in high school or college."
That's the kind of fire that UK offensive line coach Zach Yenser wants in his players and why he started recruiting Johnson not long after he joined Mark Stoops' staff in 2021.
"We talk a lot. It's kind of a mix of football and other stuff with him," Johnson said. "He is big into waterfowl hunting like I am, so we talk about that. A lot of times I ask him questions about stuff and how things work in college.
"I heard about a silent cadence and had him explain that to me. I learn something new just about every time I talk to him or other coaches. I like to pick up new things that way."
Johnson has a lot of Kentucky ties and memories and says he "loves" Kentucky.
"I can remember the 2012 (basketball) championship night sitting there watching with my dad. I remember the Missouri (football) game when Lynn Bowden just went freaking off and we were in the nosebleed seats. I remember when we broke the streak against Tennessee in football," Johnson said.
"Now I will go out to eat and people will say, 'Go Cats,' or something like that. People will do the L's down. That happens a lot. Now the people in my circle, we hardly talk about recruiting. I am still the Hayes everybody knew before all this recruiting started.
"All the media attention does not matter to me or them. I am just going to be going to some college to play football but that won't change who I am."
Johnson knows 2023 Kentucky signees Malachi Wood of Madison Central and Koby Keenum of Alabama, two offensive linemen who enrolled at UK in January.
"It's good to know those guys who will tell you how it is. It's nice to hear about a school from the perspective of guys who are there knowing that's where I might be in two years or so," Johnson said. "Koby texted me back in September and I met him at the Mississippi State game. It's just nice knowing guys already at a school you are interested in."
Johnson will enroll early in college but also wanted to commit to get an even bigger head start on his collegiate career.
"I have learned in the past few months that you have to be extremely smart to play in college," Johnson said. "I want to start learning things now that will help me at the collegiate level and this way I can start talking to coaches at the school where I will be going about that."
---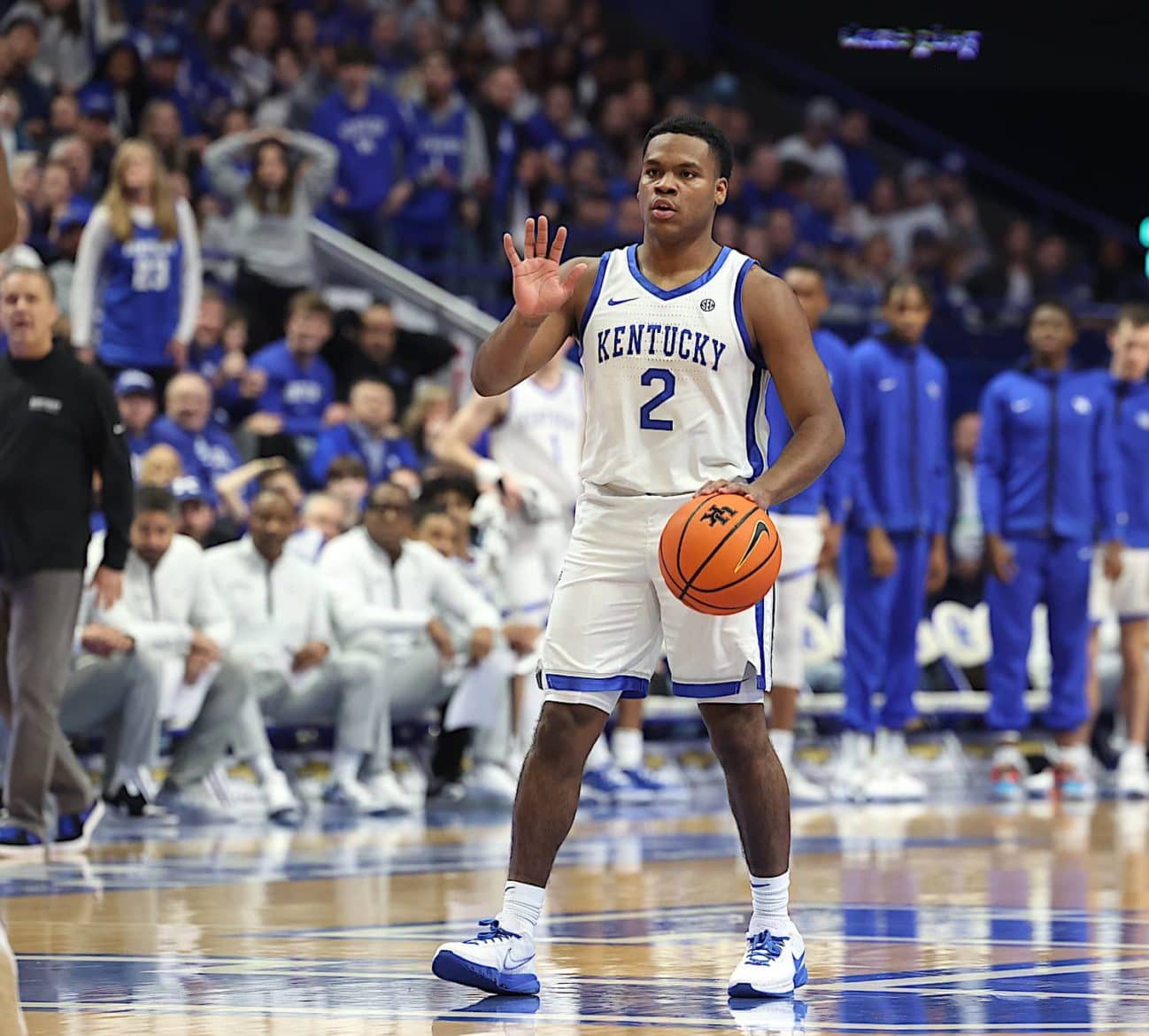 Sahvir Wheeler led the Southeastern Conference in assists the last two years — one season at Georgia and one at Kentucky. He's leading the SEC in assists again this year by a wide margin.
However, Wheeler has often been criticized by UK fans and his fit with this team has not seemed perfect. Kentucky got its biggest win of the season at Tennessee when Wheeler was hurt and Cason Wallace played point guard. The next game against Georgia, Kentucky rallied to win when Wheeler stayed on the bench the second half.
Teammates rallied to support Wheeler insisting he still was an "important" part of the team. Jacob Toppin admitted early this season he was in a "dark spot" mentally when he was not playing well and he says Wheeler has to shut out the negative noise about his play and role on the team.
"That's the thing about it, we try to stay away from it, but obviously we're gonna get moments where we see all the negative things and sometimes we can't stay away from it," Toppin said. "And obviously you have your own mind, you have that little voice in your head that's trying to feed negative things to you.
"So we gotta really try to stay away from all the negative comments but that's what we're here for. We're here to stick through it for one another, we're here for each other, and Sahvir knows we're here for him. And everyone else knows we're here for them as well."
Wheeler played just eight minutes in Saturday's win over Texas A&M and did not take a shot or have an assist.
"I love having him in," Calipari said about Wheeler. "But I also love playing the off-guards at the point… gives you more chances to score."
He also said not starting is not an issue for Wheeler.
"Who cares who starts? Who cares?? Other than that ego stuff, and he doesn't care," Calipari said.
---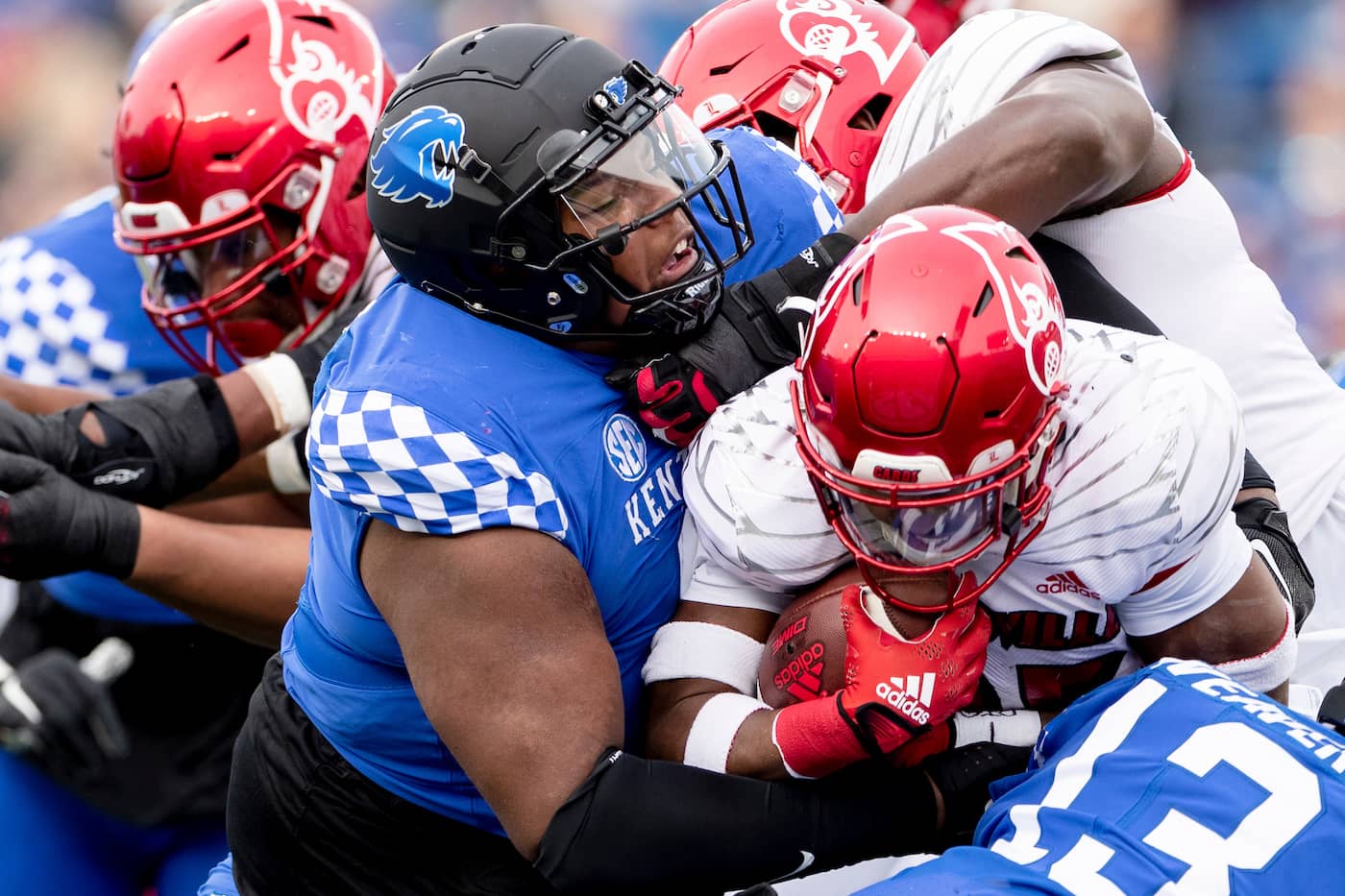 Defensive lineman Justin Rogers transferred to Auburn in part because he was looking for a more lucrative NIL deal and maybe in part because he knew freshman Deone Walker was now the star of UK's defensive line.
Many thought Walker, an all-SEC pick by the coaches as a true freshman, might consider transferring to a school that might also offer him a bigger money deal through NIL. However, the Michigan native — a five-star recruit just like Rogers was — never budged.
"Deone is an awesome kid. He is the type of kid who never gets too high or too low," UK defensive line coach Anwar Stewart said.  "Deone will come and have lunch with you. He will sit down with the strength staff, sit down with the medical trainers. He is just a really good guy and he loves ball."
Stewart says as good as Walker was this season, he will be even better in the future because of his work habits.
"He is in the gym shedding pounds, working hard, getting everybody else in the weight room with him and that's what it takes," Stewart said. "We need to continue to develop leadership and young men like Deone help us get to the next level.
"He's good but knows he can be better. He wants to be better and is not afraid to do the work to get better. That's just the kind of attitude he has and the kind of kid he is."
---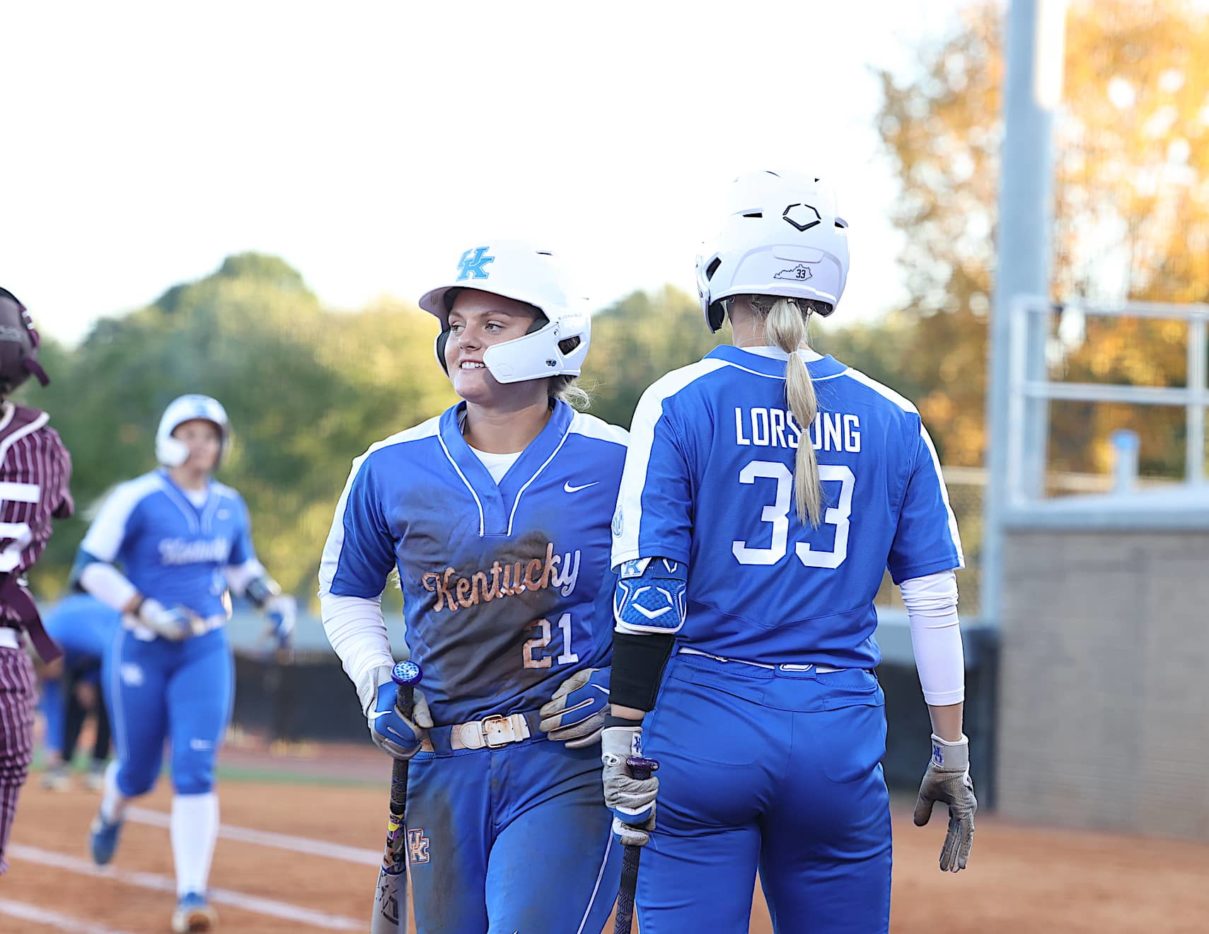 Going into her junior season, shortstop Erin Coffel has already hit 36 home runs, driven in 124 runs and pounded out 129 hits while .372 with a .762 slugging percentage. She's on pace to break Abbey Cheek's all-time career home run mark of 61 and RBI record of 202.
"She was outstanding last year (when she hit .423 with 20 homers and 68 RBI's) and everybody is going to avoid (pitching to) her this year. We have to find somebody to protect her in the lineup like (Renee) Abernathy did last year," UK coach Rachel Lawson said.
Lawson said as good as Coffel was last year, she did have some holes in her swing that enabled pitchers to get her out.
"She's better this year. Now the only time she's getting out is when she gets herself out," the UK coach said. "Her power is better. Eyes are better. She is really, really good."
Coffel was a rare freshman who started at shortstop and had 17 errors in 2021. She was an "athlete who played shortstop" then but that has changed.
"Now she is one of the best defensive shortstops I have ever seen. I have yelled at her to be better but now I have to invent ways to get on her," Lawson said. "She's had great coaching from my staff but also her dad and everybody back home. She's just hit a new gear this year for us."
Kentucky opens its season Feb. 10 at the NFCA Lead-Off Classic in Clearwater, Fla., with games against St. John's and Louisville.
---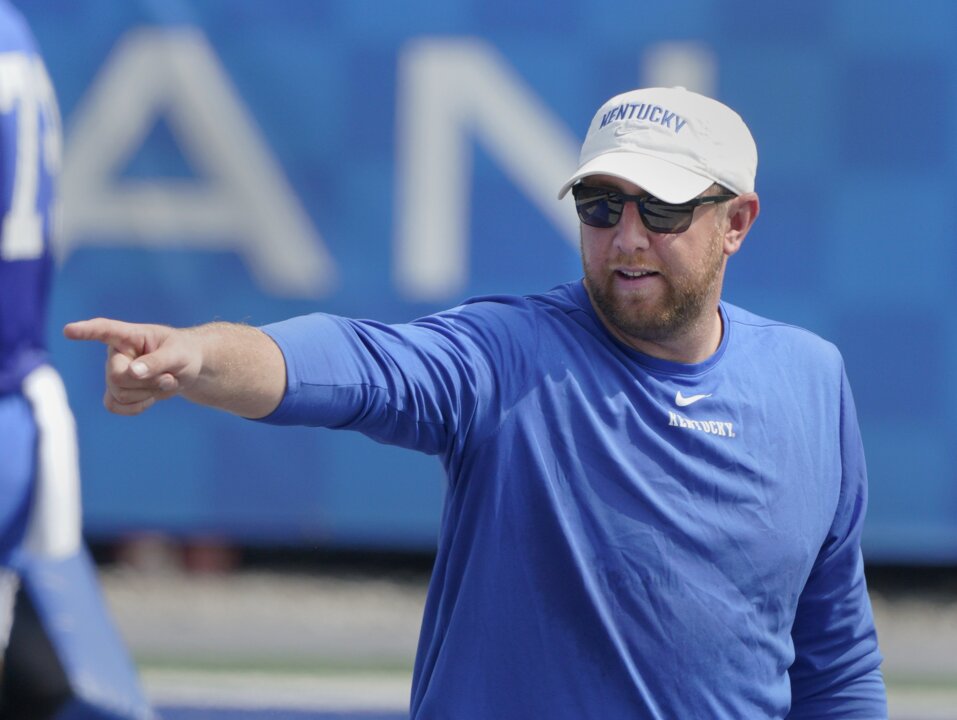 Returning Kentucky offensive coordinator Liam Coen admits going back to the NFL for a year as offensive coordinator with the Los Angeles Ram after spending the 2021 season as UK's coordinator did change him.
Coen said he learned how to handle adversity because of personnel issues the Rams had due to injuries.
"You scheme up all these great plays, but, at the end of the day, it truly is about the players and having to pivot and adjust to the type of players that we were playing with throughout the season," Coen said. "They weren't our starters. They didn't know all of our offensive scheme from A to Z, so we needed to pivot at times."
Coen said he learned to enjoy and trust the process to prepare a "clean" game plan each week despite injuries.
"These guys came to practice and meetings every single day with the right enthusiasm, right mindset, because the culture is strong, because everything we tried to do on a week-to-week basis was about leading, confidence (and) how can we give these guys our best effort as coaches each week?" Coen said.
"The results weren't always clean or what we wanted, but I think, when you go through some of these things, it gives you the perspective that it's truly always about the players. When you have great ones, usually good things happen. When you have injuries, typically great things don't happen."
Coen was part of a 10-3 season with UK in 2021 when the offense featured quarterback Will Levis, running back Chris Rodriguez, receiver Wan'Dale Robinson and centre Luke Fortner, a starter in the NFL this season. None of those players will be on the 2023 offense for Coen but he still quickly accepted a chance to return to Lexington.
"Being a part of the Kentucky culture again, coming back to a place that I truly, really didn't want to leave. We truly did not want to leave Lexington. The opportunity to come back and coach for coach Stoops and be around these players and have an impact on young people's lives (is why he came back)," Coen said.
Coen signed a three-year contract worth $5.4 million and plans to stay in Lexington because he obviously missed the college atmosphere.
"I just want to go somewhere, make a real impact and plant some roots for a little bit. Be somewhere for a few years — at least — that you feel really good about," he said. "I'm excited about being back in Lexington. There's a lot about the SEC and college football that I missed, and I'm not in a rush to go anywhere."
Coen liked walking around Lexington the year he was at UK and interacting with fans.
"Now, I know we won, but I only heard people say, 'Coach, man, good luck this year. Hope you're doing well.' That's cool. That's fun to be a part of," Coen said. "I want to try to make an impact and be around somewhere for a little while."
---
Quote of the Week: "It's arguably the best basketball job at any level over the last, whatever, 100 years, in my opinion. I think it's just because of the exposure that the program gets that maybe everything is overdramatized. I don't think there is a better coach in modern-day basketball than the coach at Kentucky. He's literally the only candidate I'm aware of that could do what that job requires," Texas A&M coach Buzz Williams on UK coach John Calipari.
Quote of the Week 2: "He really is tough as nails. He's a very key piece for us. He brings energy, he plays hards and he makes the right plays," UK point guard Cason Wallace on freshman Chris Livingston.
Quote of the Week 3: "The avalanche brought them together. The only thing that brings about change is a crisis. That was a crisis. They came together. They talk about a meeting. I'm telling you, the only thing that brings about change is a crisis. You can have a meeting with no crisis, and you're wasting time," John Calipari on a players' meeting after UK's loss to South Carolina before the Cats won the next three games.