Christian Fellowship's Lady Eagles are 3-0 after wins on Friday and Saturday over Fulton County and Carlisle County following their season opener over Dawson Springs. This is their best start since the 2005-2006 season.
In Friday's first home game of the 2022-2023 season against Fulton County, three Lady Eagles finished in double figures led by junior Gracie Howard with 21 points in their 52-45 win. CFS led most of the way but had to hold off runs by the Lady Pilots.
They led by as many as 10 points at 50-40 in the fourth quarter when Jayden Jackson completed a nice lay in before taking the win by seven.
Scoring
CFS: Gracie Howard 21, Lillian Burnett 13, Jayden Jackson 13, Ayssa Warren 3, Rhema Howard 2
CFS: FG 21/50, 3PT 4/13 (Jackson 2, G. Howard, Burnett), FT 6/11 (Warren 3/3), REB 30 (Burnett 9), AST 13
Fulton County: JaMesha Brown 27, Emily Scott 10, Hannah Murphy 4, JaVona Davis 2, Kylee Harrison 2
Fulton County: FG 18/56, 3PT 3/12 (Brown 3), FT 6/12, REB 35 (Murphy 10)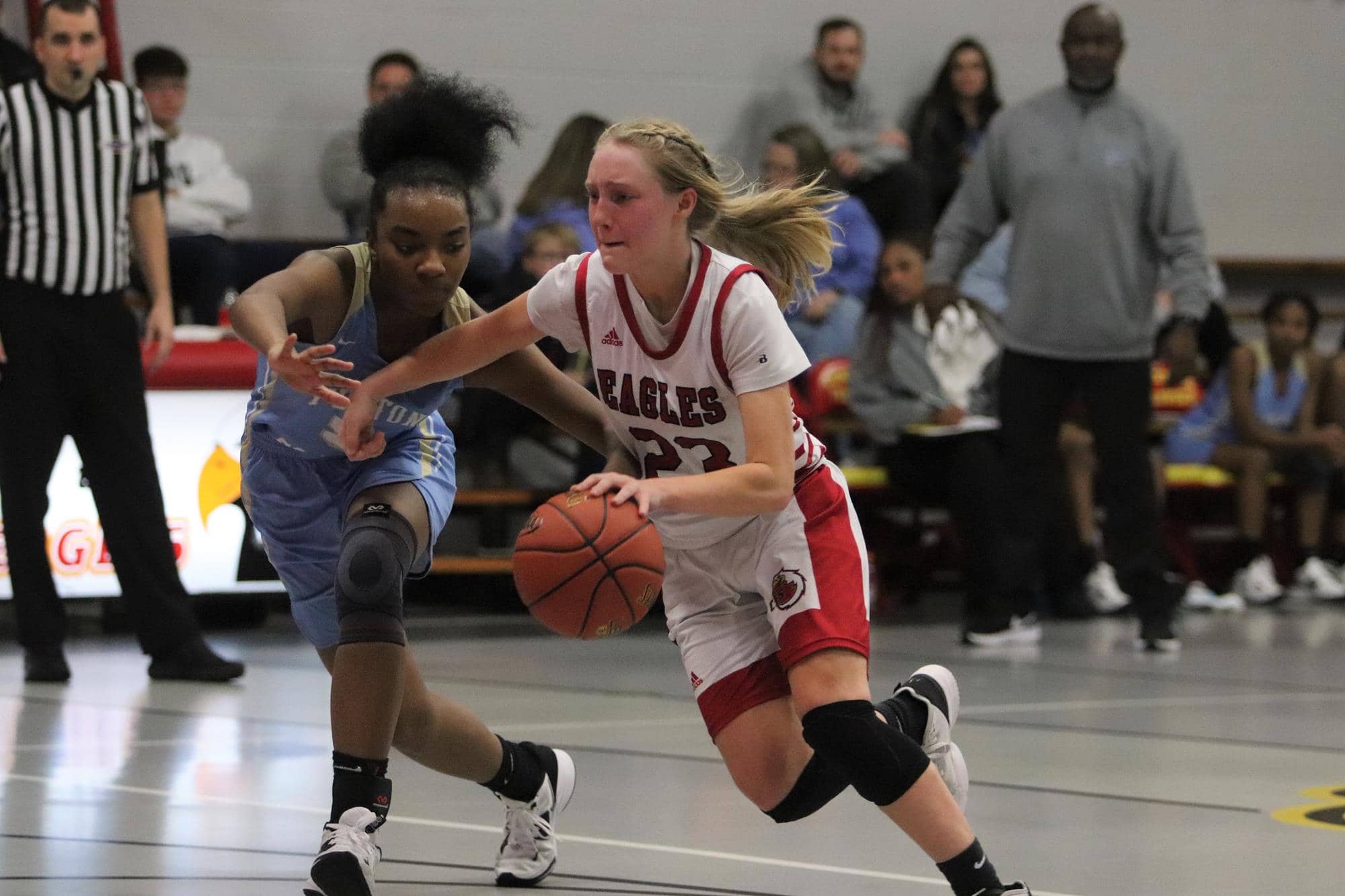 In their first game against a First Region opponent on Saturday, the Lady Eagles beat Carlisle County 74-49. It was their first win in program history over the Lady Comets. Since 2004, the two teams have played nine times before Saturday's game. Their last meeting came in the championship game of the First Region All "A" Classic with Carlisle County taking the title 64-42.
The Lady Eagles led 36-14 at halftime behind 14 points from Gracie Howard and 11 from Lillian Burnett. Both teams put up 24 points in the third quarter, Howard scoring 15 and eighth grader Gracyn Edging leading Carlisle County with 14, including three 3-pointers.
The Lady Eagles had the game firmly in control heading into the fourth quarter with a 22-point lead.
Gracie Howard's 31 points led CFS, 22 by Edging led Carlisle County. Burnett and Rhema Howard recorded double doubles. Burnett finished with 18 rebounds and Howard had 11.
Scoring
CFS: Gracie Howard 31, Lillian Burnett 15, Rhema Howard 10, Jayden Jackson 9, Renee Shields 7, Kyndal Owen 2
CFS (3-0): FG 30/55, 3PT 2/5 (G. Howard, Shields), FT 12/18 (G. Howard 6/7, Jackson 5/6), REB 53 (Burnett 18, R. Howard 11), AST 13
Carlisle County: Gracyn Edging 22, Kiera Whitaker 13, Macee Hogancamp 5, Madyson Lynn 2, Malle McGee 2, Mya Curlin 2, MacKenzie Terry 2, Abree Warren 1
Carlisle County (1-2): FG 17/59, 3 PT 7/26 (Edging 5), FT 8/17, REB 19
The Lady Eagles have three games at home this week. Tuesday against Heritage Christian, Friday they host Ballard Memorial and Saturday they will take on Livingston Central. All game with a 6:00 tipoff.