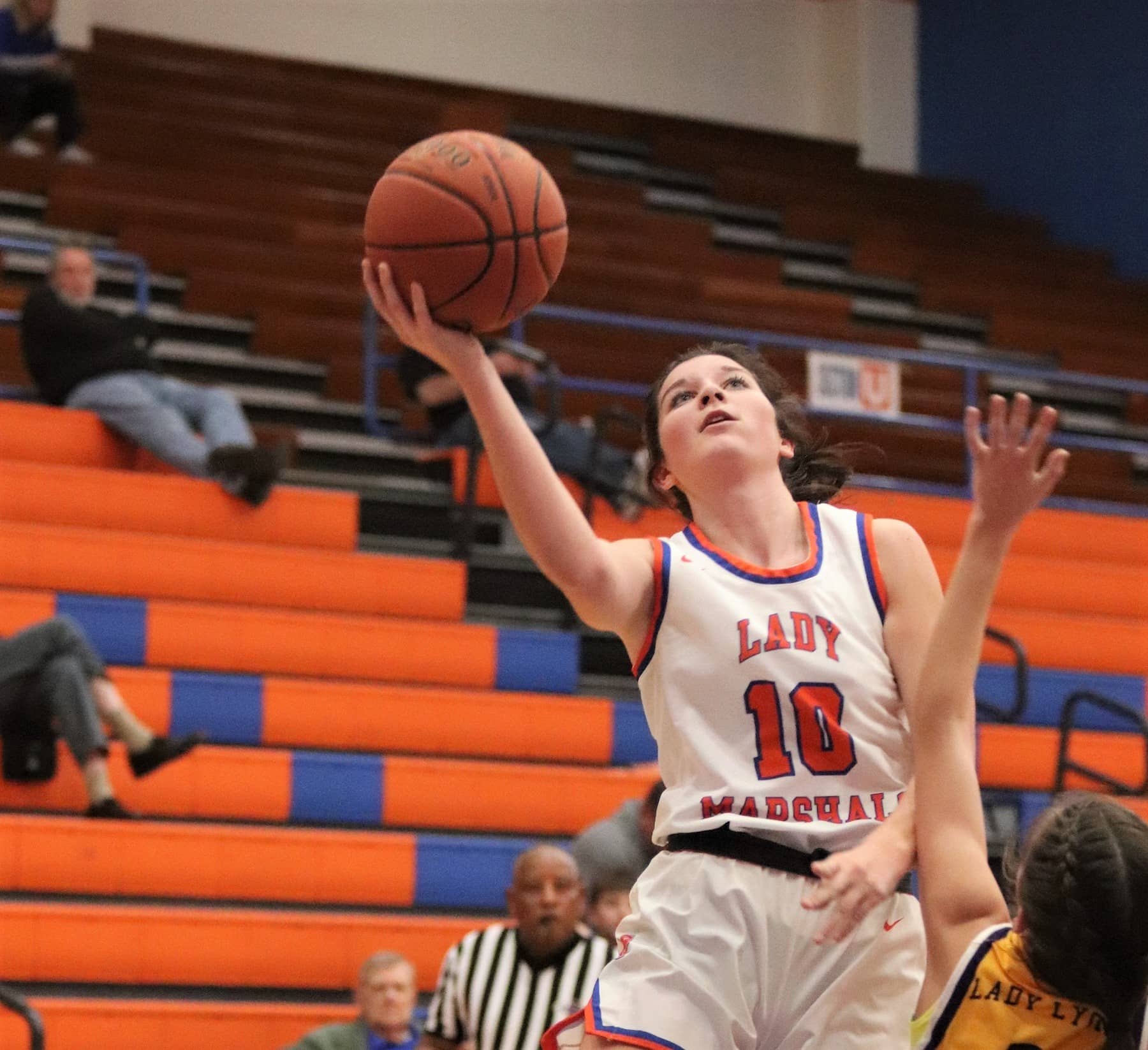 In their first game of the 2022-2023 season and first with new head coach Jimmie Holder, the Lady Marshals played Lyon County in Thursday's opening night of the Marshall County Hoopfest. Since 2002, the two teams have played just four times with the Lady Marshals winning all four including a 58-25 win in last year's Hoopfest.
Thursday belonged to the Lady Lyons, winning 51-48 and denying the Lady Marshals their season opener.
Holding onto narrow leads throughout the first half with the exception of four ties and a one-point Marshall County lead, the Lady Lyons stretched out a 12-point lead heading into the fourth quarter.
After outscoring the Lady Lyons 18-9 in the fourth quarter, the Lady Marshals had two 3-pointer attempts in the final seconds to tie the game taken by Amelia Boone and Mia Teague that just missed.
The game began on a 6-2 Lyon County lead before Boone gave a lift to the Lady Marshals with her two threes, the first to cut the lead to 6-5 and the second to tie the game at 8-8.
Trailing by three going into the second quarter, two straight baskets from sophomore Laken Schroader gave the Lady Marshals their only lead of game at 13-12. A 6-0 run by the Lady Lyons opened up a 5-point lead but the Lady Marshals would tie it up three times behind five points from Georgia Hall and it was 22-22 at halftime.
Eighth grader, Trinity Taylor, scored eight of her team leading 10 points in the third quarter to help fuel a Lady Lyons 12-point lead.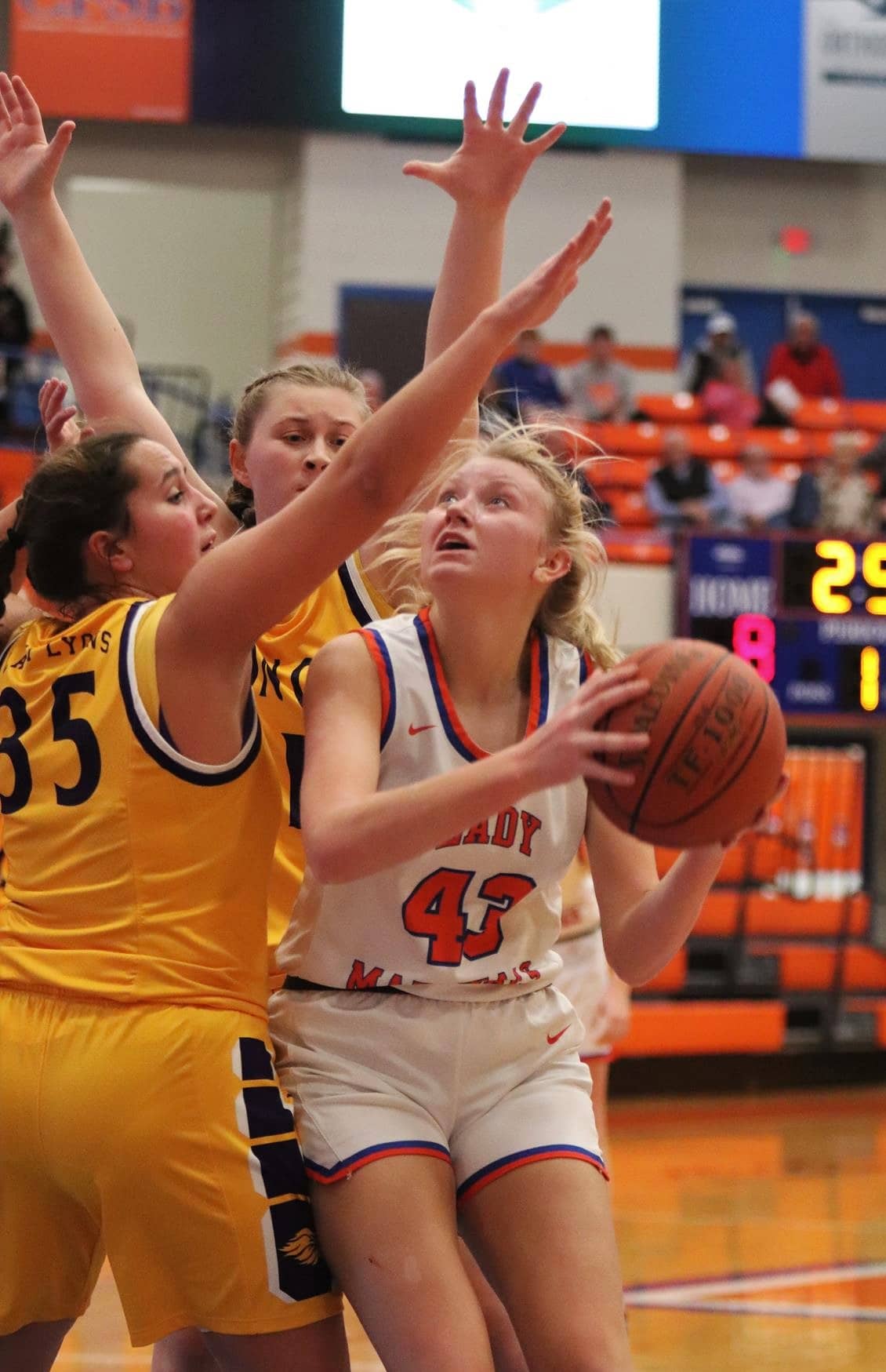 A basket to open the fourth quarter gave the Lady Lyons their largest lead of the game of 14 points. Schroader led the Lady Marshals charge to get back in the game with seven points that cut the lead down to 48-43 and Teague's three cut it to three points at 49-46 with just under three minutes to go.
A basket by Chevelle Henson made it a 2-point game at 50-48 with 48.9 left on the clock while the Lady Lyons kept the door open in the quarter hitting only five of their 11 attempts at the free throw line. One free throw that mattered was made by Gracen Wynn to give them a three-point lead and force the Lady Marshals to go for three to tie in the closing seconds.
Schroader led the Lady Marshals in scoring with 16 points. Taylor and Lilly Perry each had 10 points to lead the Lady Lyons.
The Lady Marshals will play their second game of the Hoopfest on Saturday at 10:30am against Martin County.
Marshall County    9   13    8   18  –  48
Lyon County           12   10   20   9  –  51
Marshall (0-1): Schroader 16, Henson 11, Hall 7, Boone 6, Teague 5, Morton 3
Lyon (1-1): Taylor 10, Perry 10, Holland 9, Cotham 8, Wynn 6, Collins 4, Coursey 2, Defew 2
Game MVP: Trinity Taylor

Marshall County vs Lyon County, 12-1-22