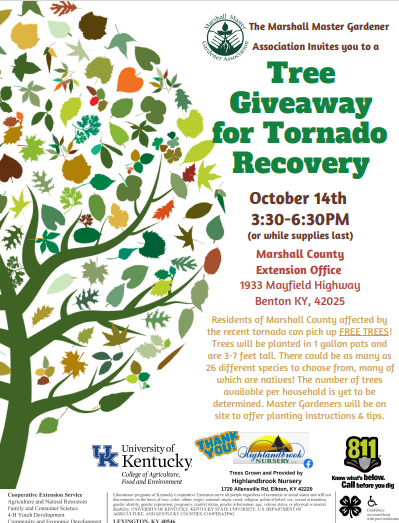 – Nikki Rhein, Marshall County Agriculture and Natural Resources Agent
The Marshall County Extension Office and the Marshall Master Gardener Association are providing a tree giveaway in response to the devastating Dec. 10th Tornado. Residents of Marshall County affected by the recent tornado can pick up FREE TREES at the Marshall County Extension Office on October 14th from 3:30-6:30pm.
How did this happen? The Master Gardeners were searching for ways to help re-establish the landscape demolished by the tornado and with the help of the staff at the Christian County Extension Office, were able to secure trees for donation. The trees were graciously donated by Highlandbrook Nursery located at 1720 Allensville Rd. in Elkton, Kentucky.
The trees are planted in 1-gallon pots and are approximately 3-7 feet tall. There could be as many as 26 different species to choose from, many of which are natives! Possible types include (not guaranteed): black gum, yellow poplar, witch hazel, sugar maple, pecan, loblolly pine, eastern redbud, red maple, nuttall oak, sweet gum, sycamore, white oak, persimmon, bur oak, bald cypress, scarlet oak, northern red oak, overcup oak, swamp white oak, chinquapin oak, eastern red cedar, shellback hickory, Washington hawthorne, American hornbeam, willow oak, and serviceberry. The number of trees available per household is yet to be determined.
The Marshall Master Gardeners and Extension staff will be on site to offer their expertise on planting and other helpful tips. For more information call 270-527-3285.
Flyer download: Tornado-Recovery-Tree-Giveaway-Flyer