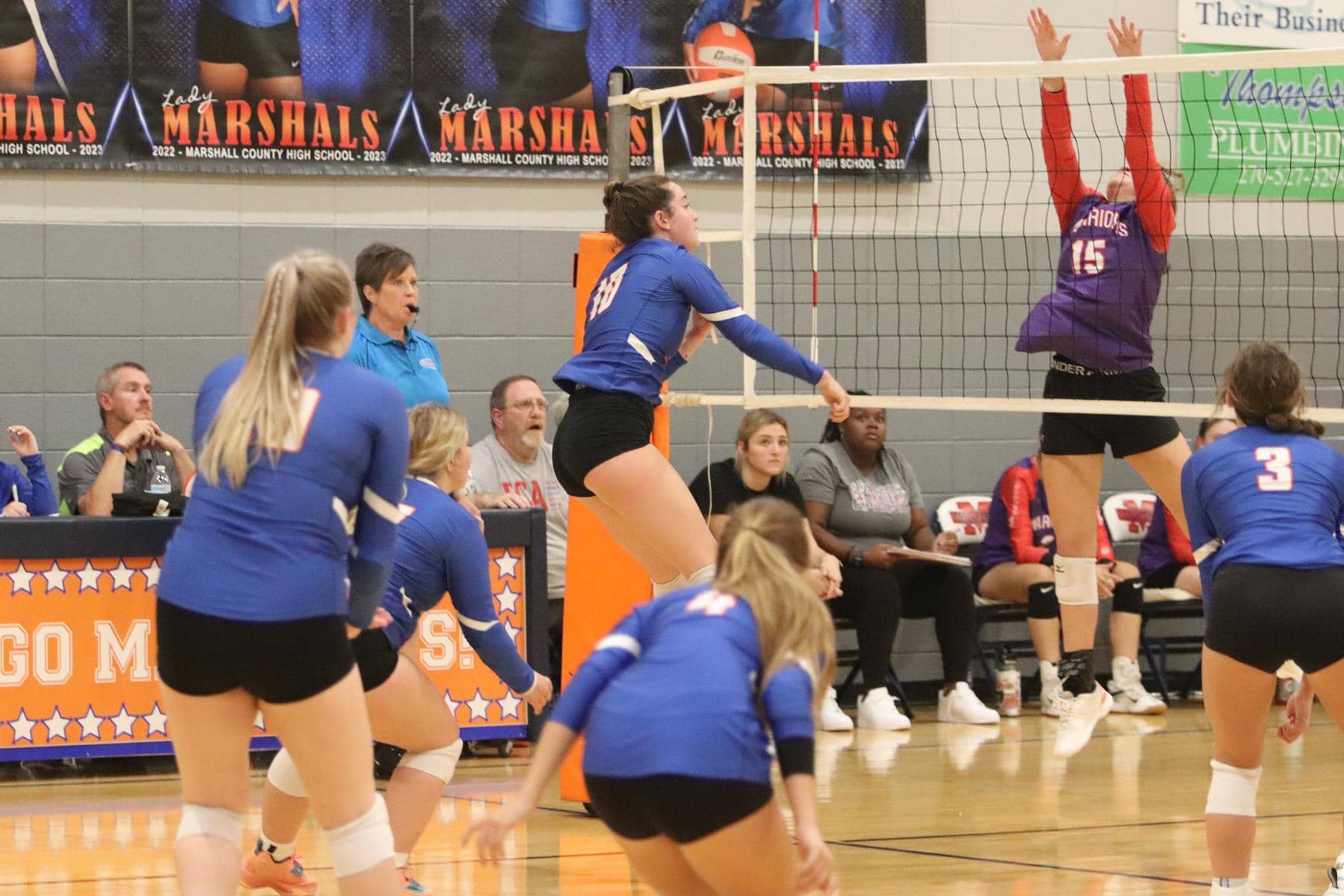 Despite losing seven seniors off of last season's 21-6 team, the Lady Marshals volleyball team returns many familiar faces to the court with varsity experience including seniors Tori Shaw and Annie Beard along with junior Sarah Bremmerkamp. There is also a new but familiar head coach in Jonathan Hart who was a former assistant with the team.
The Lady Marshals opened the 2022 season at home on Monday against Community Christian Academy and earned their first win with a three-set victory over the Lady Warriors, 25-17, 25-21, 25-17.
"Anytime the first game of the season you can come out and get a win against a quality opponent, it always feels good", Hart said. "We played over the weekend in Bowling Green and I didn't necessarily feel like we played our best over there, but the girls came out and responded really well tonight…they did a good job passing, they did a good job talking and communicating."
The Lady Marshals maintained the lead throughout most of the three sets but often found their extended leads cut back to single digits by the Lady Warriors who tied the game up and led several times in the final set.
The Lady Marshals recorded 31 kills, led by Shaw with 13, Bremmerkamp with eight and five from Abby Belcher. Leigha McVickers led in blocks with five followed by Charley Woods with four and two block assists. Bremmerkamp led in service aces with three and Shaw had two.
"One thing I've been trying to preach since July is, have fun, and you saw that tonight", Hart said. "A lot of enthusiasm, a lot of laughing. They never got down on themselves and they just fought hard and that's all you can ask for."
One of the five seniors on this year's squad is Charley Woods, who hasn't played the last two years but rejoined the team this season.
"I'm just very pleased with her effort and her attitude and wanting to come back out and be a part of this team", Hart said. "She played for me as a freshman and it's almost like she never quit."
Hart said this group has known each other and have played together for a long time and feels that will really help with the way they play and the way they approach games.
"We have some really good talent that had varsity experience and they know what I expect and that's just to come out every day and just try to get better and we have a team that can do some really good things", Hart added. "We kind of took it personally that we were not voted a preseason top five team in the region. That's motivation."
They will play a home again on Thursday against Paducah Tilghman.