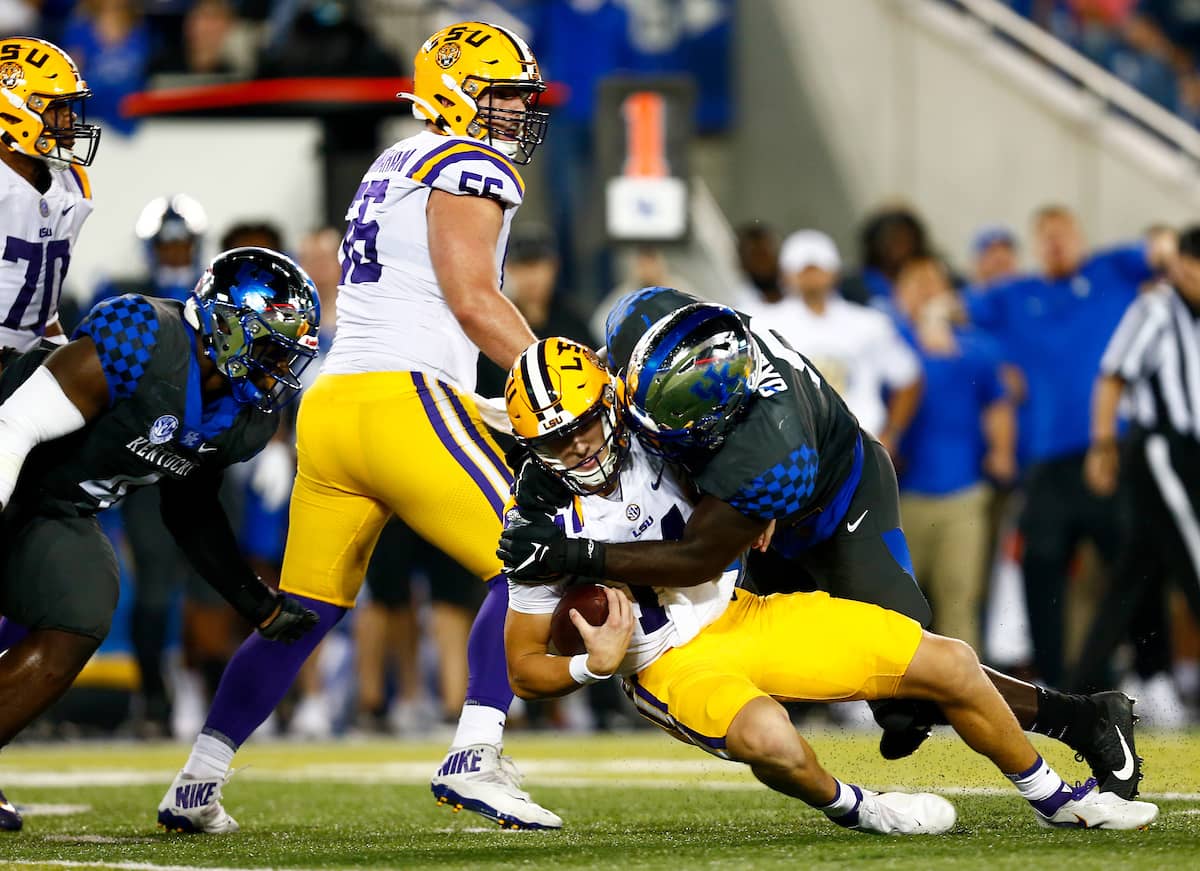 By LARRY VAUGHT
Sometimes bigger is not always better.
Kentucky junior defensive lineman Octavious Oxendine felt like he had to gain weight when he got to Kentucky and went into last season weighing close to 320 pounds. Now he's down to about 281 pounds and wants to play at that weight this season.
"I tried to slim down. I wanted to be quicker on my feet to move laterally and stuff like that. Be able to be faster than those big guys I am going against," the former North Hardin standout said.
He started three of UK's first six games last season and had 15 tackles, two quarterback sacks and one quarterback hurry. However, Oxendine suffered a season-ending knee injury against LSU. He lost weight during his rehab but decided he would like to stay at a lighter weight.
He gave up pasta, his favorite food, and now feels faster and fresher than ever.
"I figured out after I got here that I had to have strength and speed. I lost the weight and hopefully will have more speed and keep the same strength because of the way I trained and lost the weight," Oxendine said. "I hope I can put it all together this year."
Oxendine said defensive coordinator Brad White and defensive line coach Anwar Stewart did not pressure him to lose weight.
"I think it was an all-around thing. Coach White had asked me if I felt faster at the weight I was at when I was dropping weight during rehab. I told him I did and he told me it was fine to play there and after that I just kept gradually building off that," Oxendine said.
White likes what he has seen, too.
"He's got to be the leader in that (defensive line) group. He's trained so hard to get back to the point he was before he got injured. It's early, but he looks explosive," White said at UK's Media Day. "Yes, his weight is down, but he looks stronger. He's looser than he's ever been in the past. He's brimming with confidence."
White said he felt Oxendine could play any defensive line position. He even suggested he could potentially play linebacker in certain situations, a possibility Oxendine embraced.
"I think I could go back there. I could play linebacker if he needed me," Oxendine, who has played in only nine games in two years, said.
The defensive lineman could tell I seemed a bit skeptical, especially about him dropping into pass coverage.
"You really don't think I've got it?" he asked. "I could jump in the curl flats over there. I got it. I could do that (pass coverage) if that's what I needed to do."
He's even more confident he can be the leader White and Stewart want him to be for a defensive line that lost its inspirational leader in Josh Paschal, a third-round draft pick of the Detroit Lions. Oxendine is wise enough to know, though, that leadership needs to come from more than just him.
"You can tell the guys at this age but are they going to come and do it with you or not. You have got to have that buy-in and it is all coming together for us," Oxendine said. "In my mind how good we can be as a team starts up front and we have to be great."
Oxendine says no one player has impressed him with a big improvement. Instead, he believes all his teammates are better.
"I ain't going to lie. I would say all the guys. Not because they were bad but I have seen a lot of them mature. They were a young group of guys but they all bought in to come in and get the extra work and get to where we want to be," the junior said.
Oxendine had to put in plenty of extra room during rehab to get where he is going into this season. He's back 100 percent physically but admits rehab was hard mentally.
"It was a process that anybody who goes through rehab can tell you it is a lonely situation you go through but you do a lot of growing and maturing. I feel I matured a lot and became a better person but it was hard," he said. "It is waking up in the morning and knowing you were just playing football a few weeks ago and now you are walking on crutches and can't do a lot of stuff you could do before.
"It like getting in your mind you have to do this. I tell guys going through rehab now that you know you want to play football again, so you have got to do it. You can't just stop. You have to do it and that's what I did."
---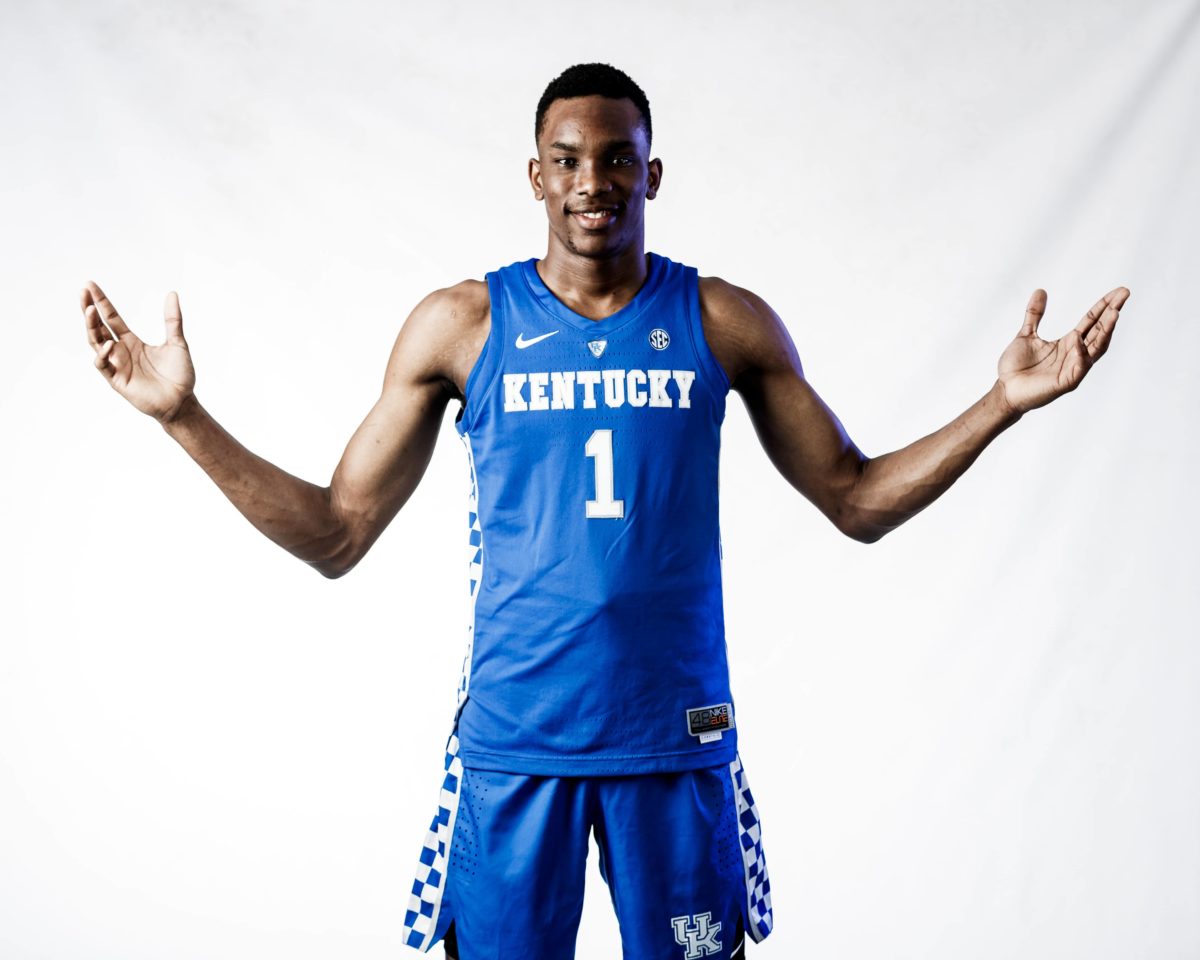 ESPN national scouting director Paul Biancardi saw recent UK signee Ugonna Kingsley Onyenso, a five-star prospect, play twice recently in major showcase events and liked what the 6-11, 225-pound center can do.
"He is freakishly long. He is close to 7-feet with a 7-6 wingspan," Biancardi said. "He shrinks the floor defensively. He makes it hard for his man to score and for anyone else to score at the rim."
He was originally in the 2023 recruiting class but reclassified after coming to the United States from Nigeria in January. He played at Putnam Science Academy in Connecticut and averaged 11.4 points, 9.0 rebounds and 5.7 blocked shots per game (he had five games with at least 10 blocks). He also shot 64 percent from the field.
Biancardi says Onyenso is an "exceptional" runner who can convert from offense to defense in an instant.
"He can finish inside and has a really nice face-up game. His footwork is advanced for his age and size," Biancardi said. "He is a guy you can do a lot with. He brings so much that you really can't coach. John (Calipari) just has to refine some of his skills."
Biancardi knows Kentucky returns Oscar Tshiebwe and also has Lance Ware, Daimion Collins and Jacob Toppin back. Still, he thinks Onyenso can help this season despite speculation that he might be content with a redshirt year.
"Big guys have to learn to play without fouling in college against smarter, stronger guys. A lot of bigs do not get taught proper angles and adjustments," Biancardi said. "He can help right away but there is a lot to develop. He can really use coaching and practice time."
Kentucky Sports Radio basketball writer Jack Pilgrim says the redshirt speculation is because there is no "rush" to play him with Tshiebwe on the roster.
"He is raw offensively and can take his time and develop under Oscar," Pilgrim said. "But you will not find a better shot blocker in high school basketball than him. He's really good."
---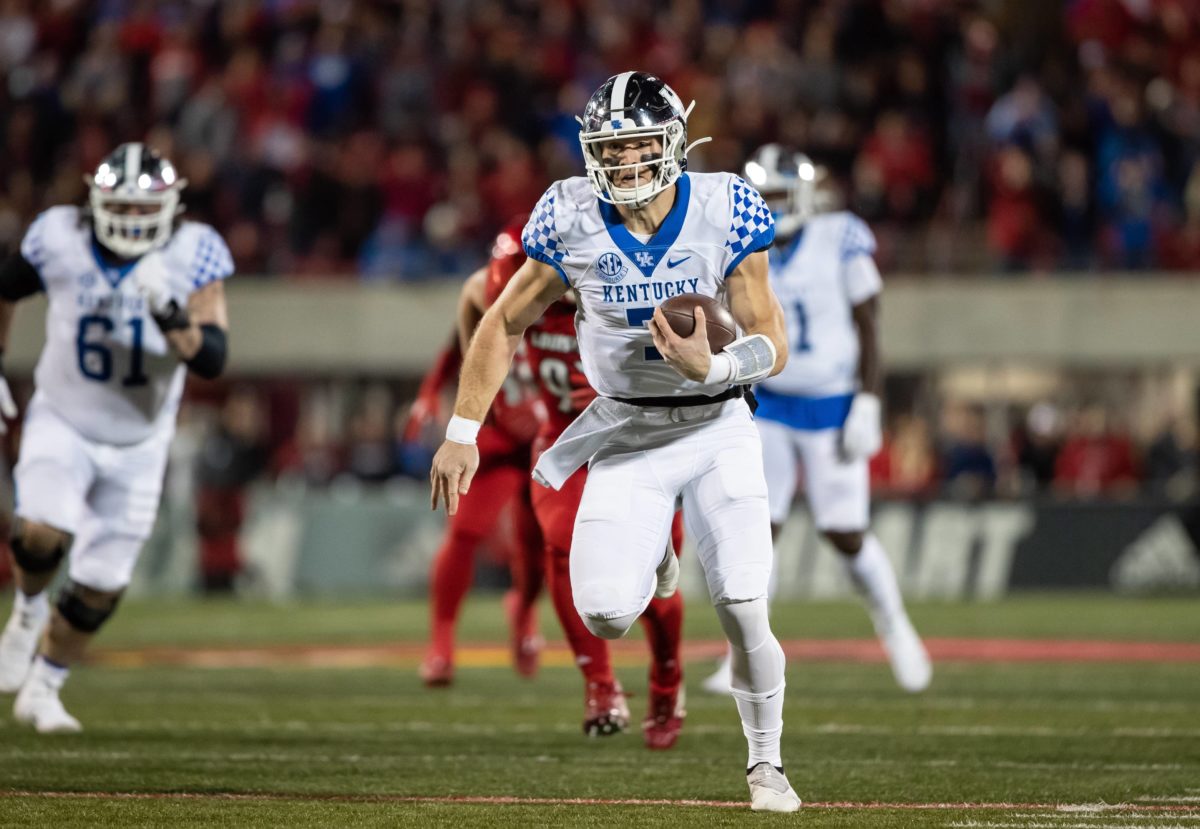 Zach Yenser knows plenty about talented quarterbacks after coaching in the NFL with the San Francisco 49ers. Even though he coached the offensive line, Yenser got to watch the best quarterbacks perform.
The new UK offensive line coach calls Kentucky quarterback Will Levis an "absolute stud" based on what he's seen since joining the Wildcats.
"If he walked into an NFL building right now, the dude would fit in anywhere he goes," Yenser said. "He is that guy.
"The way he carries himself, his arm talent … guys also love him and that's also important in the NFL to be a great quarterback."
Levis also has one other quality that Yenser loves.
"He is a tough guy. In the spring game he was diving for a first down. (Offensive coordinator) Rich (Scangarello) told him to stop that so he would not get hurt. But he's an absolute stud," Yenser said.  "We can put a lot on him in our NFL scheme because he gets it. He is fun to have on the team but we have got to keep him upright (not injured) and we will be fine."
Redshirt freshman quarterback Kaiya Sheron of Somerset has learned a lot from Levis as he battles to win the backup job.
"He shares whatever he knows, which is awesome for me because obviously I'm learning a lot right now. I'll keep learning from him," Sheron said at "UK's Media Day. "Everything he knows, if he does it wrong, he does it right, he shares what his process was the entire play, the entire film session or whatever we're talking about and that really helps."
Levis' attitude has rubbed off as Sheron has built a solid relationship with Iowa transfer quarterback Deuce Hogan.
"I've learned from him. We've watched film together, wrote plays on the board together. Just been learning a lot together," Sheron said about Hogan. "We've had talks about the competition about how we respect each other's game, respect each other and may the best man win.
"When you are in the same room with Will, you see the right way to do things and how to do your job."
---
Former Kentucky guard Tyrese Maxey averaged 17.5 points, 4.3 assists and 3.2 rebounds per game in his second NBA season with the Philadelphia 76ers while shooting 48.5 percent overall, 42.7 percent from 3 and 86.6 percent at the foul line in 75 games. In 136 career games, he's averaged 13.2 points, 3.2 assists and 2.5 rebounds per game in his first two NBA seasons.
Philadelphia coach Doc Rivers knows he got a steal with the 21st pick in the 2020 NBA draft and made that very clear on  ESPN's "The VC Show" podcast with Vince Carter recently.
"He's the most impressive young player I've ever had, in 21 years of coaching. His work ethic, Vince, is beyond belief. Many times already this summer, already two or three times, we've had to tell him to go sit down somewhere and go relax," Rivers said.
Most impressive young player he's ever had? Considering Rivers' track record in the NBA, that's impressive.
"He works with Sam Cassell and my son Spencer, they're skill-developing coaches," Rivers said.
The coach said Maxey called his son a few weeks ago while he was on vacation because he didn't know what to do. He told Rivers' son he had never been on vacation and said there was no way he could relax for a week on vacation.
Maxey obviously knows his third season is a big contract year for him and could command a maximum contract extension if he has another big season, a move Rivers would obviously support.
---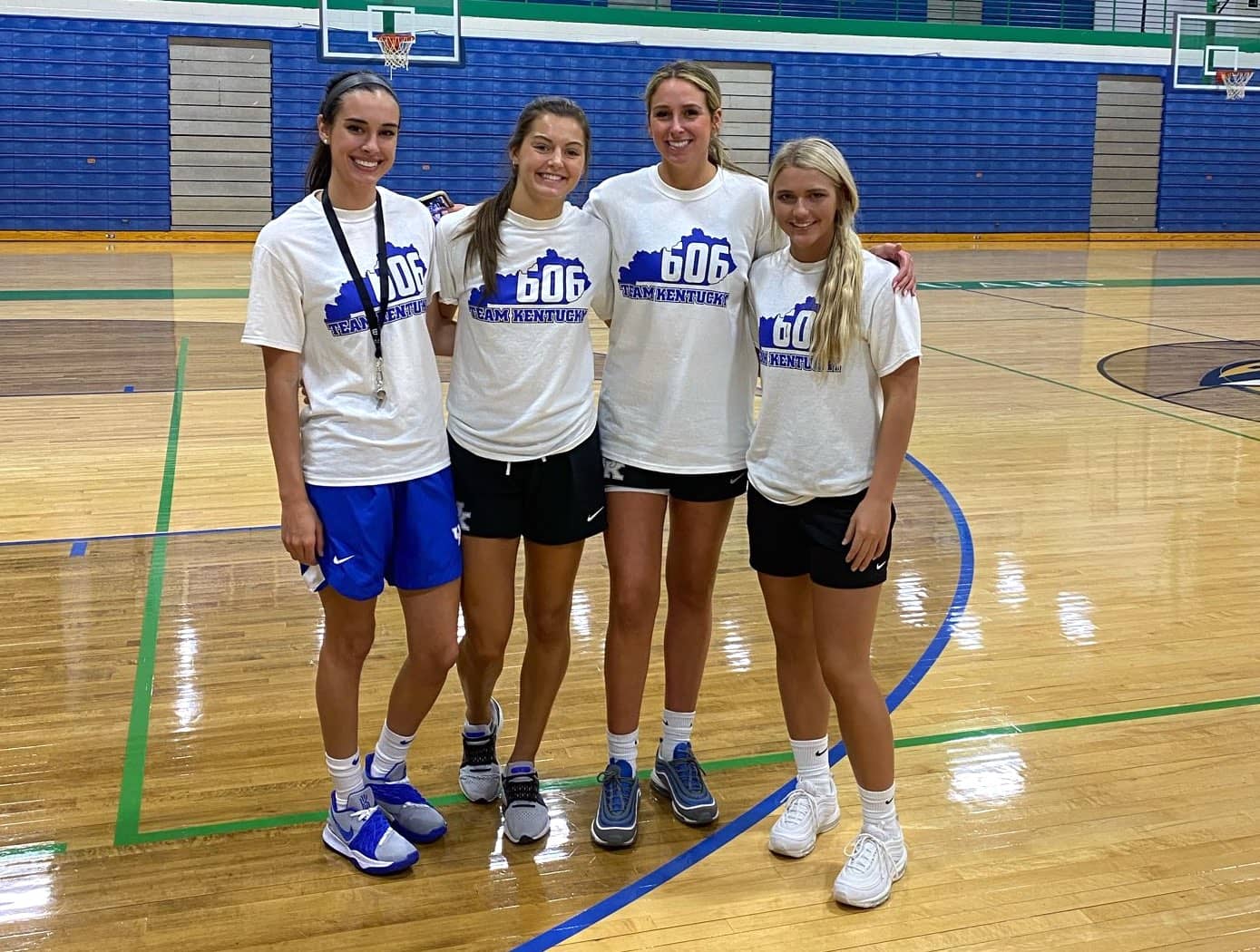 With so much focus on John Calipari's team it has been easy to overlook that UK women's coach Kyra Elzy is truly rebuilding her team. Kentucky won the SEC Tournament last year but leading scorer Rhyne Howard — the No. 1 pick in the WNBA draft — is gone.
Elzy's team has 10 newcomers and five returning players, including seniors Blair Green and Emma King.
"One thing coach Elzy is harping on is returning players, specifically me and Blair, being great leaders," King said after UK finished summer workouts last week. "I remember my freshman year I was probably the least confident person to walk through that door ever.
"I try to remember that and give as much as I can to help these newcomers. I was the only freshman practicing when I came in. They have a lot of new players. Actually, they are pretty much the entire team and they are going to be thrown to the fire because there are not other options."
However, King is extremely optimistic about the upcoming season.
"I try to lead the right way with the right mindset," she said. "I love this year's team and I am excited about what we can do. I think we are really going to be a fun group to watch."
She combined with current teammates Blair Green and Cassidy Rowe along with former UK star Maci Morris, all from the 606 area code like King, to put on the 606 Basketball Camp at North Laurel High School in London last week that raised $3,000 for flood relief.
"It was really Blair's idea but was just something we all felt very strongly about doing and trying to help out in any way we could," King said.
---
Kentucky plays four exhibition games in the Bahamas this week and Oscar Tshiebwe believes Kentucky fans will really enjoy seeing freshmen Cason Wallace, Chris Livingston and Adou Thiero play.
He says the freshmen are the biggest change he's seen between last year's team and the current team.
"They are working. They are giving everything. They seem more ready to go than the freshman last year," Tshiebwe said.
How ready are they?
"They are grown men out there," Tshiebwe said. "They are attacking. They know it is not easy. They are doing so good. They just play physically and I love it."
---
Quote of the Week: "What he has done over the years in times of crisis is unmatched. He sees a bigger picture. Might be the most under appreciated and understood coach in college basketball. His compassion for others is second to none," ESPN college basketball analyst Seth Greenberg on John Calipari after UK basketball's flood relief telethon raised almost $3 million.
Quote of the Week 2: "It is a good competition and both are worthy of the position. Both had really good summers and I have seen huge strides, probably even more than I expected," UK offensive coordinator Rich Scangarello on backup quarterbacks Deuce Sheron and Kaiya Sheron.
Quote of the Week 3: I wish everyone had a chance to meet my son. Ever since he was a young, parents, teachers, coaches and anyone he would cross would stop me and say, 'you have such a respectful, kind hearted son,'" Chris Rodriguez Sr. on his son, UK running back Chris Rodriguez.