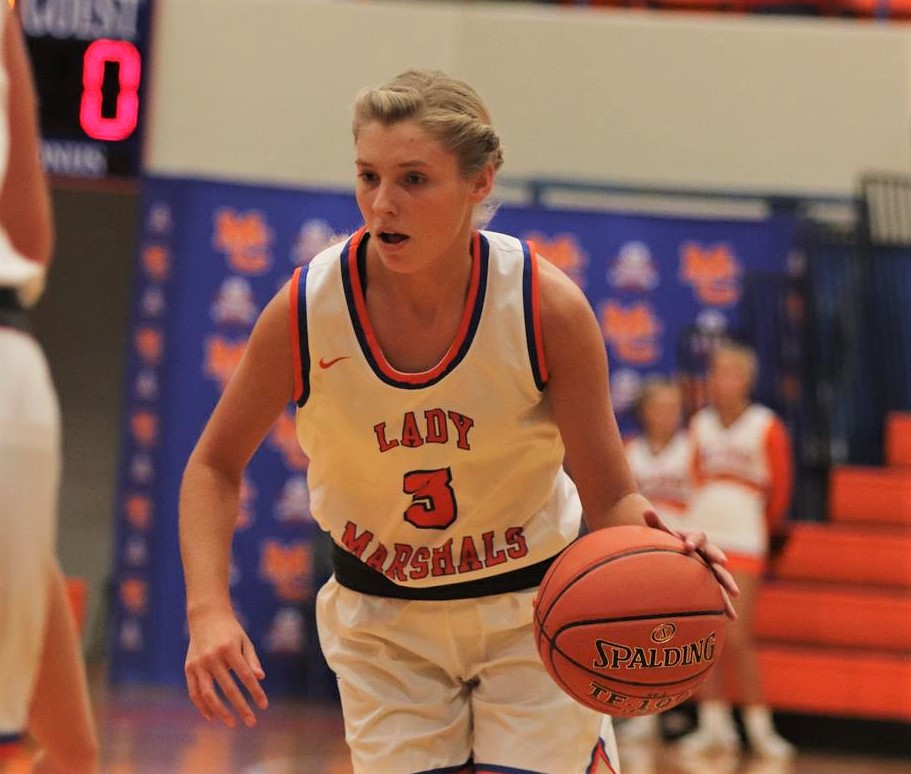 Playing in her first game since Jan. 4, Jada Driver led the Lady Marshals with 21 points in Friday's 64-40 Homecoming win over Calloway County. Driver had three goals from 3-point range and went 4-for-4 at the free throw line. Halle Langhi finished with 16 points and hit 5-of-6 at the free throw line.
After a 4-0 start on free throws from Driver and a basket by Chevelle Hensen, Calloway would cut the Lady Marshals lead to 7-5 on a three by Sunny Clark and Reese Settle basket. That's as close as the Lady Lakers would get the rest of the night. Marshall County finished out the first quarter up 22-7 on free throws by Skylar Waller.
Five points from Langhi, four by Waller and a Henson free throw made up the second quarter scoring to lead by 16 at the halftime break.
Trailing 39-18 in the third quarter, Calloway went on a 7-0 run behind five points from freshman Jaycee Crouch and two from Settle to cut the lead to 14. The Lady Marshals followed that up with a 10-0 run to take a 49-27 lead into the fourth quarter.
Led by Driver's nine points in the fourth, the Lady Marshals cruised to a 24-point district win.
They will hit the floor at Reed Conder Gymnasium after a short rest to take on Bowling Green today at 3:30. The Lady Purples are 15-4, two of the wins are COVID cancellations.
Calloway     7     9   11   13  –  40
Marshall   22   10   17   15  –  64
Calloway (5-8): Crouch 13, Lowe 13, Settle 10, Clark 3, Futrell 1
Marshall (11-3): Driver 21, Langhi 16, Waller 9, Henson 9, Teague 3, Schroader 2, Weitlauf 2, Hall 2
Marshall: FG 21-48, 3 PT 5/16 (Driver 3), FT 17/20 (Driver 4/4, Langhi 5/6, Waller 5/6), REB 25 (Langhi 6)