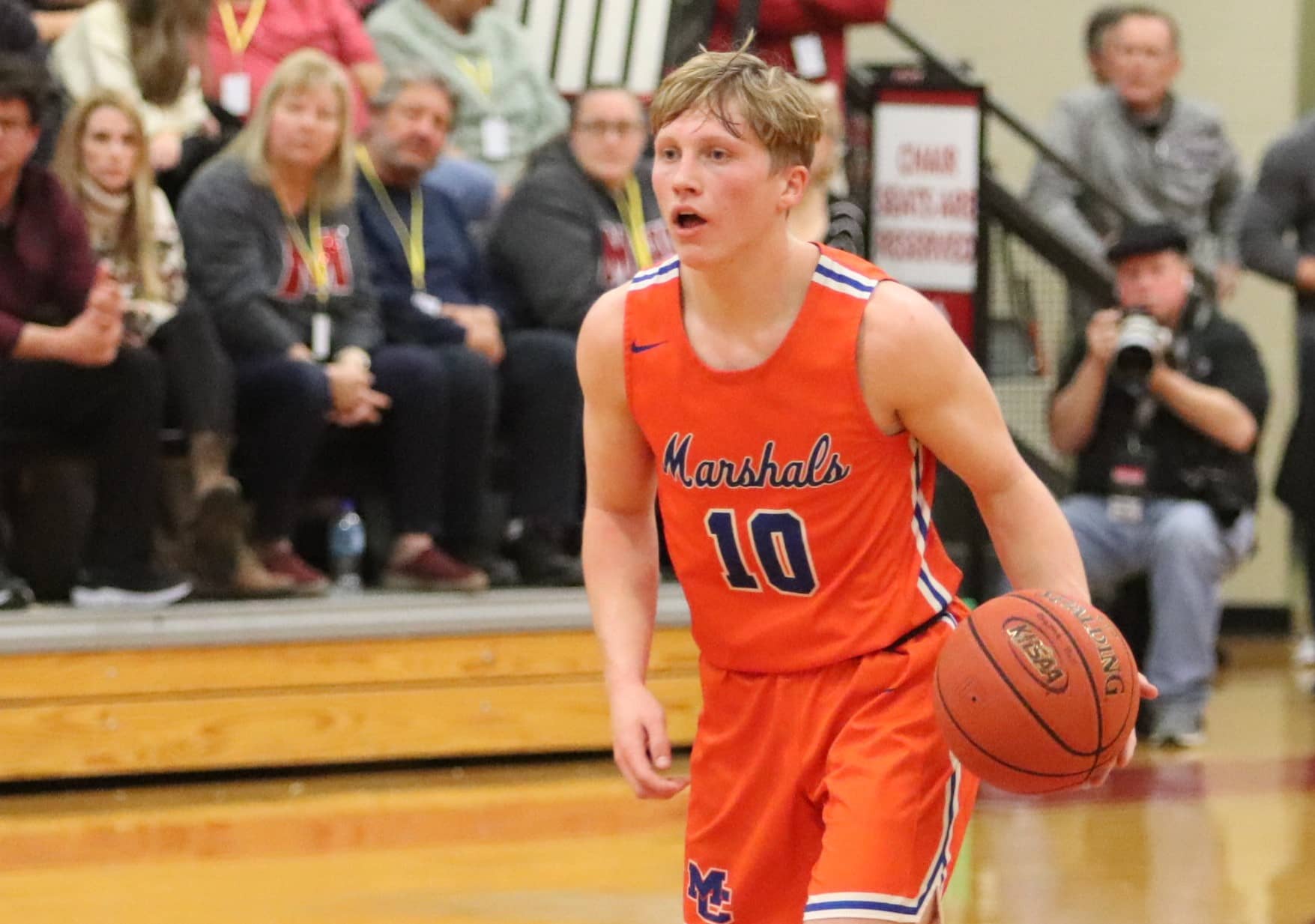 A 3-point attempt taken by Wade Moore at the buzzer for a chance to send the Marshals district game against Calloway County into overtime, missed the mark and the Lakers left Reed Conder Gymnasium with a 64-61 victory.
Dropping to 0-2 in the district, the remaining four district games take on must-win status. The Marshals have two district games yet to play against Christian Fellowship on Jan. 25 and Feb. 4 and will finish out the 2-game series with Murray and Calloway County in the same week on Feb. 8 and 11.
The Marshals 4-0 start to the game on a basket by Kole Sedlock and free throws from Cole Mills was answered by an 8-0 Calloway County run, five of the eight coming from senior Matthew Ray. A basket from Mills stopped the run and the Marshals would finish out the quarter 9-5 over the Lakers to lead 15-13.
That lead would be their last until well into the fourth quarter. Drew Hudgin tied the game to open the second quarter, then scored again to give Calloway the lead. A 3-pointer and slam off a rebound by Ray fired up the Laker crowd and gave Calloway their largest lead of the night of nine points.
A Mills field goal and two straight to end the quarter by Hunter Wallace cut the Lakers lead down to 27-22 at halftime.
Down 34-29 in the third quarter, a basket from Logan Davis followed by a 3-pointer and "and-1" play from Moore drew the Marshals to within two but they would trail 44-40 going into the fourth.
Freshman Jonah Butler gave the Lakers a six-point lead to open the final eight minutes. Still down by six, a 3-pointer followed by two baskets at the line by Trey Wall cut the lead down to one at 48-47.  They tied the game at 52-52 and took the first lead since the end of the first quarter at 55-54 on a three-point play by Quinn Smith.
Smith free throws put the Marshals back up 57-56 and it proved to be their final lead of the game. Hudgin put the Lakers back on top 58-57 and Butler and Kanyon Franklin added four more to stretch their lead to five. Mills finished out the Marshals scoring with a field goal and two free throws to draw within three and Butler's two misses at the line for Calloway left one last-second opportunity for the Marshals to tie but the three attempt missed the mark at the final buzzer.
The Marshals continue to shine at the free throw line, going 20-for-21 and rank third in the state at 78.7 percent.
Tonight, the Marshals will look to turn things around against Mayfield in a 7:30 home game.
Calloway   13   14   17   20  –  64
Marshall   15     7   18   21  –  61
Calloway: Butler 21, Franklin 12, Ray 10, Z. Hudgin 8, D. Hudgin 7, Clinton 6
Marshall: Mills 16, Smith 13, Moore 11, Schroader 6, Wall 5, Sedlock 4, Wallace 4, Davis 2
Marshall: FG 18/51, 3 PT 5/15, FT 20/21 (Mills 6/6, Smith 8/9), REB 31 (Mills 12)
Calloway: FG 20/47, 3PT 6/20, FT 18/23 (Butler 8/12), REB 28 (Ray 10)