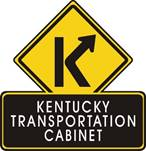 Kentucky Transportation Cabinet • District 1
Work zone to be active from 8 p.m. to 6 a.m.
PADUCAH, Ky. (Jan. 21, 2022) –  A contractor plans to restrict traffic to one lane on Interstate 24 Eastbound at the Lyon County Weigh Station near the 35-mile marker on Tuesday, January 25, 2022.
This nighttime work zone lane restriction for eastbound I-24 traffic is to allow work on electronic vehicle monitoring equipment mounted on a mast arm that extends over the roadway at the eastbound entry ramp to the scales.
Motorists traveling east on I-24 should be prepared to encounter slowing and merging traffic as they approach the 35-mile marker.  All eastbound traffic on I-24 will move to the left-hand or passing lane in this work zone.
This eastbound lane restriction is expected to be in place from approximately 8 p.m., Tuesday, to approximately 6 a.m., CST, Wednesday.
Appropriate caution is required where equipment, flaggers, and electrical personnel are along the roadway in close proximity to traffic flow.
This section of Interstate 24 also carries Interstate 69.  Approximately 26,600 vehicles travel this section of I-24 between Exit 31 and Exit 40 in an average day.
To get traffic advisories and alerts for KYTC District 1 counties via email please go to https://public.govdelivery.com/accounts/KYTC/signup/13651 and click on the District 1 counties you regularly drive through, or for any of the specialty corridors you travel.  Be sure to check your SPAM filtering to assure Gov Delivery is on your approved list.
Timely traffic advisories for the 12 counties of KYTC Highway District 1 are available by going to www.facebook.com/kytcdistrict1. You do not have to be a Facebook member to access this page.
Navigate traffic at goky.ky.gov, at waze.com, or with the WAZE App.
###