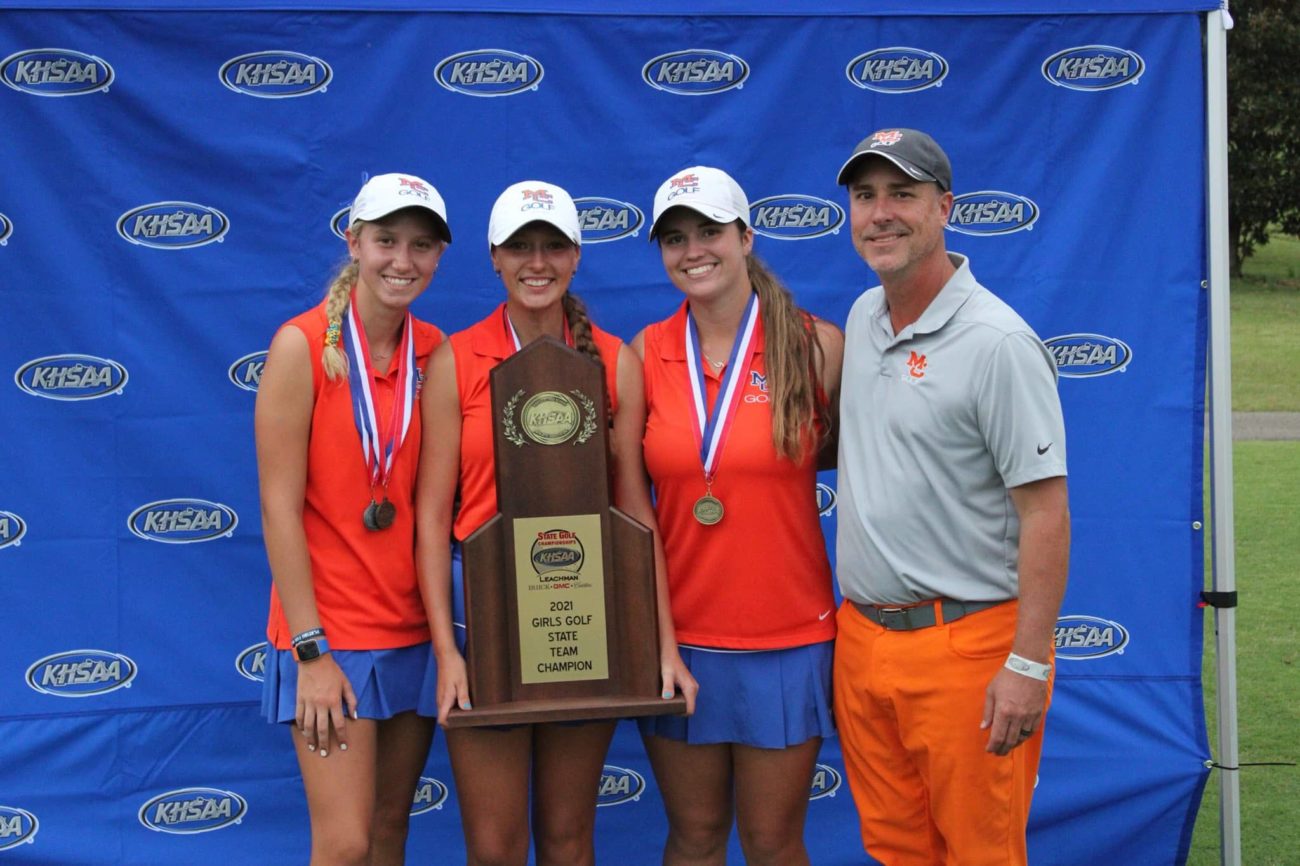 By LARRY VAUGHT
She's still not in high school, but Marshall County's Trinity Beth already has played on two high school state championship teams, placed in the top five twice at the state tourney and been named Kentucky Ms. Golf twice.
Beth, a 14-year-old eighth-grader, has also won numerous individual tournaments and proved nationally that she can play with the elite players in her age division and above.
Recently I had a chance to talk with Beth about her career, future and more.
Question: Is there an off-season for golf?
Answer: "Not really. We have a simulator that I hit in when it is cold. I go to the golf course if it is warm. After the (high school) state tournament, the very next day we had to go to Oregon for an AJGA (American Junior Golf Association) event. When we came back I took two or three weeks off and then got right back at it."
Question: Since you have twice been Miss Golf, twice your team has won state high school championships and twice you have been in the top five individually at the state, what is on your to-do-list now?
Answer: "Obviously I want to win the state as an individual. I also have a lot of goals with AJGA stuff being on the first team all-American list and Rolex Player and going to the end of the year Rolex Tournament of Champions for AJGA."
Question: What about international play?
Answer: "I would like to be on the Junior Ryder Cup team. I think that would be a really fun opportunity to be on a team at that high a level."
Question: Do you ever wake up one day not wanting to play golf that day?
Answer: "I want to play every day. Especially in the off-season, you have to focus but it is not nearly as stressful as the middle of the summer when you have five more tournaments coming up in five weeks."
Question: If you do feel stressed out and don't want to talk to your father, who is also your high school coach, who do you talk to?
Answer: "Nobody really. I just calm myself down and focus on something else if I am stressed about golf. I like to listen to music a lot."
Question: Are you ever stressed on the golf course because it does not look that way?
Answer: "I definitely get stressed. I try to keep my composure, focus on the shot and stay in the present moment."
Question: What gave you such a love for golf?
Answer: "Obviously my whole family is basketball. I think I liked having golf to myself and that being my thing. Everyone expects me to play basketball and go to this huge basketball school, but I just like golf and that being my thing."
Question: What age did you figure out you could be really good at golf?
Answer: "I started when I was about 5 in our yard. I won my first tournament at 6. It was still like a joke I was playing because everyone thought, including  my parents, that I would play basketball. I started going to bigger events and it just advanced from there. I just continued to get better."
Question: Do you watch professional golf?
Answer: "Yes. Some people I know do not like watching golf on TV and think it is awful. But I love watching the PGA and LPGA and this fall we watched some of the college golf to see what that was like. We watched the U.S. Amateur when Jensen Castle of UK won. That was fun. That is definitely a goal of mine. I really want to win that but also be in Augusta the final day for that tournament. That is one of my huge goals."
Question: Are you hearing from colleges yet?
Answer: "We have heard from some but all they are allowed to do is send me an original letter or questionnaire and then they can't talk to me until after my sophomore year. I have several SEC and ACC schools I like. Almost any SEC school or a few ACC schools I would like to go to. I want to go where it is warm to play golf."
Question: Did you talk to LPGA Tour player Emma Talley of Princeton?
Answer: "Sometimes yes. We have gone and watched her a few times. I talk to her some but she is so busy with her career and she does not get back home a lot. That is a huge role model for me and a huge goal because I want to get to where she is one day. She played at Alabama and won a national championship. That's what I want to do."
Question:  Was winning a second straight team state championship better than the first one or just more of a relief because your team was favored all year to win?
Answer: "It was more special. We had to overcome so much and the pressure was so much more since we won last year and everyone was expecting us to repeat and other teams were coming at us even more. After we won the all-state (tournament) by only two strokes, to win state the way we did was a huge stress reliever."
Question: Is it possible to three-peat knowing you lose two seniors who both are going to play Division I golf?
Answer: "We are getting Skylar Waller from Calloway who also plays basketball. We have some younger ones coming up. It can possibly be done."
Question: Since you are only 14, what is your definition of younger players?
Answer: "We still have an eighth-grader and one of our players has a sister who will be in seventh-grade and I have heard of a few more that may try out. We have three older ones and then me and at least just one younger one. We do want to win again."
Question: Are you a lot more comfortable now in the spotlight because of your success?
Answer: "I try to not be nervous during interviews. I get a lot more nervous when it is a (TV) camera. I have gotten used to doing interviews. When my dad coached (basketball) at Graves County and a team was running late, I got to talk on the radio for like 30 minutes. That was good to do and learn how to talk and interview. With all the stuff I do in golf, I can't let interviews and stuff like that bother me. I just try to enjoy it.
"When I was little I remember the first interview I tried to do after some golf tournament. They gave me a microphone and I literally threw it down on the stage and ran off crying. As I have gotten older, it has become a lot easier."
---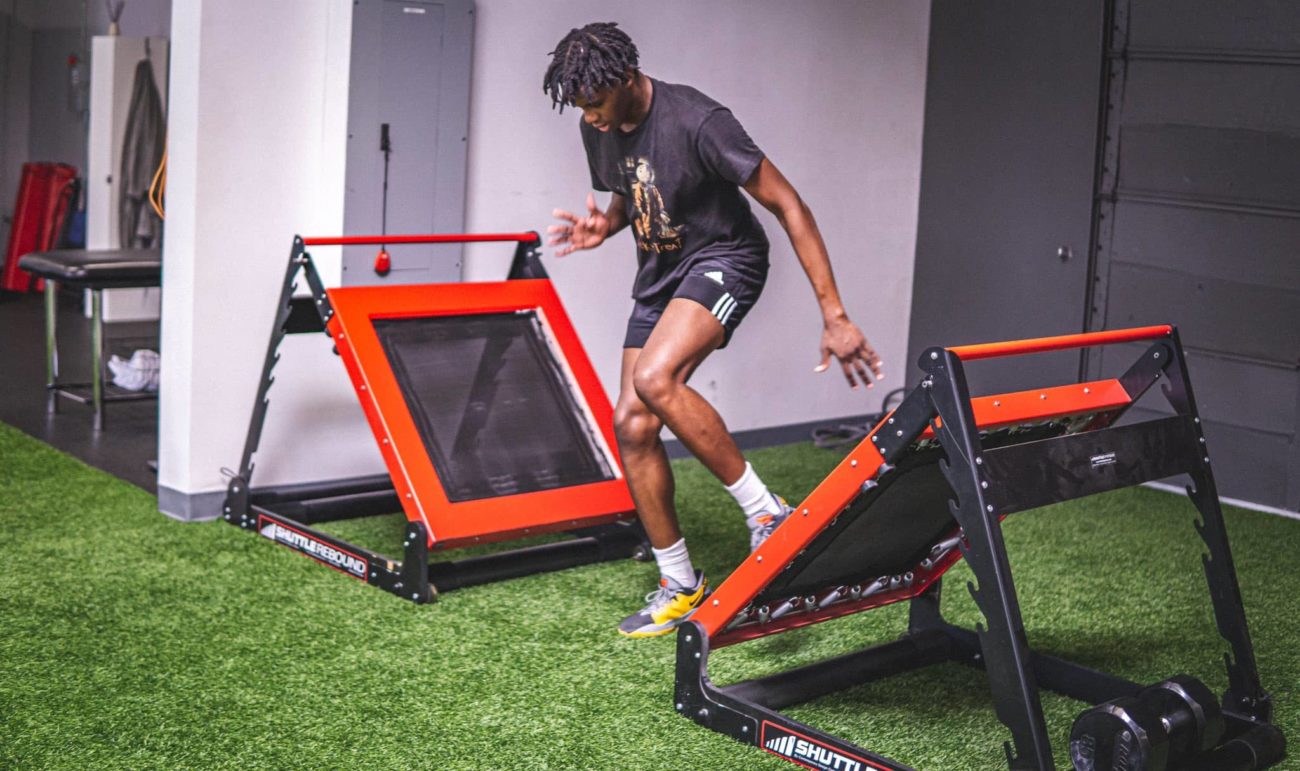 If TyTy Washington's father is right, Kentucky recruiting target Mookie Cook has a chance to be an elite college player.
"I think in two years he is going to be very special. Right now he's still figuring out how to play on the offensive end but he had a nice midrange shot, good 3-point shot and he's very athletic," said Tee Washington. "Once he puts it all together he's going to be super doped."
The 6-7 Cook is ranked sixth in the 2023 recruiting class by ESPN.com and the No. 2 small forward in the class by 247Sports.com. His college offers include Arizona, Oregon, UCLA, Gonzaga, Michigan and Kansas along with Kentucky.
Cook plays at Arizona Compass, the same team TyTy Washington played for  in high school. Kentucky coach John Calipari and assistant Chin Coleman both went to see Cook play recently.
"If he gets to Kentucky, Mookie is going to surprise a lot of folks," Tee Washington, who remains close with the Arizona Compass program, said. "With TyTy breaking the stigma of west coast kids not playing at Kentucky or in the SEC, it could help. I hope Mookie brings it and shows west coast kids have game."
Cook made an official visit to Kentucky in October and "hung out" with Tee and TyTy Washington.
"They asked questions and we gave our opinion on some things," Tee Washington said.
Tee Washington said Kentucky did not need any help from him recruiting Cook.
"The Kentucky staff has not really asked us to help. It's Kentucky. They don't need help getting the kids," Tee Washington said. "But Mookie is one of those kids who gets it. He has a strong father, great mother, older brother who all understand what lies ahead for him.
"They watch other kids at Kentucky and know Kentucky is a great deal. I think Mookie will make the best decision for himself and hopefully for Kentucky."
---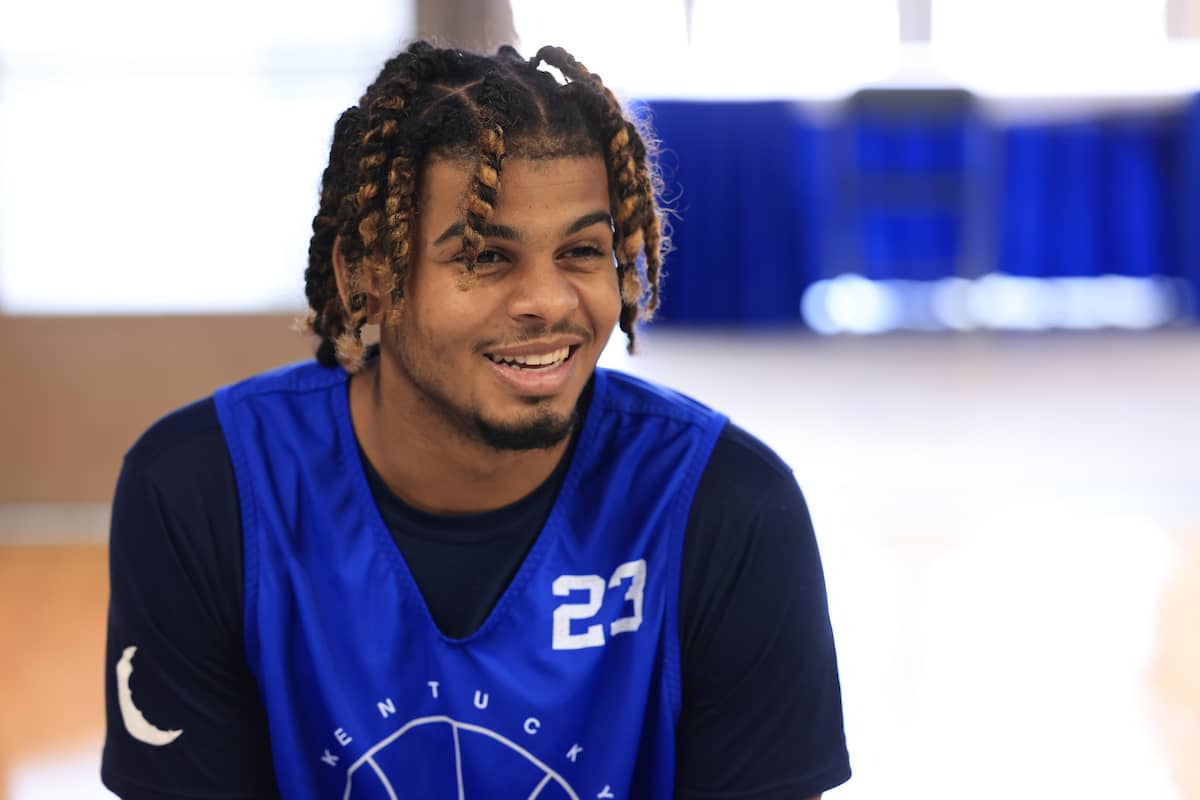 Freshmen Bryce Hopkins and Daimion Collins might not look like they are improving to UK fans who see them play in games but assistant coach Jai Lucas says both players have made "tremendous strides" in the last month.
"One thing that is different this year is that our team is a lot older," Lucas said. "Prior Kentucky teams, those guys would be playing minutes because there would not be older guys ahead of them. You would be seeing them more and seeing them grow in games.
"Now they are growing in practice and in workouts. You aren't seeing them because we have four really good guards and then Jacob (Toppin) and Keion (Brooks) both have experience. It's hard not to want Oscar (Tshiebwe) on the court every minute. So they just don't have a lot of opportunities."
Kentucky coach John Calipari has said he needs both players to develop into players he can trust to play and help UK win by postseason tournament time.
"What I love is that they both continue to have great attitudes," Lucas said. "They really are getting a lot better. You are not seeing them on the court but it's not something they are not doing keeping them off the court. They just have people in front of them playing well.
"Now when they do get an opportunity, they have to be ready to perform. We preach that to them and they understand and have a great attitude about that."
---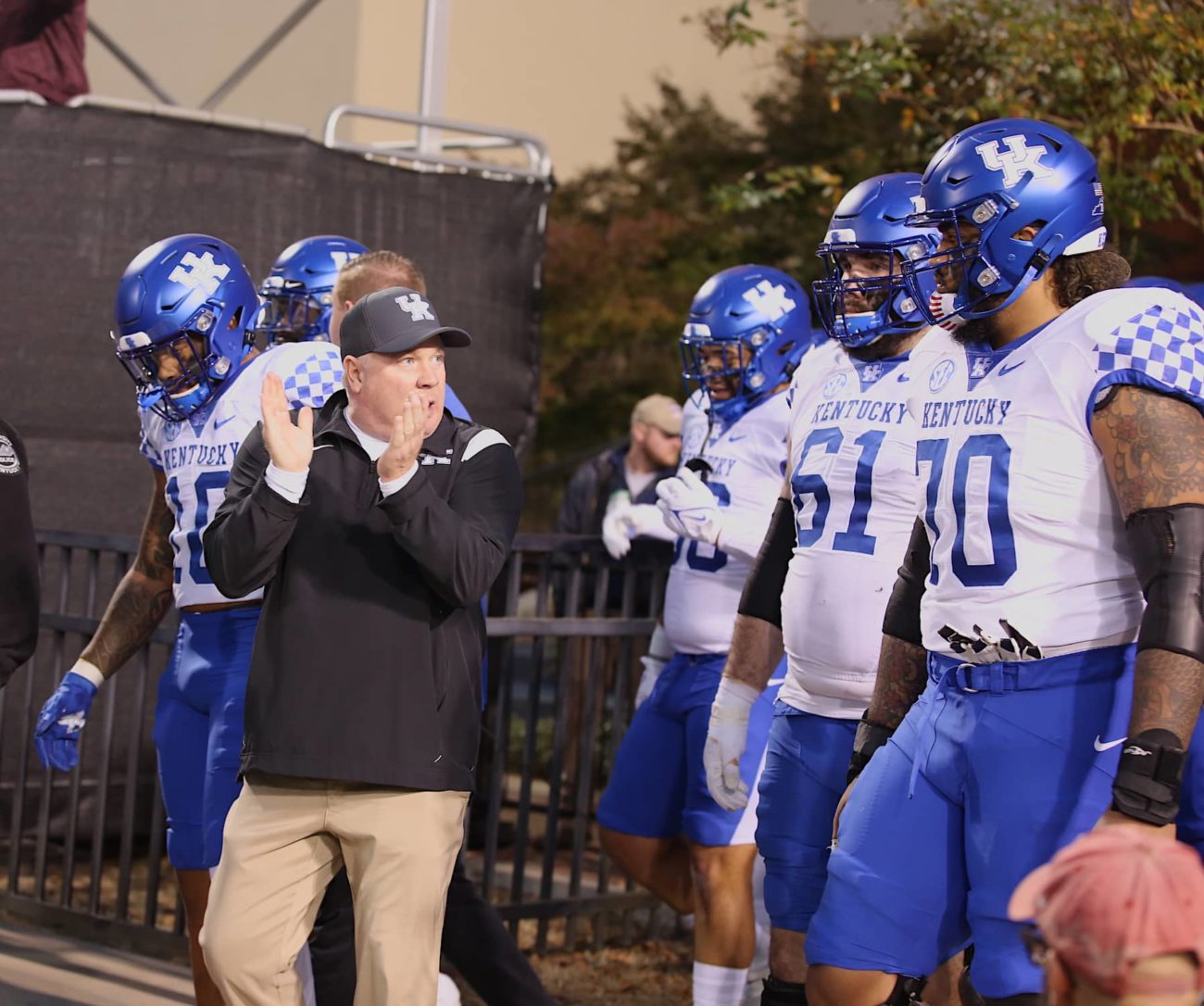 Former Lexington resident Dan Gasteiger is 76 years old and admits he cannot believe the success coach Mark Stoops is having with UK football.
"I watched Commonwealth Stadium being built. I watched some pretty good football teams and a lot not so good. I even remember the Cats going to the Peach Bowl (in 1976)," Gasteiger said. "The past few seasons have brought back the excitement for an old man that I never thought would happen on the gridiron!
"Players like Will Levis, Wan'Dale Robinson, De'Andre Square and so many more make me proud to wear my Cats shirts and hats in front of my Gator grad wife! She even watches games with me."
Gasteiger is originally from Florida and met his first wife, who was from Versailles, after getting out of the Navy in 1967. He visited Lexington, met some of her relatives and fell in love with the area. They eventually moved to Lexington with "no job, no money, two kids and a desire to prove myself to myself."
He got a job at Harley Clemons OK Wrecker service and started following UK sports.
"UK would lose, some of the fans would leave the stadium after the game and go looking for their cars and discover after parking in the wrong spot the car was towed," he said. "Two losses in the same day is not a lot of fun."
However, Gasteiger was hooked on UK sports even when they had to move back to Florida for family reasons. He had the Lexington Herald-Leader mailed to him so he could follow the Cats.
His wife passed and he eventually remarried a Florida graduate who is a big Gator fan..
"Sometimes I had to watch games in the bedroom but old age and me wearing (UK) T-shirts and hats around the house finally caused her to relent. I even have her daughter watching the Cats football games," he said. "I am still a faithful UK fan, win or lose.
"I think that hiring coach Stoops and sticking with his program has paid so many dividends that they will be talked about long after I'm gone. Here in Gainesville the UK fans are coming out of the woods for the first time in years and are proud to do so."
---
Quote of the Week: "It is not like he is (NBA Hall of Famer) Kareem Abdul-Jabbar. I am not suggesting that. But when he does get the ball in the lane Kentucky is more efficient (offensively) because he can score it and movement on the perimeter can create openings," ESNP analyst Jay Bilas on UK center Oscar Tshiebwe.
Quote of the Week 2: "Our 1978 team, coach (Joe B.) Hall never let us think about the NBA. He was all about team success being good for everyone. I think seven players off that team got drafted by the NBA but I guarantee you winning the national title, not the NBA, was all we thought about," All-American guard Kyle Macy on UK's mindset during the 1977-78 championship season.
Quote of the Week 3: "We are really close and that makes for a tight-knit staff and that trickles down to players. If they see that, they know we are in the foxhole with them," Kentucky assistant coach Jai Lucas on the UK coaching staff chemistry.