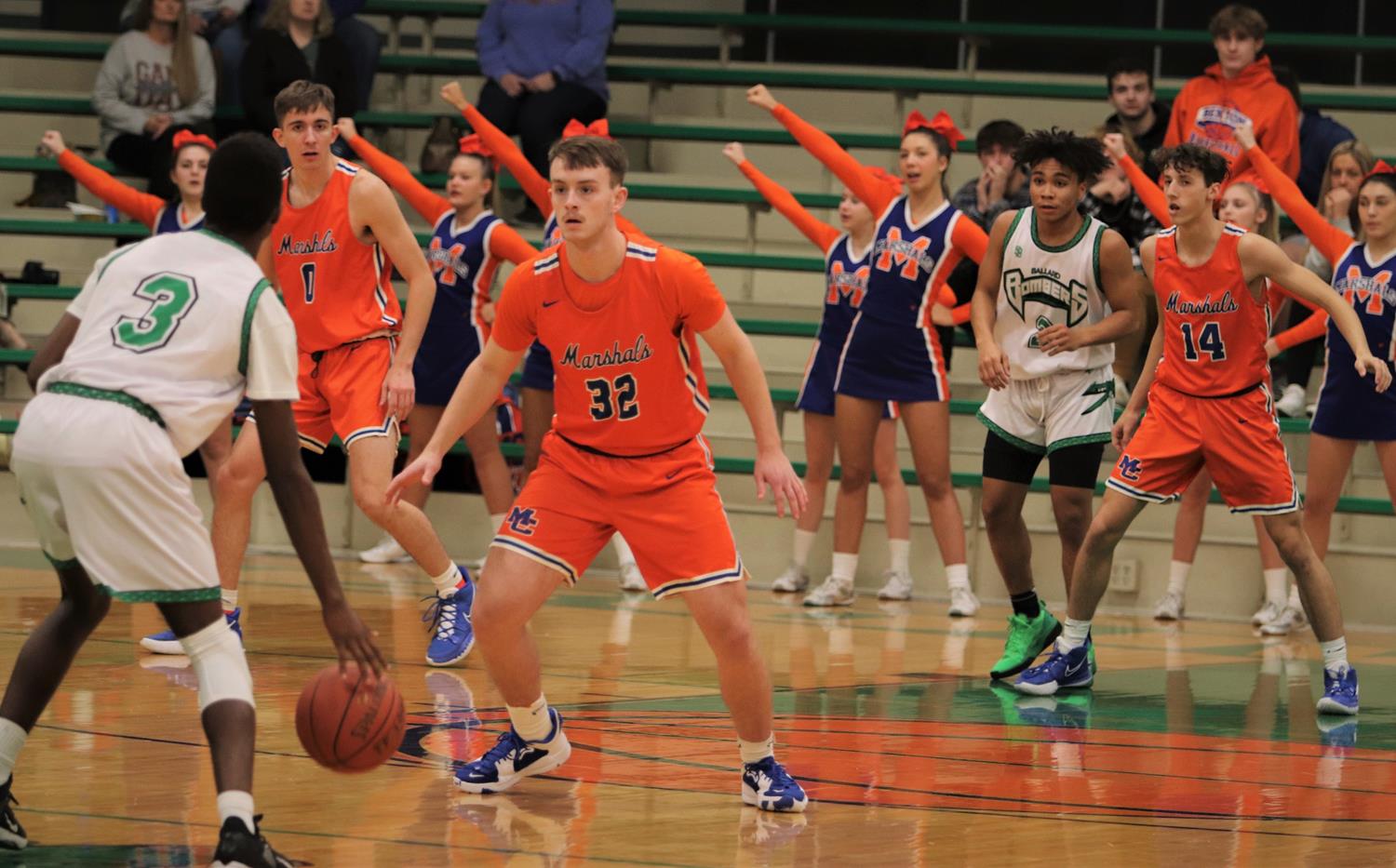 Opening the 2021-2022 season at Ballard Memorial on Tuesday, the Marshals picked up win number one 74-42 behind 11 players in the scoring column. Three players in double-figures were led by senior Kole Sedlock with 18, junior Wade Moore with 14 and 12 from senior Colby Schroader.
The Marshals lead the all-time series with Ballard Memorial 24-2 and won last year's game at home 75-30. The Bombers head coach is former Marshall County player Jimmie Holder in his third season.  Head Coach Terry Birdsong enters his fifth season leading the Marshals. Both head coaches are among the leading scorers in Marshall County program history – Birdsong  is eighth on the list with 1,328 points and Holder 11th with a career 1,242.
Ballard Memorial opened the night on a 3-pointer by Jamison Smith to fire up the Bomber crowd. A basket by Cole Mills who was fouled and made the free throw tied the game at 3-3 before the Bombers went back up by two. Schroader tied it and Sedlock put the Marshals up by two at 7-5 and they never trailed again, leading 15-8 at the end of the first quarter.
Quinn Smith scored to open the second quarter on a nine point lead but an 8-0 run by the Bombers cut it to one point on a three-point play by Phillip Duncan. A free throw and basket by Trey Wall gave them some breathing room at 20-16 but a 3-pointer followed from Jamfert Barber to cut the lead back to one again.
The Marshals went on to out-score the Bombers 13-4, fueled by eight points from Sedlock, to lead 33-23 at halftime.
Pulling away in the third quarter, they out-scored Ballard 18-8 to lead by 20 going into the fourth and put up 23 points in the final frame to get the 32 point win.
While Sedlock scored 14 of his 18 points in the first half, Moore was big for the Marshals in the second half, scoring 12 of his 14. The Bombers had two players in double figures – freshman Jace Birney led with 16 and Barber had 10 points.
It was a great start to the season from the free throw line for the Marshals – hitting 20 of 23 attempts.
Game two of the season comes on Friday when the Marshals meet the 5-0 Massac County Patriots  at 4:00 in the Marshall County Hoopfest and will play Owensboro (1-0) on Saturday at 1:30.
Marshall County    15   18   18   23  –  74
Ballard Memorial    8   15    8    11  –  42
Marshall County: Sedlock 18, Moore 14, Schroader 12, Smith 8, Wall 6, Mills 5, Binkley 3, Davis 2, Parker 2, Smothers 2, Wallace 2
Ballard Memorial: Birney 16, Barber 10, English 4, Smith 4, Duncan 3, Overstreet 3, Elrod 2

Marshals vs Ballard Memorial, 11-30-21