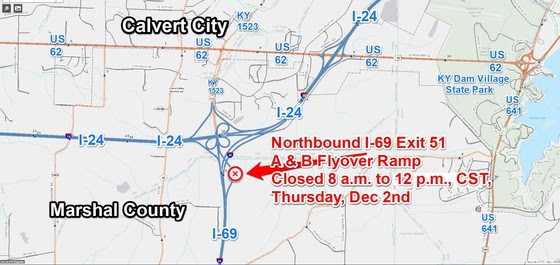 I-69 Exit 51 A & B to close for approximately 4 hours
PADUCAH, KY (Nov. 30, 2021)  The Kentucky Transportation Cabinet (KYTC) plans to close the northbound I-69 flyover ramp at the I-24/I-69 Exit 25 Interchange near Calvert City starting at 8 a.m., CDT, on Thursday, Dec. 2, 2021.
The northbound I-69 Exit 51 Exit A & B flyover ramp will be closed starting at 8 a.m., CST, Thursday, to allow joint work on the overpass that carries traffic across the northbound lanes of I-69.  Asphalt connections at each end of the overpass will then be repaved.
This is the I-69 Northbound ramp that connects to KY 1523 into Calvert City and connects I-69 northbound to the I-24 westbound ramp toward Paducah and points west.
There will be no marked detour.  Message boards will direct northbound motorists on I-69 to continue to the I-24/U.S. 62 Calvert City Exit 27 Interchange to reach Calvert City or to take I-24 westbound toward Paducah.
This ramp closure is expected to remain in place from 8 a.m., to approximately 12 p.m., CST, Thursday.
The Kentucky Transportation Cabinet will attempt to provide timely notice when the ramp is reopened to normal traffic flow.
To get traffic advisories and alerts for KYTC District 1 counties via email please go to https://public.govdelivery.com/accounts/KYTC/signup/13651 and click on the District 1 counties you regularly drive through, or for any of the specialty corridors you travel.  Be sure to check your SPAM filtering to assure Gov Delivery is on your approved list.
Timely traffic advisories for the 12 counties of KYTC Highway District 1 are available by going to www.facebook.com/kytcdistrict1. You do not have to be a Facebook member to access this page.
Navigate traffic at goky.ky.gov, at waze.com, or with the WAZE App.