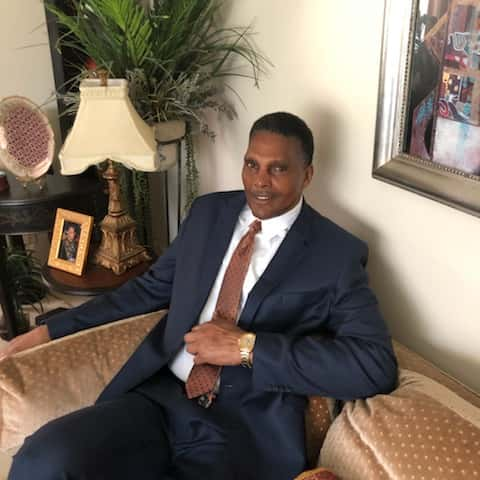 By LARRY VAUGHT
Tom Payne now lives in Lansing, Mich., and says he gets little news about Kentucky basketball, so he quickly admitted when I called him that he didn't know a lot about the "particular agenda" to have former Kentucky basketball coach Adolph Rupp's name removed from Rupp Arena.
Payne was the first African-American basketball player at Kentucky during the 1970-71 season. He was also the first 7-footer to play at Kentucky. He averaged 17 points and 10 rebounds per game and earned all-Southeastern Conference honors.
The University of Kentucky 's African American and Africana Studies program said Rupp's name stood for "racism and exclusion" in its request to UK officials to have the name removed. The group added that Rupp's name "alienates" black students and fans.
"I wouldn't want to say anything because the way I feel about life I don't really rehash negativity about what was and wasn't true," Payne said. "I have made enough mistakes, so I don't condemn people for making mistakes if they did make one."
Payne left UK after playing one season for Rupp and was drafted by the Atlanta Hawks. However, his career ended in May, 1972, when he was arrested for rape and eventually spent 40 years in jail before being paroled late 2018.
"Coach Rupp lived in a certain time frame when there were a whole lot of racists. He is not the only person who was supposed to be a racist then according to some. But look at the good things he did," Payne said.
Payne realizes now how much "courage" it took for Rupp to start him the year after Dan Issel, UK's all-time leading scorer, graduated. Payne had to earn the spot over Jim Andrews and Mark Soderberg.
"Dan was one of the greatest payers ever and it was a big controversy over who would start after he graduated," Payne said. "Right now me and Jim have a relationship like spiritual brothers but we really had some wars back then. I used to think he was my enemy. Now we talk at least once a month and he has helped me a lot.
"I think me starting ended up being a good for Kentucky. After me came players like Jack Givens and Kentucky won a national championship. then you had Sam Bowie, Melvin Turpin, Dirk Minniefield and just a legacy of good and great African-American players."
Despite his troubles after leaving UK and the current movement to remove Rupp's name from the arena where Kentucky plays basketball, Payne said he's proud he went to UK.
"I don't have a lot of bad things to say. Did I go through a lot? Yeah I did but life is about overcoming," Payne said. "I can't make excuses about who I am as a person and not be accountable for what I have done and then not be forgiving. For me it is hard to get involved in something just because everybody else is saying. I am not just going to jump on the bandwagon for anything.
"If you remove a name from a university what is that really going to do? It is going to hurt a lot of people. It is there, entrenched there. Coach Rupp is still in the history of this country. Whether you like or don't like him, he is a mythical figure. Just look at that before you begin to act. Look at his humanity, his family. When you tear down somebody, look at the legacy he left and the people behind him.
"I am one of the few left who played for the man. Those professors did not ask me about my experiences with him. I am in support of any organization like that because when I was at Kentucky there were not many African-American professors. There was one I was close to that meant a lot to me. But are there other agendas to use to heal wounds?"
Since Payne did sign with Kentucky, I assumed that meant he did not think Rupp was a racist. What I didn't realize is that Payne had only been playing basketball for three years then and he also admits he had been "shielded" from racism his whole life.
"I just didn't really know him. When I signed was not thinking this guy was racist or not racist. Never entered my mind," Payne said. "I was so shielded from so much being an Army brat and the school at Shawnee was integrated and there were no problems with students.
"I never had to deal with race until I started traveling in the SEC. That's why maybe the impact on me was so different than that of the average African-American that was used to racism. I had never been exposed. Maybe that's why it caused some issues for me that it did."
Payne is now working to help with racial injustice and racial conciliation.
"I am trying to deal with larger issues. I am trying to help people, especially young men understand race and racism," Payne said. "There are a lot of people talking now — and I am not talking about any specific person or group — that have not really had to face racism the way some people of my generation have. I lived through it and some issues of life caused me to go off kilter due to some experiences of racism.
"Fortunately my life did a 360-degree turn and I have grown in a lot of ways. I work with men in this area to teach young men the principles about life. Why not seek that out and help them help society move forward?  Let's work together. Let's go forward, get some passionate solutions that we can all embrace."
To see more of Payne's story and work he's involved in now, go to  http://www.transformationalvictories.org/.
---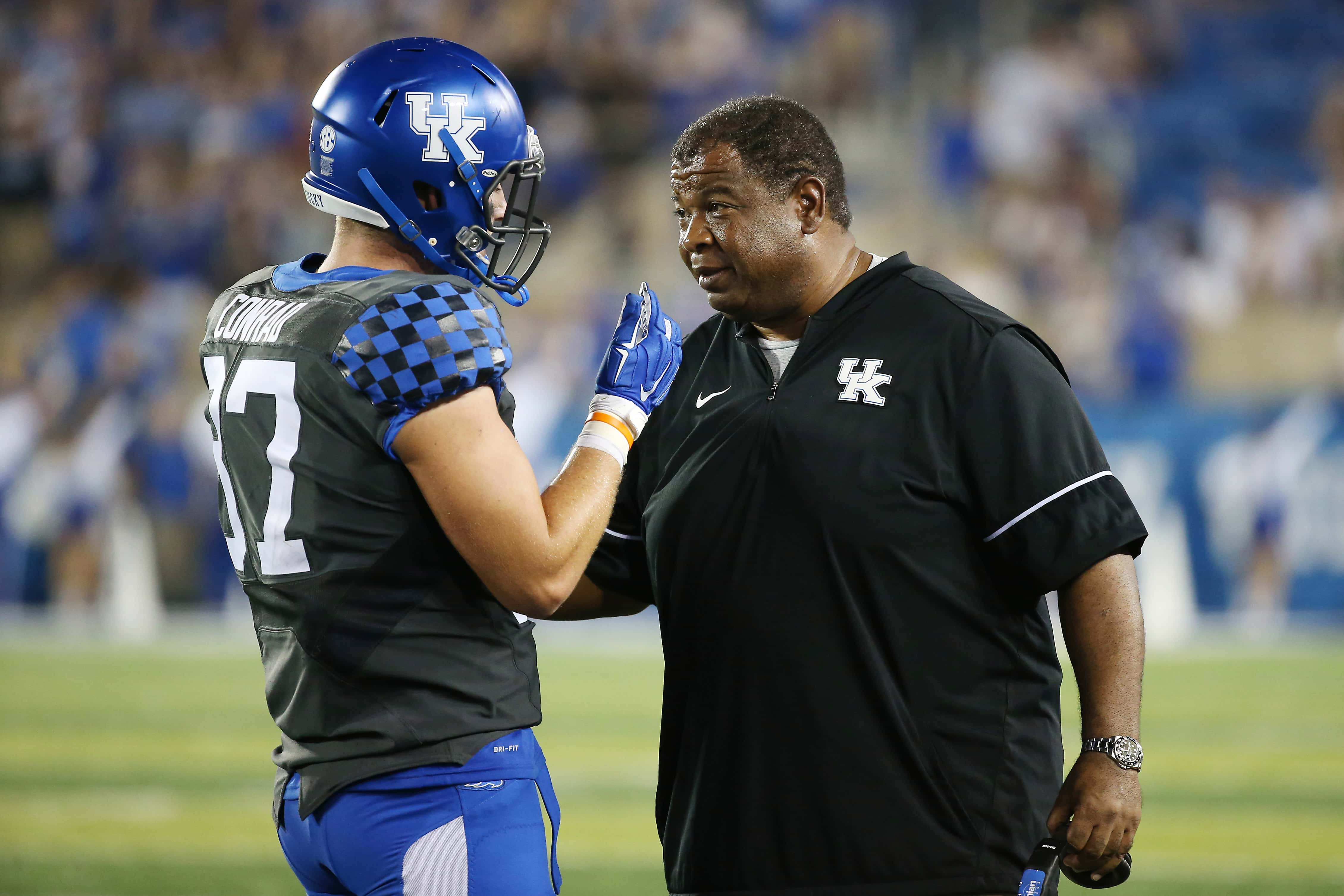 Former Kentucky tight end C.J. Conrad says he's always wanted to be a college coach but thought his starting time would be a few years down the road. However, after being on the New York Giants practice squad as a rookie in 2019, he found himself without a team this year and is now back at UK as a graduate assistant coach.
"I reached out to Coach Stoops towards the end of the season last year because I wasn't on a roster but there was a potential that I was going to get signed to a futures roster," Conrad said. "I was either going to sign to the futures roster or take a graduate assistant role in the springtime.
"Then I got signed to the Giants but I got cut after the (2020) draft so that kind of left me high and dry. I called coach Stoops again and luckily he still had a spot for me."
Conrad has two very different coaches he looks to for inspiration. One is Courtney Love, a former UK player who served as a graduate assistant and is now director of player development. The other is recruiting coordinator Vince Marrow.
"Courtney took a GA role after his senior season and we lived together as roommates," Conrad, a starting tight end on UK's 2018 Citrus Bowl team, said. "I'm living with him right now.  He's one of those guys that we agree on a lot of things when it comes to football, you know, our philosophies on things, our leadership, our culture and stuff like that.
"I watched him go and take that GA position. He was able to connect with the players right away and really intrigued me."
What about Marrow?
"He can interact interpersonally with so many different people with different backgrounds, different families and be so successful at what he does. That intrigues me because I feel like that's something that eventually maybe I can do to move up in my career and become a position coach one day," Conrad said.
"I can become a good recruiter like he is because I watched how good he is talking with different people and just learning how he does things. It's very interesting to me."
---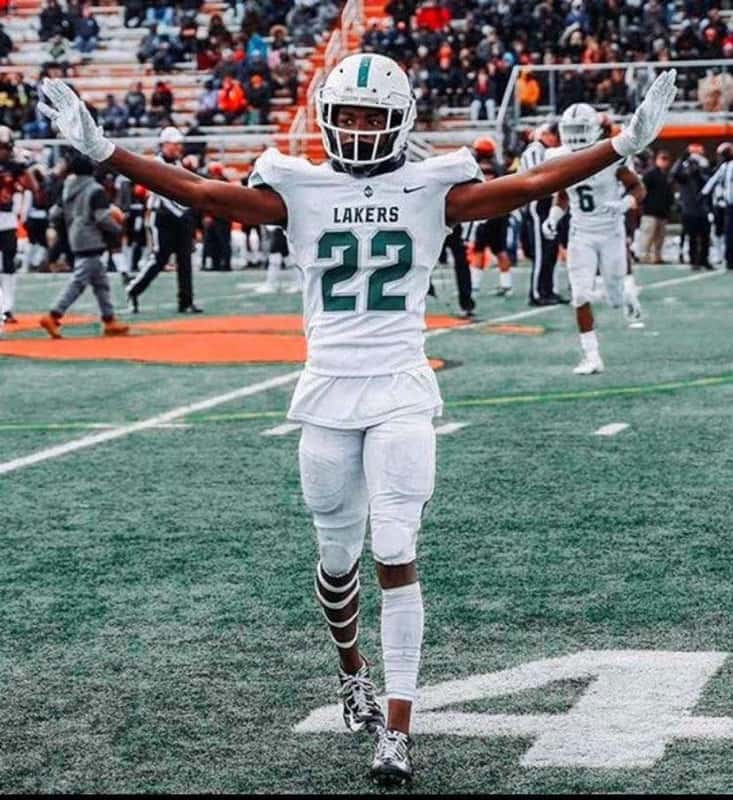 Long before he ever thought about a football scholarship offer from the University of Kentucky, Max Hairston was a Kentucky basketball fan.
He was such a big fan that he still calls Kentucky his "dream school" and was thrilled to get a scholarship offer from Kentucky secondary coach Steve Clinkscale.
"I've always been a huge Kentucky fan from watching basketball. Then recently I started watching Kentucky football in the SEC. Same feeling. I have always loved them," said the 6-1, 170-pound defensive back from West Bloomfield, Mich., just outside Detroit.
He's a combo guard in basketball.
Is he a scorer?
"I would like to say I am," he laughed and said. "I grew up thinking basketball would be my sport in college. Then I fell in love with football like last year when I got my first scholarship offer. That changed everything for me."
He's been watching Kentucky basketball so long that he says guard John Wall, the No. 1 pick in the 2010 NBA draft, is his favorite player.
"Every team they have had (under John Calipari) has been pretty good but John Wall is a stud," Hairston said.
He has about 20 scholarship offers and has played against UK freshman defensive lineman Justin Rogers, one of three current players on the UK roster from Michigan.
"The pipeline from Michigan to Kentucky is pretty good," said Hairston.
Hairston hopes to play in the NFL. He believes UK secondary coach Steve Clinkscale could help get him there.
"I've watched Kentucky the last few years. The coaching staff is great," Hairston, who hopes to play more receiver this season to take advantage of his 4.5 second speed in the 40-yard dash, said. "Coach Clink prepares guys for the league. You can see that and that is my main goal. I feel Kentucky could help me reach that if I go there."
---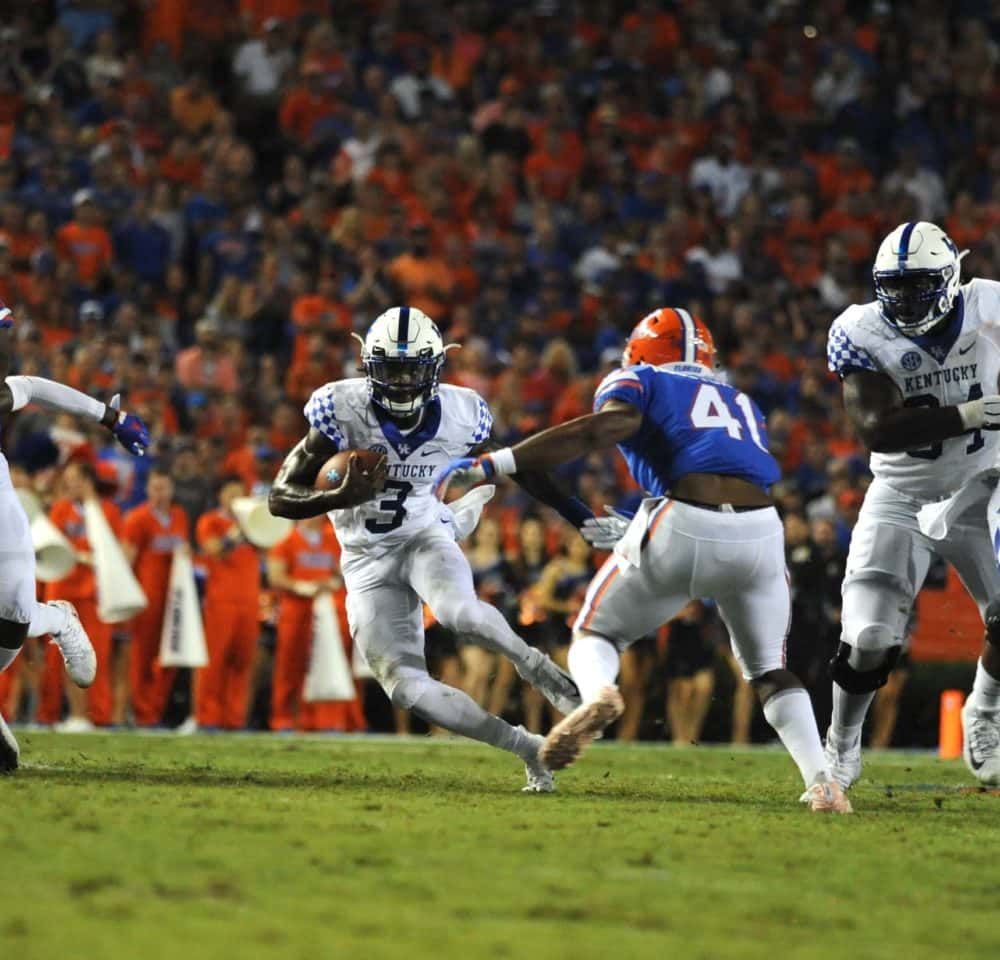 The last time Terry Wilson got tackled in a game he went down with a season-ending knee injury in UK's second game last season.
Now if everything stays on schedule, he should be back starting at quarterback whenever UK does open the season.
His mother, Loise Wilson, isn't sure she will be able to watch the first few plays knowing he's going to get tackled again.
"I started saying a few months ago I don't know if I will be able to be in the stadium. I just don't know," she said. "My emotions about the whole thing. Time kind of stopped for me at that point when it happened last year."
Having her son injured has always been something she worried about.
"I have seen him play since he was 5-6 years old. The only reason he was playing was I had a friend coaching Little League and he said, 'I need Terry to play.' First thing I said was 'those guys are going to tackle him,'" the quarterback's mother said.  "A million tackles later, I feel that same anxiety.
"If there is a game Sept. 3 I want to be there but I don't know if I will be able to look. I just don't know how I am going to feel about that. It is a lot of emotions to deal with."
However, she knows there is one big plus for her son and her.
"Knowing what we have for an offensive line and what we have on the field, I have had several people reassure me that he is not going to get touched," Loise Wilson laughed and said. "I feel very certain if he should get hit that they (defenders) are not going to want to do it again. So that's a big help for me."
---
Quote of the Week: "It might take Big Blue Nation a couple of decades to forgive him. But he will be forgiven. Sometimes players get upset. I think a lot of players around the program—if they're going to have that type of conversation with a coach, they're going to have a one-on-one in his office, not in public. … Kentucky's fan base is very sensitive. We have a cult-like following. You just have to be careful what you say," former UK player Lukasz Obrzut on UK fans being upset with Wenyen Gabriel's comments about coach John Calipari.
Quote of the Week 2: "As I heard someone recently say, we have two choices: we can go into lockdown, shutdown, or we can try to live in a COVID world. I think most of us realize we've got to live in a COVID world. So how do we make it as safe as possible for our student-athletes and for those who are dearest in our community — students, staff and faculty? That's what we're trying to do," UK president Eli Capilouto in an interview with al.com.
Quote of the Week 3: "There's maybe a little bit of pressure. I don't know how it will impact me honestly. I just know I am excited to be on the team and get started," freshman Molly Begley of Harrodsburg on making the UK cheerleading team like her  mom, Allison Stocker, did in the mid-1990's.