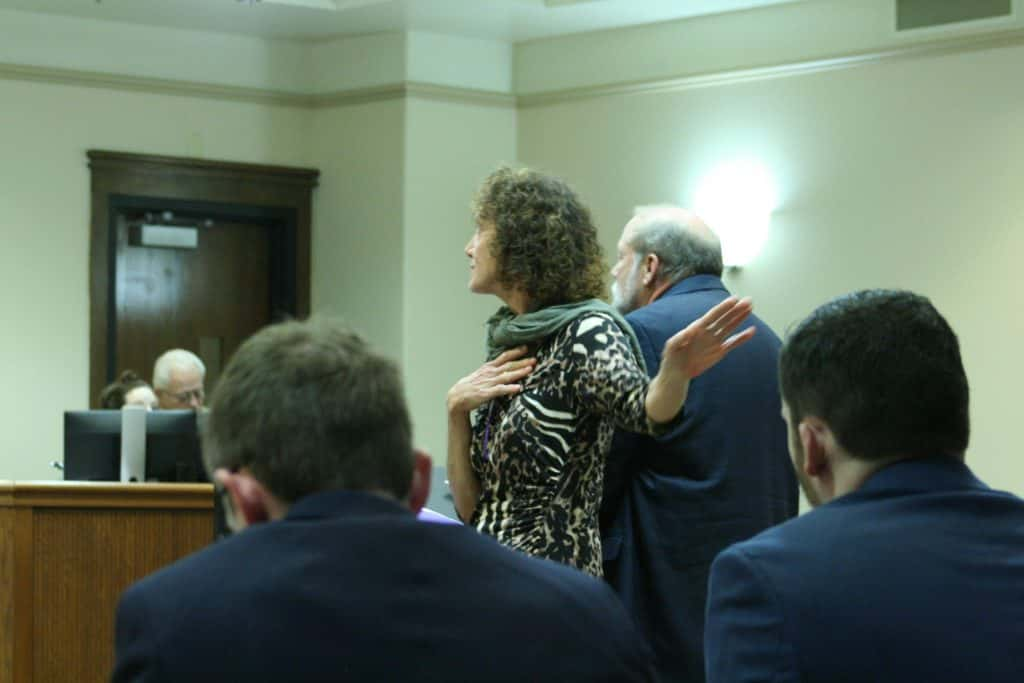 The woman convicted last month of wanton endangerment after firing at ATV riders on her property in February 2017 has been sentenced in Marshall County Circuit Court.
Bonita Walker, 56, of Fairdealing, was sentenced on Tuesday, Jan. 9 to serve 30 days in jail, with two years probated. Circuit Court Judge Jamie Jameson additionally gave Walker credit for time served — equivalent to two days — bringing her total jail time to 28 days.
The conviction was the result of an incident that occurred on Feb. 19 near Salem Chapel Road after Walker fired shots as ATV and UTV riders police said had inadvertently crossed onto her property. Walker did not give consent for riders to enter her property and had previously reported to the Marshall County Sheriff's Department problems with riders trespassing onto the property.
Walker fired warning shots to stop an ATV, driven by owner Cody Pratt, and a UTV driven by Travis Miller, Jessica Manley and their two small children. Walker reportedly gave riders the opportunity to leave the premises on the condition that they leave their vehicles behind. Pratt sped off, and Walker reportedly held Miller, Manley and their children in the field until sheriff's deputies arrived on scene. Police say she fired shots at the tire, gas tank and engine of Pratt's ATV while he was on it and also at the front of the UTV during the course of the incident. Walker testified at her trial that she never pointed her firearm directly at anyone, and had only fired shots at the vehicles from close range because she feared for her life and safety and that of her husband and grandchildren, who were cutting wood nearby.
She was initially charged with five counts of first-degree wanton endangerment and two counts of second-degree criminal mischief, which could have carried a penalty of up to 20 years in prison. The jury convicted on lesser charges, however. After a two-day trial and several hours of deliberation, a jury returned a conviction Dec. 6 to one felony count of first-degree wanton endangerment, four misdemeanor counts of second-degree wanton endangerment and two misdemeanor counts of third-degree criminal mischief. The jury recommended Walker serve a one-year total sentence: one year on the felony charge, and 60 days on each misdemeanor wanton endangerment charge, to run concurrently.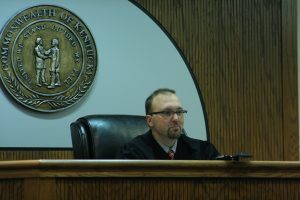 Jameson, however, felt the full year would not be "prudent." Walker, in his opinion, was not a danger to the community and he felt at the time fully believed she was within the bounds of the law and within her rights as a property owner when she fired her weapon toward those who had trespassed onto her property. However, while Walker was within her right to use physical force to protect her property, Jameson said she was not permitted to use deadly force.
In particular, Jameson said the incident in which she fired her weapon at the ATV ridden by Cody Pratt as he pulled away — the one count on which she was convicted of a felony — was a point of serious concern.
"Where you were or where you weren't aiming, I think that's where the line was crossed," Jameson said. "And I think even you realize, or I would like to think at this point, that that's crossing the line. He, by your own testimony, was moving away from you. He may or may not have put you in some sort of threat or fear of being harmed by the way that he pulled away, but he was pulling away, by your own testimony. … And you shot, by your testimony, at his engine. But with you stepping back as you testified to, and him pulling away is a very (inaudible) situation, and that bullet struck his gas tank. It missed his leg by just a few inches at most. That could have easily shot him in the head, shot him in the body, shot him in the leg and that was the very, very dangerous part of what happened that day.
"To an extent I understand," Jameson added. "You testified you were furious. You've had history of people being on your property. You testified you were furious, and I think that fury came out the barrel when Mr. Pratt pulled away.
"I just think there has to be some corrective, call it what you will — punishment — given, with how dangerous this situation almost was," Jameson later added. "That's what stands out to me, is what almost happened."
It's a case that's drawn attention from around the community. Walker, who testified that she'd made multiple calls to Marshall County Sheriff's Office throughout the years to report trespassers on her property, has garnered her share of support from other property owners. Walker said in addition to those riding ATVs on her property, she's endured vandalism and theft among other offenses. Jameson said as a property owner near the lake and as someone who has enjoyed riding ATVs in the past, he — like other residents — see both sides of the issue. And while Jameson said it may seem unfair that those who trespass often go unpunished, the law and reality limit enforcement.
"The main issue here is, is it proper or legal for someone to go on somebody's property without permission? No, it is not," Jameson said. "However, for somebody to be charged for criminal trespassing under the circumstances like what occurred here — which is third-degree, it's a violation similar to a traffic ticket, a speeding ticket  — they have to be notified the first time, 'listen you're not welcome here, you're trespassing.' It's only the second time that they can be charged, and when they are charged — unless the officer believes or they have reason to believe that the person will not follow reasonable orders, they can't even arrest them for that charge. That's the law."
No proof existed that the riders involved in the incident on Walker's property that day had been warned to stay away according to the sheriff's office, Jameson said, and thus could not be charged.
It's a difficult crime to see through to charges in reality, Commonwealth's Attorney Mark Blankenship said. Law enforcement does not realistically have the equipment needed to pursue an alleged trespasser through the woods should they get to the scene in time to catch the perpetrators anyway. Blankenship urged property owners facing continued problems with trespassers to look at surveillance equipment so as to provide police with evidence to pursue charges.
"I would strongly encourage the public to consider fencing their property completely," Blankenship said. "As cameras come down in price, I would recommend landowners who are having problems with this to consider installing a method where the offenders can be recognized. … I don't know that there's any real solution to this problem, but I think fencing and using cameras to try to identify who is doing this. If they start cutting the fence to get in, which I think we may have heard that said in this case, that also would be another crime of criminal mischief to cut up somebody's fence. But, to catch them, there's a practical reality to it because of the nature of the beast. The police just, they don't have four-wheelers to use themselves to try to chase these people that do this."
As a result of her felony conviction, Walker can never own a firearm again, nor can those who live with her keep their firearms on the premises unless her conviction is overturned on appeal.
Walker will report for the first stint of her sentence at 6 p.m. Jan. 19 at Marshall County Detention Center.