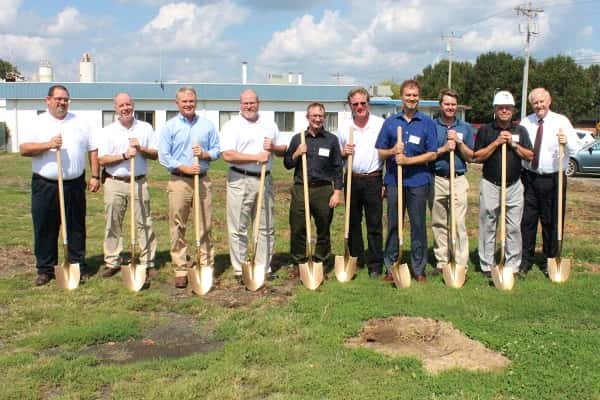 Estron Chemicals, Inc. re-located to their current site in Calvert City in the mid-1980's and are now embarking on a new project, which according to CEO Alex Skora, "will be the key to their future growth."
After three years of design work and over five million dollars budgeted, ground was broken Wednesday on their new facility which according to Skora, will be able to run 18 chemical synthesis projects at the same time, up to 10 customer application projects, will have sophisticated analytical capabilities and allow them to support a global sales organization, all from their new facility in Marshall County.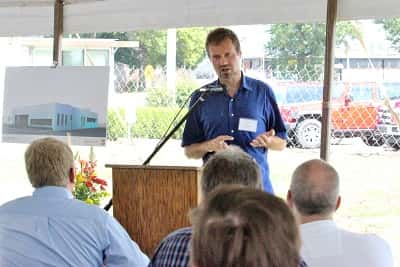 Estron developes high-performance additives and resins, making it one of the most successful coatings additives companies in its field.
Skora said the materials manufactured on their plant site are sold to every continent on the planet except Antarctica and to satisfy the needs of an increasingly demanding customer base, to retain top talent and to give them tools they need to function at their full potential, they couldn't do that with what they currently had.
"The fact that we've been able to take a virtually abandoned plant site and turn it into a multinational business right here in Western Kentucky, that's something that we really take tremendous pride in", Skora said. "We say that as a reflection of the 'can do' attitude that's propelled Estron to where we are today."
Congressman James Comer was on hand for the ground breaking ceremony and congratulated Estron on their expansion and the opportunities it will bring to the area.
"This is a great day for Calvert City, this is a great day for Marshall County, this is a great day for West Kentucky and it's a great day for America", Comer said.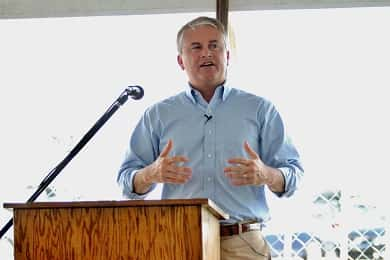 Comer said new opportunities need to be created for the next generation of Americans and the only way to do that is through the private sector. Comer added that the focus is on bringing in new plants, but the key sometimes is for our existing industries to expand and credited Estron Chemicals for doing that.
"I want to thank you for the hard work, thank you to the ownership for risking additional capital, thank you for making America great again", Comer said. "We have to provide people who want to get out of poverty with the opportunities where they have access to a good paying job, a job with a living wage and a job that can provide healthcare benefits."
Calvert City Mayor Lynn Jones spoke about the early beginnings of Estron Chemicals that started in a small building with few employees and without the massive smoke stacks, saying many made the observation that the company would never survive.
"We'll we've come today to pay honor and tribute to a group of owners and employees who have kept the mission, who have worked the plan and have made possible a dedication of a facility that makes Calvert City most proud", Jones said.
He added that the city is proud that Estron calls Calvert City home and was proud to be a part of the recognition of those that have made possible the expansion of a dream that many gave up on many years ago.
Skora said Estron started 41 years ago in a basement by his father Dr. Stanislaw Skora, an immigrant who spoke broken English, who had a passionate work ethic and a great love for everything America represented.
"Our first products were developed in a simple chemistry lab set up much like you would see in a high school chemistry class", Skora said of their modest and humble beginnings. "It was zero corporate strategic planning and 100 percent entrepreneurial hunger."
Skora said the new building will be dedicated to his father, "who without none of this could have happened."