"I Would Rather Be a Servant in the House of the Lord"
Remembering the Death of Alben W. Barkley

Written by Justin D. Lamb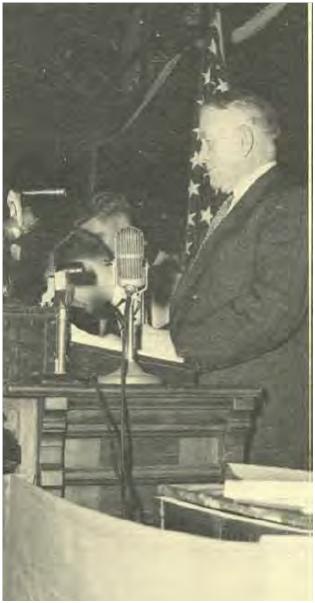 After 50 years in public service, Senator Alben Barkley of Kentucky takes to the podium at Washington and Lee University in what would become his final speech.
(Collection of the author)
After nearly a half-century in national politics which had witnessed a remarkable rise from sharecropper's son to Vice President of the United States, Alben W. Barkley, now in his late-70s, had found himself back in the political scene as the junior Senator from the state of Kentucky in the spring of 1956. Barkley had spent an extraordinary career in politics which began at the McCracken County Courthouse as County Attorney before entering the halls of the United States Congress as Kentucky's First District Representative and United States Senator where he served both as Majority and Minority Leader. Barkley reached his highest political mountain with his election as Vice President of the United States on Harry Truman's ticket in 1948. Following his four years as the VEEP, Barkley briefly retired from public life until he answered the call in 1954 to be the Democratic Party's nominee for his old senate seat. Barkley's popularity had not waned at all, as he easily unseated incumbent Republican John Sherman Cooper in a landslide.
When Barkley was sworn in January 1955, he was escorted into the Senate chamber by senior Kentucky Senator Earle Clements, and after the oath was administered, Barkley's colleagues and those in the audience gallery spontaneously rose to recognize his achievement with their applause. In a gracious offer of respect, West Virginia Democratic Senator Harley Kilgore offered to exchange seats with Barkley, which would have allowed Barkley to sit in the front row of the chamber with the Democratic leadership. Barkley, a very humble man, turned down his offer deciding instead to sit in the back row with the other juniors.
On April 30, 1956, Senator Barkley, was invited to the campus of Washington and Lee University in Lexington, Virginia to give the keynote address at their mock convention. The afternoon was pleasantly warm and Barkley was in his usual jovial mood. "This is one of the happiest days of my life," Barkley said to one of his companions travelling with him. In mere minutes, Barkley, a stalwart of national politics, would be dead in what was a most fitting exit for one of the country's noted orators.
After a short parade through the streets of Lexington, Senator Barkley made his way to the convention hall where he warmed up the gathering of nearly 1,700 in preparation of the 1956 Democratic National Convention which would be held later that year in Chicago. "I have been a delegate at large for the state of Kentucky from 1920 until this hour…and I had about concluded that maybe I had gone to enough conventions and that I would not go to the one in Chicago this year. But since arriving in Lexington and since arriving in this hall, the old fire-horse hears the bells!" Barkley had the crowd in the palm of his hands as he was noticeably on top of his game.
Barkley then proceeded to give the gathering one of his famous fire-breathing-Republican bashing speeches that had carried him to the heights of Democratic politics through the years:
"Somebody asked me the other day: what is the difference between the Democratic and Republican Parties and my answer is: the difference between progress and stagnation!" Barkley proclaimed as he tore into the Republicans. "In 1912, President Woodrow Wilson stated that the Republican Party had not had a new idea in 40 years. That was 44 years ago, making 84 years in all!" The crowd erupted in laughter. Even the Republican students couldn't contain their enjoyment of Barkley's one-liners.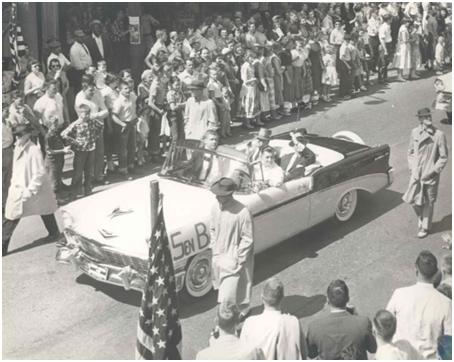 The parade that carried Senator Alben Barkley to his final speech.
When Barkley informed the crowd that he was not himself a candidate for President of the United States in that year's presidential election cycle, the crowd let out its jeers and disapproval for which Barkley replied, "I no longer have any personal interest. I have served my country and my people for half a century as a Democrat."
Barkley then recounted his long political career which now found him back as a junior senator for which the "old fire-horse" was contently satisfied with. "I went to the House of Representatives in nineteen hundred and thirteen and served 14 years. I was a junior Congressman. Then I became a senior Congressman. Then I went to the Senate and became a junior Senator and then I became a senior Senator. Then Majority Leader of the Senate and then Vice President of the United States and now I'm back again as a junior Senator…And I'm willing to be a junior. I'm glad to sit on the back row. For I would rather be a servant in the House of Lord than to sit in the seats of the mighty."
Then as the auditorium erupted in a thunder of momentous ovation, Alben W. Barkley stepped back from the podium as the crowd anxiously awaited for him to continue. With the applause of the crowd in his ears and the vision of a delighted audience in his sight, Alben Barkley suddenly collapsed as his heart gave out. The Ironman of Kentucky Politics was dead from a massive heart attack.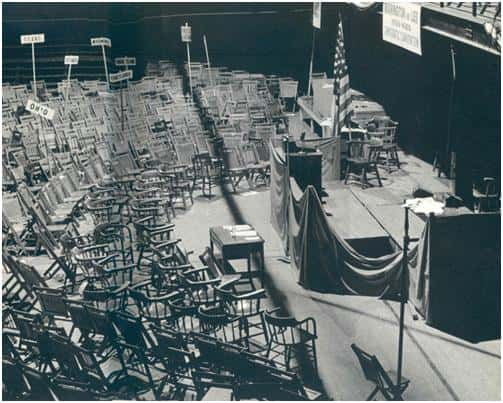 The empty convention hall directly after Barkley's sudden and unexpected death.

"Alben W. Barkley, Mr. Democrat, "The Veep," the eloquent orator of this day, of his day, died on the political platform, a place he loved and the one place where he felt at ease and at home, while delivering a 'rough and tumble, good humor speech for the students at Washington and Lee University," reported the Tribune-Democrat in Benton.
An official funeral was held in Washington, D.C. on Wednesday, May 2 at the Foundry Methodist Church. The body of Senator Barkley was then shipped home to Paducah, Kentucky where a funeral was held on Thursday, May 3 at the Broadway Methodist Church. Several dignitaries throughout the throngs of political power attended including former President Harry S. Truman, Senator Estes Kefauver, Governor Adlai Stevenson, and Kentucky Governor Happy Chandler. A massive crowd of nearly 2,000 mourners from all walks of life and different social classes made their way to Paducah to bid farewell to the man who they admired and loved so well.
One such mourner was Harold Miller of Benton who vividly recalled that day nearly 60 years ago. "My wife and I went to the funeral and sat on the top balcony of the church," Miller recalled. "The place was packed and I remember that several dignitaries including President Truman and Adlai Stevenson sat with the family up in the front row," Miller remembered. "One thing that impressed me was how the family let the hired hands who worked for Mr. Barkley on his farm also sit up in the front row of the church with the family."
Unlike today's Congressmen and Senators who feel like strangers from a faraway capital, Alben Barkley had a deep connection with those he served and they loved and respected him for it. "It will be a sad day for this country and its institutions if and when the people lose confidence in their public servants," Barkley commented in an interview shortly before his death.
For his part, Alben Barkley retained public confidence and public affection throughout his long career and is still reverently admired 60 years after he went to be a servant in the House of Lord.