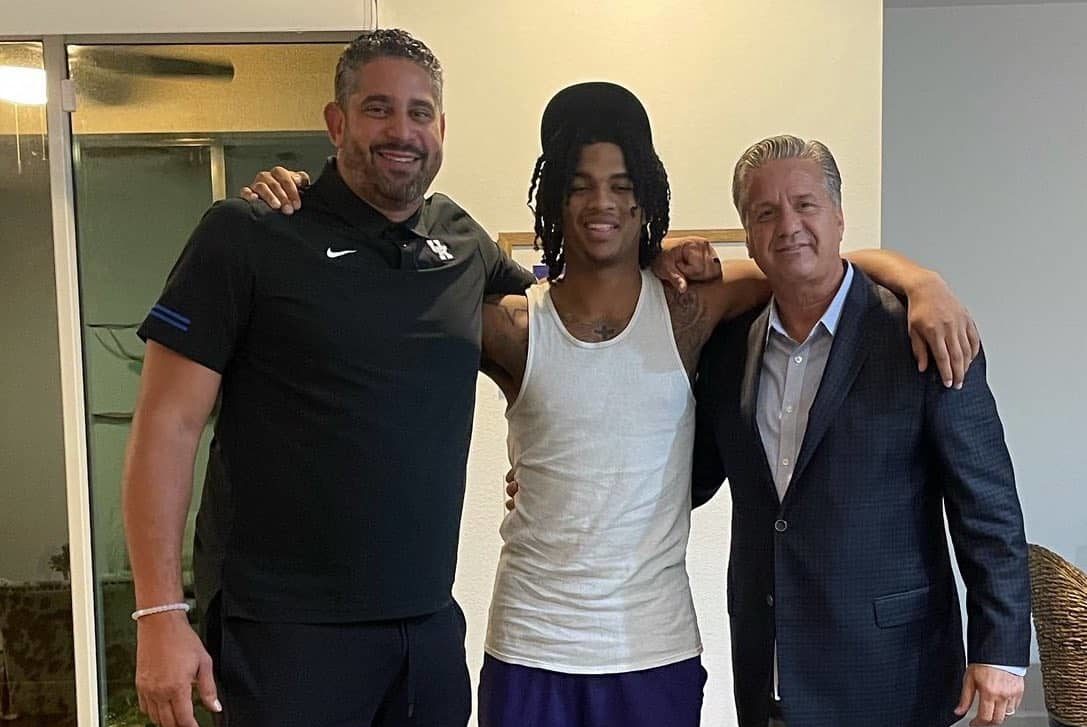 By LARRY VAUGHT
It was not quite three months ago when Kentucky basketball commit Skyy Clark tore the anterior cruciate ligament and meniscus in his left knee.
The 6-3 point guard is a consensus top 15 player in the 2022 recruiting class despite having to cut his summer play short. However, Clark vowed in July his leg would come back stronger than ever and apparently he is on track for that to happen.
"He has been really going hard. Eating right, taking everything serious," said Kenny Clark, Skyy's father. "His rehab has been going amazing. It's unheard of what he's doing.
"He should be on the court at the 4 1/2 month mark. That is a month and half away and by about January he should be looking to get out there (playing)," Kenny Clark said. "We are not going to rush anything. He's got to be 100 percent for college."
Clark has been committed to Kentucky since Oct. 22. He announced in May — before his injury — that he was transferring to Monteverde Academy in Florida and is working to make sure he's able to help the team this season.
"He has been killing it on the bike in rehab. He's been in the gym getting shots up. He's constantly doing something," Kenny Clark said. "We got him a meal prep person for his meals. His mom has been great with his supplements and taking care of him. We are making sure he is getting everything he needs.
"He loves school here. The camaraderie among the team is amazing. The campus is beautiful. The students have all embraced him."
Skyy's younger brother, ZZ, is also at Monteverde but will not play on the national team this year to give him time to develop and gain confidence.
"We want him getting as many minutes as possible and the national team here is loaded. This is the best thing for him," Kenny Clark said.
Skyy Clark missed most of last season due to COVID concerns and his father, a former NFL player, says his son has parts of his game to work on even while he's still in rehab.
"Right now he is just working on getting his handle tight and making his jumper more consistent," Kenny Clark said. "He has been honing in on those things. He wants to make sure his jumper is more consistent and that his floater is as efficient as possible because that floater is so important in today's game.
"He was doing stuff at the seven-week mark rehab-wise that people at five months normally could not do. His doctor said his progress is like nothing he has ever seen. Even his physical therapist has been blown away but that shows how hard he is working to make sure he's ready when he gets to Kentucky."
---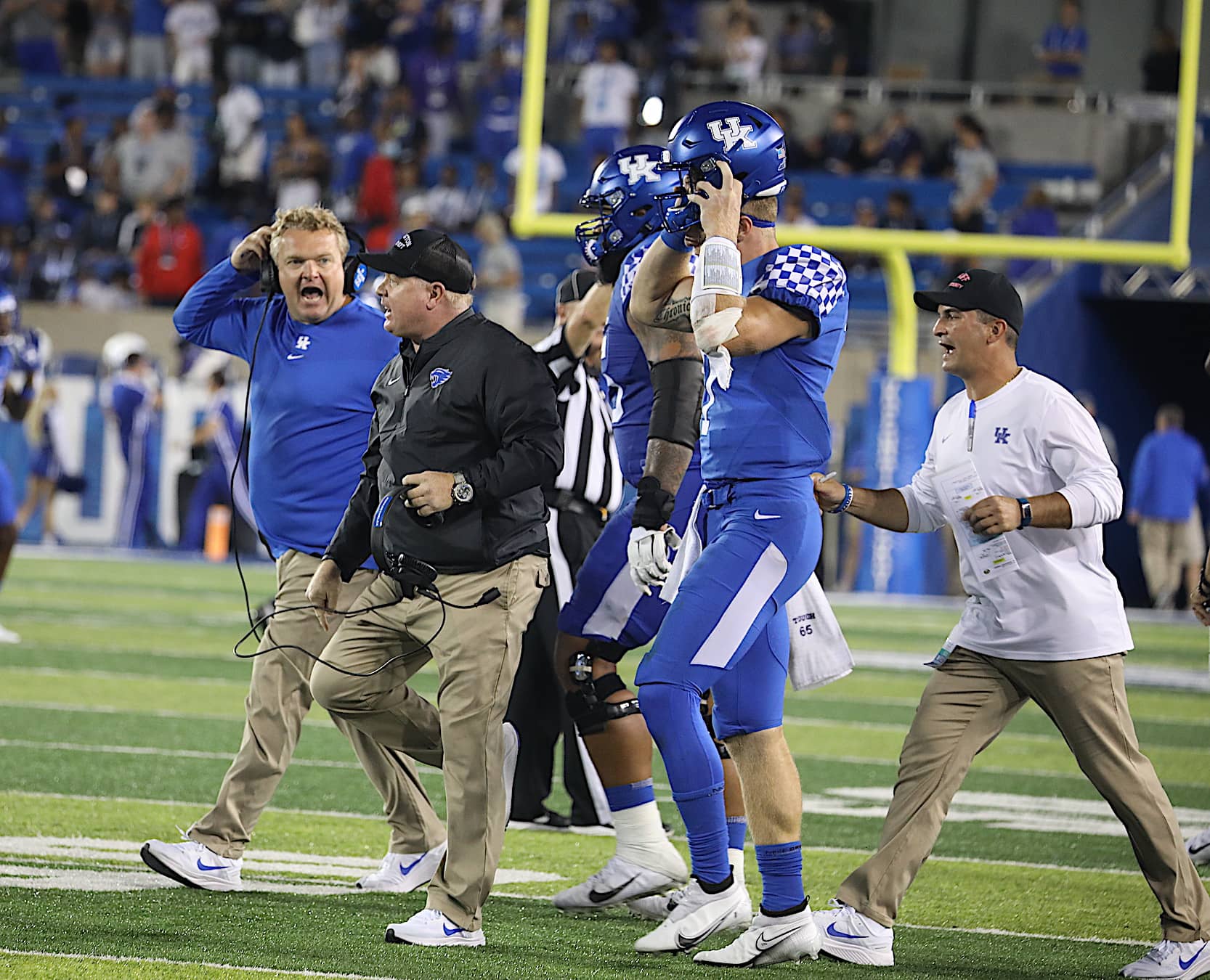 ESPN/SEC Network analyst Peter Burns says one reason he feels like Kentucky is one of the 10 best college football coaching jobs in America is because UK fans are "realistic" in football.
"The fans are appreciative. So many fan bases today do not appreciate how hard it is to win football games," Burns said. "Kentucky fans understand if they land a three-star (recruit) and he fits, they appreciate that.
"They have different level expectations than Kentucky basketball where if the team has two bad games in a row fans are losing their minds. For Kentucky football, that fan base appreciates when the team is good and when it is not they are not unfair in how they criticize and look at realistically how to address what the team needs."
What if UK wins nine or 10 games this year, something that seems a lot less likely now after the 28-23 escape against Chattanooga last week?
"Not only would fans be paying even more attention then and probably expecting more but recruits and media from coast to coast would pay attention," Burns said. "Stoops has built the foundation. He just needs some marquee wins."
Kentucky has that chance soon with consecutive games against Florida, LSU and Georgia.
"They need a win against LSU and I think right now Kentucky is better than LSU," Burns said. "We'll see about Georgia and Florida. They just need a marquee win or two to say they are legit and they are on the cusp of that right now. If they are not the most fun team in college football, I don't know who is."
Burns remembers when Clemson for the longest time needed to get those marquee wins to grow the program and did it.
"It is tougher for UK because they are in the SEC. Put Kentucky in the ACC and they are going 11-1 or 10-2. They are that solid," Burns said. "The problem is for all SEC teams week in, week out it is a battle. The biggest thing holding Kentucky back is being in the toughest conference in America."
---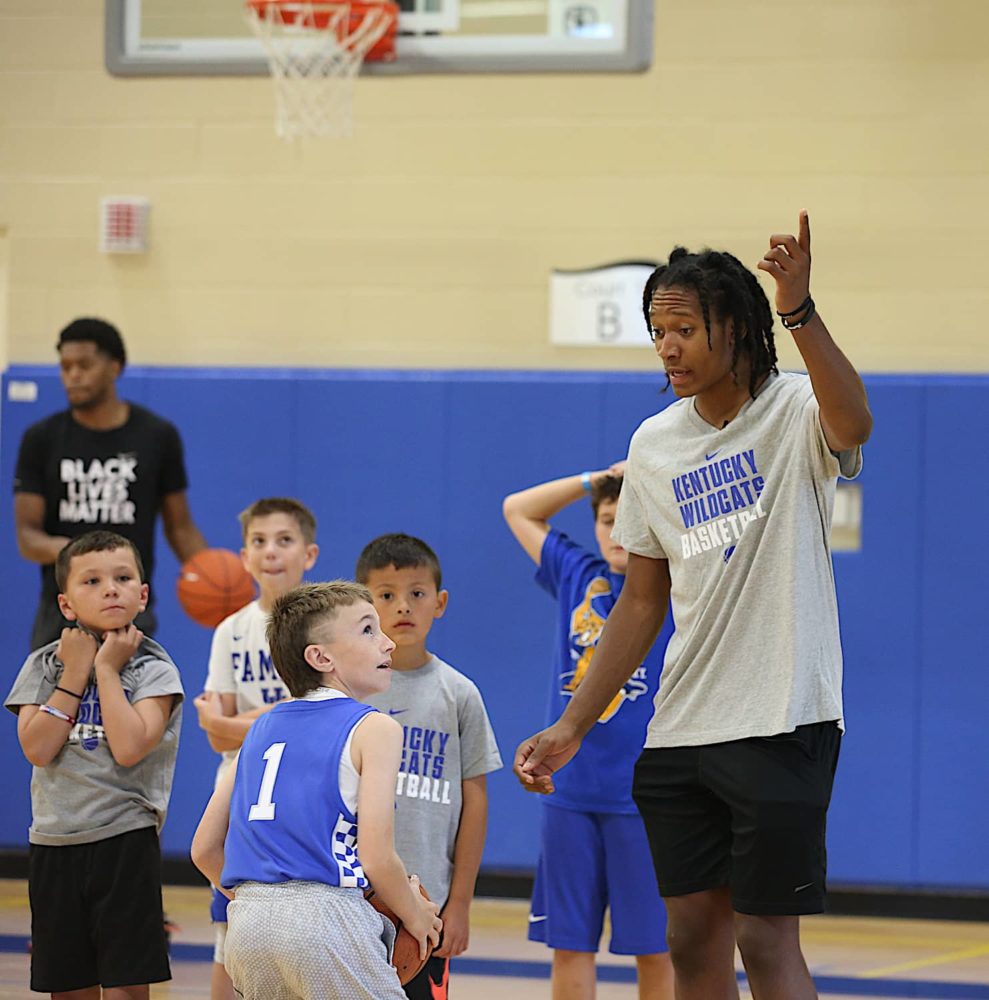 Kentucky coach John Calipari is going to have multiple options at point guard this season, a luxury he did not have last season. But would he prefer to see one player emerge as the clear No. 1 point guard or can he be comfortable rotating players?
Georgia transfer Sahvir Wheeler has been an assists machine but not a prolific shotmaker.
"We're putting in a press I used in the past. I didn't know where I wanted to put him because of his size. He goes, 'Coach, I'm almost 6-5 (with a wingspan) and I went, 'OK.' So, I put him at the front of the press. He's almost 6-5," Calipari said.
"Normally, you put that guy as an interceptor. You need someone in the front line that's going to occupy."
Freshman TyTy Washington was a late addition after Nolan Hickman Jr. asked out of his commitment to UK. Washington has made a big impression in preseason workouts.
"TyTy is better than I thought. A demeanor, plays the game as it comes, skilled — floaters, jump shots, making passes. Decision-making not quite there," Calipari said.
Calipari said the two can play together and he's been known to play two point guards together or even three like he did with Immanuel Quickley, Tyrese Maxey and Ashton Hagans.
"You've got Davion (Mintz) who can, as we learned late in the season, he can play the position more as a scoring kind of guard than a creating point guard for his team, but he still can play it. So, we've got three, and I'm really excited about all three," Calipari said.
The UK coach said Davidson transfer Kellan Grady, a 3-point shooter who has scored over 2,000 points in college, can also play point guard if needed.
"So, we have options, and I'm really excited," Calipari said. "Seeing how they're playing, I think it's, again, brought guys together because it's really about playing for each other, and I think that's helped us too."
---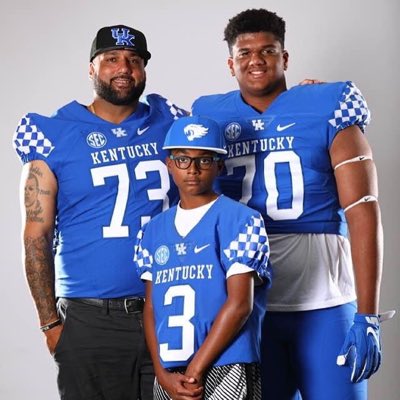 Kentucky's Big Blue Wall likely will lose three starters — Darian Kinnard, Luke Fortner and Dare Rosenthal — off this year's team but one of the rebuilding pieces will  be 6-6, 300-pound Nikolas Hall of Austin, Texas, the son of former UK offensive lineman Antonio Hall — a two-time all-SEC selection.
"He is a great kid, great student, great personality," Antonio Hall said. "He's a bit of a practical joker and likes to pull one on the old man when he can. But he's a big, physical kid who is just coming into his own. He has great length and athleticism. He wants to play in the SEC."
Nikolas Hall is rated among the nation's top 100 linemen and had offers from Baylor, Texas A&M, Ole Miss, West Virginia, Virginia Tech, Arizona State, Oklahoma State and others. He is rated as the nation's No. 73 offensive tackle by 247Sports Composite and top 100 player in Texas.
"I did not try to steer him in any direction," Antonio Hall said. "I tried to give advice when needed and let him make his own decision."
Nikolas Hall first met former UK offensive line coach John Schlarman three years ago. Antonio Hall said "they started a bond" that held until Schlarman's passing last season.
"Coach Schlarman is just a special guy. He is sorely missed. Nikolas and him had a special bond," Antonio Hall said.
The former UK standout already knew new UK offensive line coach Eric Wolford because he is from Youngstown, Ohio. The two knew a lot of the same people. He's confident Wolford can develop his son "mentally and physically not just for the SEC but for the next level."
---
Chris Livingston, a 6-7, 220-pound five-star small forward,  is a top five player in the 2022 recruiting class and joined Shaedon Sharpe and Skyy Clark as UK commits last week.
Livingston is a player who will attack the rim. He's an adequate shooter and is a better than expected passer. His defense has also impressed recruiting analysts.
Kenny Clark, Skyy's father, says his son has known Livingston since they were in the sixth grade and they have played together at several camps.
"He is a do-it-all player," Kenny Clark said. "He can rebound, block shots. He has developed a nice jump shot. He can dribble and handle. He's going to be special."
And he's going to be at Kentucky.
---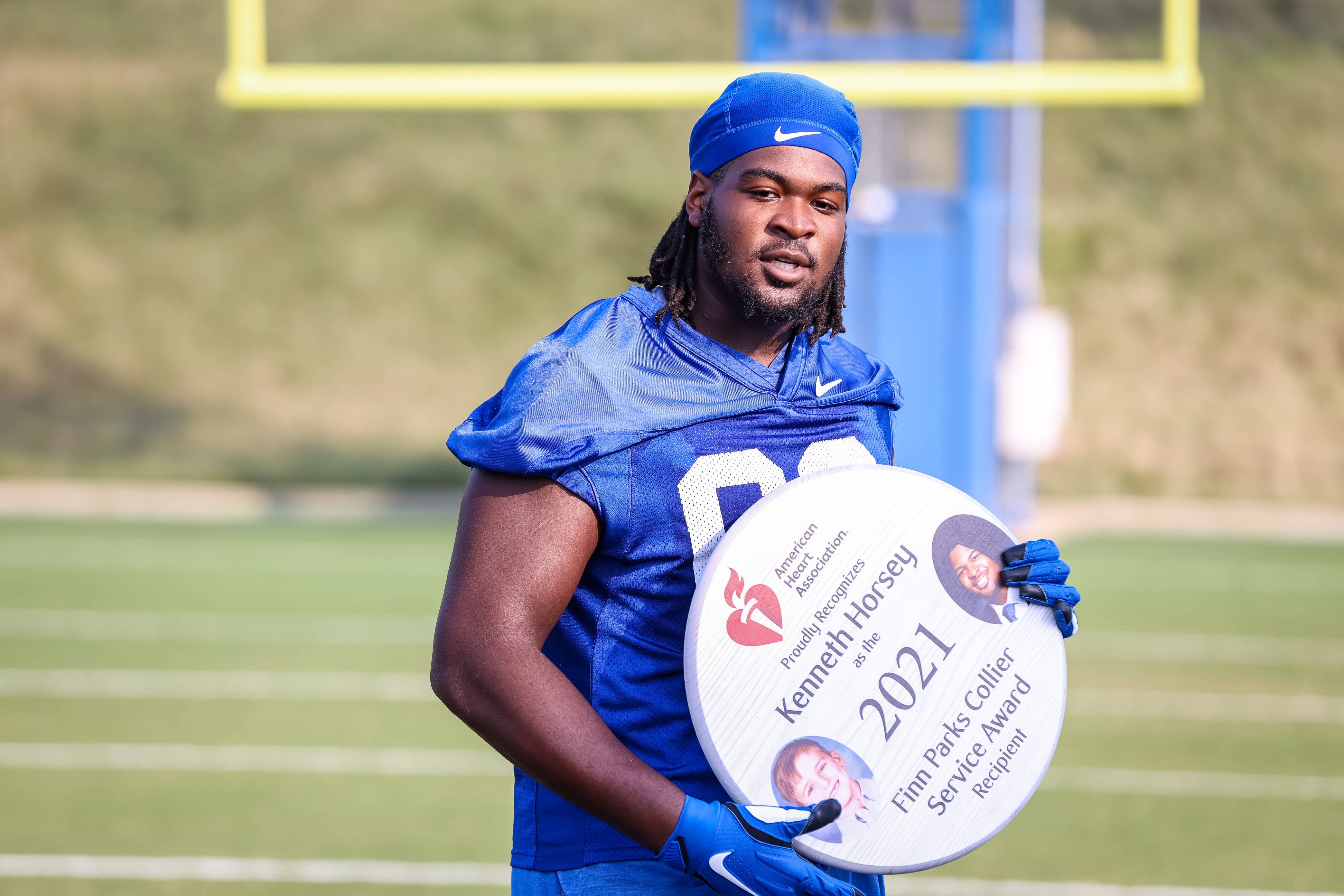 Kentucky junior offensive guard Kenneth Horsey received another well deserved honor when he was awarded  the Finn Collier Service Award from the American Heart Association. The award is in memory of Collier, who lost his battle with heart disease at age 7. The award honors children and young adults who support the lifesaving mission of the American Heart Association.
Late in Horsey's high school senior season he had to be rushed to the hospital where doctors found a growth on one of his heart valves. He had open heart surgery on April 8, 2018 and was not sure if he would be able to play football again. Instead, Horsey redshirted in 2018 and has started the last two seasons despite needing surgery on a broken left hand before the 2020 season. He has started 10 of the last 13 UK games.
Horsey has been active in community events in Kentucky through  the Lexington chapter of the American Heart Association. "Kenneth has been an incredible advocate for the mission of the American Heart Association," Julie Lay, the regional communications director of the American Heart Association said. "Kenneth is an incredible asset to both our organization and our community, and the work he does truly helps us save lives."
Horsey is on the watch list for the Wuerffel Trophy, given to the nation's top community servant, and the Allstate American Football Coaches Association Good Works Team.
---
All-American catcher Kayla Kowalik says the entire Kentucky softball coaching staff has taught her a lot the last three years.
"One of the things I love about our coaching staff is that they are all women and I feel like relating to them on a more personal level is so much easier," Kowalik said. "I think coach Lawson is great, and that is not sarcastic. I think so highly of her. She has taught me so much and has been there for me.
"I couldn't speak highly enough for our coaching staff. I love them so much and I am so grateful for the opportunities they have given me and our team and all the work they do making sure we get through this part of our life and move on fully prepared."
Kowalik even thinks her and Lawson are much more alike than she ever imagined.
"As much as I hate to say this, I feel like we are almost the same person as far as sarcasm goes. We are very sarcastic. I love bickering with her in the bullpen," Kowalik said.
"That is something that has changed since freshman year because then I was afraid to speak in the bullpen and she used to bully me for it. Now I never shut up and that's on her. That is her fault. She brought me out of my shell."
---
Quote of the Week 1: "You can't ever apologize for a win. Hold their head up high, tidy up your backyard. Nobody's going to point any fingers. Nobody's going to blame anybody," Mark Stoops after UK's 28-23 escape against Chattanooga.
Quote of the Week 2: "I think that experience factor is going to be huge. It's going to pay off for this team. I think it'll be extremely fun. I think it'll be extremely competitive," senior guard Davion Mintz on the upcoming basketball season.
Quote of the Week 3: "He's psycho. He's nuts in a lot of ways, which is great. You want that guy to be the guy who everybody looks to, who brings energy and juice, which he does every single day. It scares me a little bit, but he's a freak, so I don't worry too much," UK offensive coordinator Liam Coen on quarterback Will Levis not being afraid to run the ball.