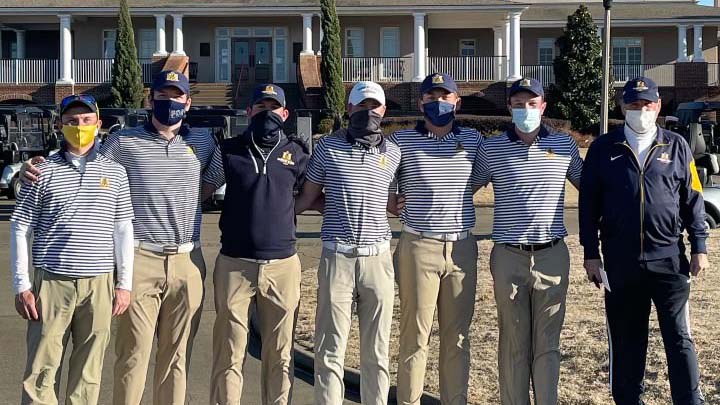 Racers Find Victory In Season Opener At Capitol Hill

The Murray State men's golf team cruised to a 17-stroke win at the ASU Spring Kickoff at Capitol Hill Golf Club in Prattville, Ala., on the Senator Course.
The Racers got better as the event unfolded as they punctuated their fourth-straight win in season openers with a final round 2-over-par 300. This after posting a 307 in round one and 305 in round two. The Racers' 912 total was chased by runner up Western Illinois at 929.
The victory for the Racers is the 36th all-time team win for Coach Eddie Hunt, as he begins his 20th season guiding the Murray State program.
"I am very proud of our team," Hunt said. "They prepared well and took that confidence to a tough course and performed about as well as any team I've had in the first event for a spring season especially considering the conditions. This win really gives us a boost as we go forward into the schedule."
The Racers were boosted by a 2-3 finish by seniors Connor Coombs and Austin Knight. Coombs placed second on scores of 80-73-75=228 and Knight third on rounds of 73-84-73=230. The Racers ended up placing four of their starters in the top-10 including Quinn Eaton in seventh on scores of 79-77-76=232 and Avery Edwards with a spot in ninth place after scores of 75-76-82=233. Walker Beck was 16th on scores of 87-79-76=242, while solo player Tyler Powell carded scores of 80-78-76=234 to get a 10th place finish.
Coombs and Knight were chasing eventual medalist, Parker Govern of Western Illinois who won the individual title on scores of 78-77-72=227 and a one-shot win over Coombs.
The next challenge for the Racers is the Gulf Coast Collegiate (March 1-2) in Diamondhead, Miss.
Team
1 Murray State  307  305  300   912  +48
Western Illinois 317  308  304 929  +65
Alabama State 318  306  314 938 +74
Chicago State 324  317  318 959 +95
Savannah State 323  320  320 970  +106
Alabama A&M  348  350 350 1046  +182
Individual
1 Murray State +19 F 307 305 300 912
2 Connor Coombs  Murray State  80  73  75  228  +12
T3 Austin Knight  Murray State  73  84  73  230  +14
T7 Quinn Eaton  Murray State  79  77  76  232  +16
9 Avery Edwards  Murray State  75  76  82  233  +17
T16 Walker Beck  Murray State  87  79  76  242  +26
—
10 Tyler Powell *  Murray State  80  78  76       234  +18