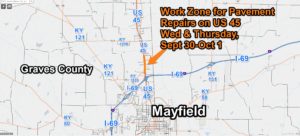 PADUCAH, KY (Sept 25, 2020) A contractor for the Kentucky Transportation Cabinet (KYTC) plans work zone lane restrictions along a section of U.S. 45 at the north edge of Mayfield in Graves County on Wednesday, September 30 & Thursday, October 1, 2020.
The 4-lane section of U.S. 45 at the north edge of Mayfield will be restricted to one lane for pavement repairs and paving from the KY 1830/Jimtown Road intersection at milepoint 19.3 extending northward to Kentex Drive at milepoint 19.9. This is along U.S. 45 just north of the I-69 Mayfield Exit 25 Interchange. This work could continue into Friday if required.
Appropriate caution is required where equipment, flaggers, and maintenance personnel are along the roadway in close proximity to traffic flow.
To get traffic advisories and alerts via email go to https://public.govdelivery.com/accounts/KYTC/signup/13651 and click on counties in Kentucky you regularly drive through, or on any of the specialty corridors you travel. Be sure to check your SPAM filtering to assure Gov Delivery is on your approved list.
Timely traffic advisories for the 12 counties of KYTC Highway District 1 are available by going to www.facebook.com/kytcdistrict1. You do not have to be a Facebook member to access this page.
Navigate traffic at goky.ky.gov, at waze.com, or with the WAZE App.