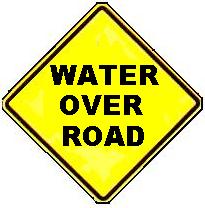 PADUCAH, Ky. (July 2, 2020) — We have the following KY Highway Water Over Road Report for District 1 at 6:45 a.m., CDT.
Carlisle County
KY 80 West is OPEN in Arlington between the Baptist Church and KY 1772
KY 1628 is CLOSED at the 3 to 4mm- signs posted
KY 1820 is CLOSED at the 2 to 4mm- signs posted
US 62 is OPEN at the 4 to 5mm in West Fork Creek Bottoms
Graves County
All OPEN
Hickman County
KY 123 is CLOSED at the 14 to 16mm in the Hailwell area- signs posted
Marshall County
KY 1462/Benton-Birmingham Rd CLOSED at 0.0 to 1mm at Clarks River Bridge- signs posted
Updates as appropriate.
Timely traffic advisories for the 12 counties of KYTC Highway District 1 are available by going towww.facebook.com/kytcdistrict1. You do not have to be a Facebook member to access this page.
Navigate traffic at goky.ky.gov, at waze.com, or with the WAZE App.