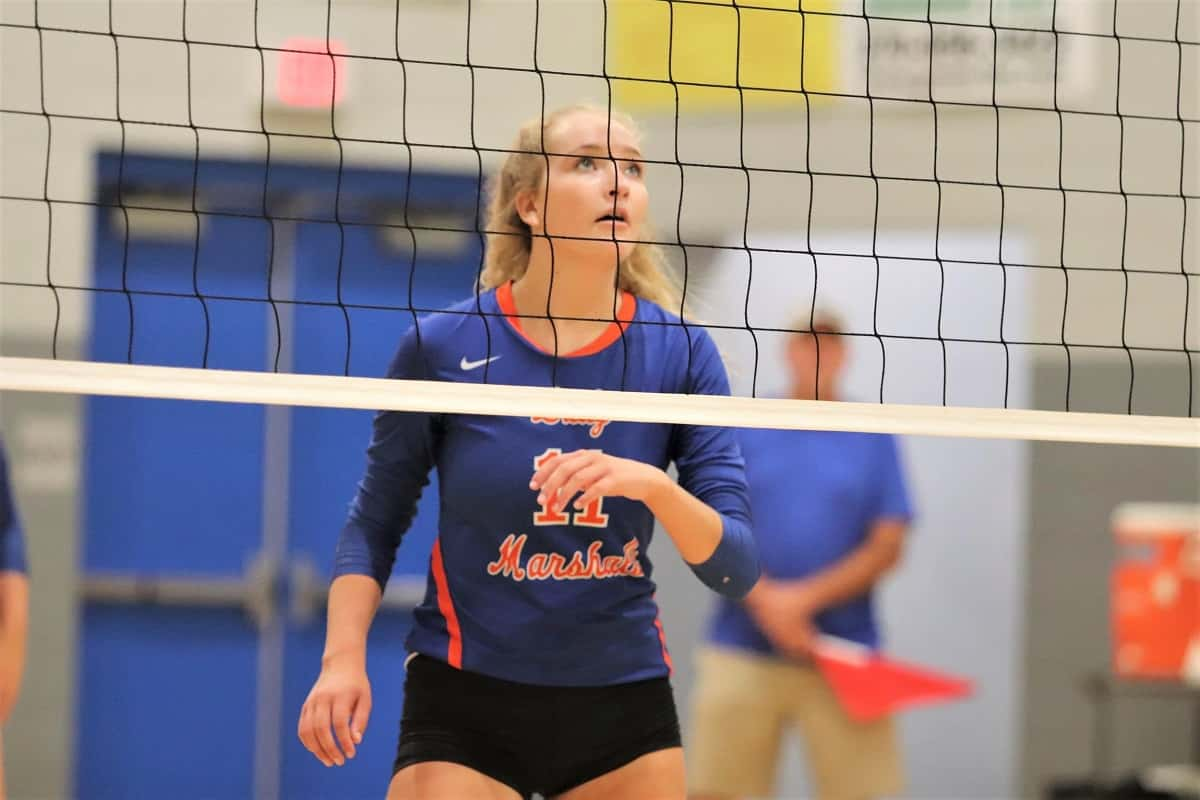 The Lady Marshals will face a big test Thursday when they travel to McCracken County to play the Lady Mustangs (10-5), the six-time 1st Region Champions. They picked up a nice district win over Calloway County Tuesday to remain perfect in district play and improve their record to 7-6.
Sept. 6-7, the Lady Marshals went 2-3 in the wRECk at The Plex in Hopkinsville. Friday kicked off with a 2-0 win over Crittenden County followed by a 2-0 loss to Henderson County. Three games Saturday started with a 2-0 win over Trigg County, then two losses to Logan County 2-0 and Caldwell County 2-1. Henderson County and Logan County were co-tournament champions.
Last Tuesday, the Lady Marshals suffered their second loss to Ballard Memorial 3-0 but rebounded with Tuesday's 3-0 win over Calloway County. In the win over the Lady Lakers, Jessica Hicks had 11 kills, 13 digs and six aces, Halle Langhi had nine kills, three blocks and nine aces, Clara Bradley led with 16 assists, 11 digs and three aces. The JV squad beat Calloway County 2-0.
Stats below from wRECk The Plex, Ballard Memorial and Calloway County:
wRECk The Plex 
Marshall 2, Crittenden 0 (26-24, 25-22)
Kills: Langhi 12, Hicks 10, McCracken 1, Bremmerkamp 1, McClain 1
Blocks: Bradley 1, McClain 1
Assists: Bradley 13, Gresham 11, McCracken 1
Digs: Hicks 4, Bradley 3, McCracken 1, Bremmerkamp 1, Langhi 1
Aces: Hicks 1, Gresham 1
Henderson 2, Marshall 0 (25-15, 25-10)
Kills: Hicks 2, Bradley 2, Langhi 1, McCracken 1
Blocks: Bremmerkamp 1
Assists: Bradley 4, Gresham 2
Digs: Bradley 2, Elkins 2, Pritchett 1, Hicks 1, Gresham 1, Boward 1
Aces: Gresham 2, Hicks 1, Bremmerkamp 1
Marshall 2, Trigg 0 (25-8, 25-7)
Kills: Langhi 6, Hicks 4, Bremmerkamp 3, McCracken 2, Gresham 1, Bradley 1
Blocks: Langhi 1, McClain 1, Joiner 1
Assists: Gresham 8, McCracken 2, Bradley 1
Digs: McClain 6, Langhi 3, Pritchett 3, Hicks 2, Joiner 2, Gresham 1, Elkins 1, Bradley 1, Boward 1
Aces: McClain 6, Bremmerkamp 3, Gresham 2, Hicks 1, Langhi 1, Joiner 1
Logan 2, Marshall 0 (25-21, 25-13)
Kills: McClain 5, Hicks 5, Langhi 4, McCracken 2, Bradley 1
Blocks: McClain 1
Assists: Bradley 5, Gresham 4
Digs: Boward 6, Pritchett 4, Hicks 3, Langhi 2, McCracken 2, Bradley 2, Elkins 2, Bremmerkamp 1
Aces: McClain 2
Caldwell 2, Marshall 1 (24-26, 25-19, 25-18)
Kills: Langhi 11, Hicks 9, Bremmerkamp 2, Bradley 1
Blocks: Langhi 4, Bradley 1
Assists: Bradley 12, Gresham 7, McCracken 1
Digs: Hicks 10, Bradley 7, Bremmerkamp 6, Elkins 6, Gresham 4, McClain 3, Pritchett 3, McCracken 1, Boward 1
Aces: Langhi 4, Gresham 4, Elkins 2, Hicks 1
---
Ballard 3, Marshall 0 (25-16, 25-17, 27-25)
Kills: Langhi 5, Hicks 5, Bremmerkamp 3, McClain 2
Blocks: Langhi 2, McCracken 1, Hicks 1, Bradley 1
Assists: Bradley 10, Gresham 5
Digs: Hicks 25, Pritchett 15, Boward 14, Bremmerkamp 7, McClain 6, Bradley 6, Gresham 5, Langhi 4, Elkins 3
Aces: Langhi 2, Hicks 1
---
Marshall 3, Calloway 0 (25-12, 25-17, 25-13)
Kills: Hicks 11, Langhi 9, McClain 4, Bradley 3, Bremmerkamp 3, McCracken 1, Thompson 1
Blocks: Langhi 3, McClain 1, McCracken 1, Hicks 1, Bremmerkamp 1
Assists: Bradley 16, Gresham 14, McCracken 2
Digs: Hicks 13, Bradley 11, Elkins 9, Pritchett 7, McClain 2, Bremmerkamp 2, Joiner 1
Aces: Langhi 9, Hicks 6, Bradley 3, McClain 2, Gresham 2, Boward 1, Elkins 1