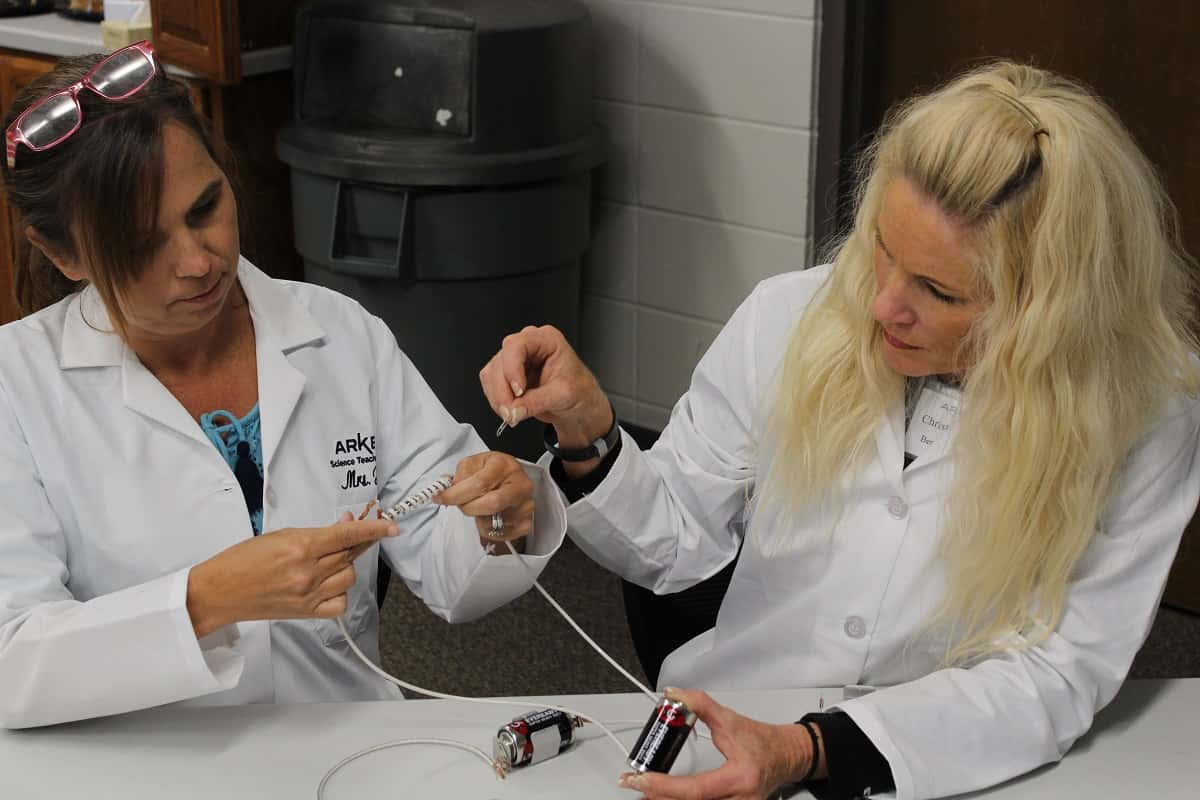 When six local teachers return to class next school year, they will be equipped with new resources to prepare their students for careers in Science, Technology, Engineering and Math (STEM). The teachers achieved this by participating in Arkema Inc.'s annual Science Teachers Program.
This program, which took place June 25-27 at Arkema's plant in Calvert City, Ky., is designed for teachers of grades 3 to 6. The teachers who completed the program were Christine Howard and Traci Crass from Benton Elementary School in Benton, Ky.; Andria Miller and Ramona Patton from Concord Elementary School in Paducah, Ky.; and Brandon Crowe and Shannon Ballard from Lone Oak Intermediate School in Paducah, Ky.
Throughout the program, the teachers worked side-by-side with Arkema employees who are scientifically trained. They spent much of their time exploring science kits that are designed to spark students' interest. The kits, provided by Arkema, meet national science education standards and supply teachers with eight weeks of curriculum to make learning enjoyable and to make scientific applications relatable to daily life. The kits offer lessons on topics such as alternate forms of energy, land formations, soil properties, weather observation and wiring circuits for lightbulbs.
"The Science Teachers Program gives me new insight and ideas on how to build a strong STEM foundation for my students," said Andria Miller. "It's really great to have this time to focus solely on science education with Arkema experts who are applying their knowledge to everyday life."
A study by the Pew Research Center found that more than 50 percent of Americans believe young students steer away from STEM because the classes are too difficult. Arkema's Science Teachers Program counteracts that perception by providing teachers with tools to make science more interesting and accessible to students.
With a STEM background, young people have a better chance of career success. The U.S. Bureau of Labor Statistics (BLS) reported that 93 out of 100 STEM jobs have wages higher than the national average. BLS research also shows that STEM employment is growing at twice the rate of non-STEM occupations.
"We hope that the Science Teachers Program helps educators inspire their students to learn and love science," said Jeff Hall, plant manager at Arkema's Calvert City site. "Many jobs of today and tomorrow are in technology and science, so it's crucial that our students are prepared for the future. We're pleased that these teachers have chosen to team up with us, and we're honored to have the opportunity to contribute to their curriculum and to their students' success."
Since 1996, the Arkema Science Teachers Program has benefitted hundreds of teachers and thousands of students across the United States. In addition to this program, many Arkema sites support local education by offering internship opportunities, funding scholarships, hosting students at Arkema plants, or sending scientists and engineers to speak at local schools. These efforts are part of Arkema's Common Ground® program, which focuses on building relationships based on mutual knowledge and trust within the communities in which Arkema operates.