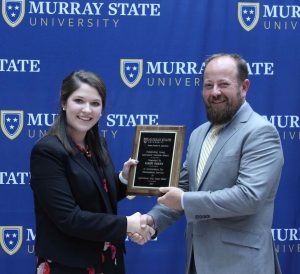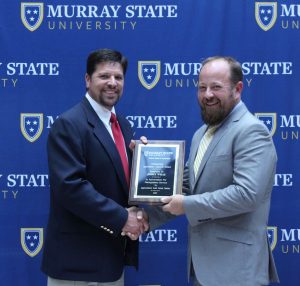 Murray State University's Hutson School of Agriculture announced the
winners of two annual awards during Homecoming 2017 in October: Kirby Green as the
2017 Outstanding Young Agriculture Alumnus and Jimmy Wray as the 2017 Outstanding
Agriculture Alumnus.
"Each year, the Hutson School of Agriculture Alumni Association selects two alumni
from among many outstanding alumni to receive our most prestigious awards," said Dr.
Tony Brannon, dean of the Hutson School of Agriculture. "This year's award winners,
Kirby and Jimmy, continue a long line of successful alumni who have received this
award. Both are truly outstanding in the field of agriculture and have — and will
continue to do so — put Murray State agriculture on the map."
The Outstanding Young Alumnus Award is given each year to someone who has made
significant contributions to the agriculture industry, the Hutson School of
Agriculture, Murray State and Murray State's Agriculture Alumni Association.
Kirby Green, originally from Westview, was raised on a tobacco and beef cattle farm
and served as the president of the Kentucky FFA Association from 2007 to 2008. She
received her bachelor's degree in agriculture with an area in agricultural education
from Murray State in 2011. During her time at the University, she was a member of
the Alpha Omicron Pi sorority and served as president of the Student Government
Association in addition to being named Homecoming Queen and Ms. Murray State
University. As an undergraduate student, Green also studied abroad in Greece,
Hungary and Puerto Rico before beginning her career as an agriculture educator and
FFA advisor at Lone Oak High School in Paducah. She later earned her master's degree
in agriculture from the University in 2012.
In January of 2013, Green pursued a career pathway change and accepted a job with
Monsanto as a district sales manager. Since that time, Green has managed a territory
budget of 20,000 units of corn and 75,000 units of soybeans. She is also responsible
for creating and managing her Monsanto team's social media sites, including Facebook
and Twitter. Additionally, during her professional career, Green has created and
provided leadership for the Next Gen program, which targets young, progressive
farmers who are community leaders.
Since graduating from Murray State, Green has remained a consistent supporter of the
University by speaking at various functions and coordinating the Monsanto funding
for Ag Appreciation Week 2017. She has received Monsanto's Presidential Volunteer
Service Award for four straight years and was the keynote speaker for the 2017
Murray State FFA All-Region Stars Banquet. She is also a member of the Kentucky FFA
Foundation, the Kentucky Workforce Innovation Board and the Kentucky Farm Bureau
Young Farmers. In her spare time, Green hosts and produces a podcast for young
professionals, called "Sharpen," along with managing a tie-in blog.
"[Green] has exemplified the combination of energy, talent, integrity, productivity,
dedication, vision and excellence that has led to her being named the recipient of
the 2017 Outstanding Young Agriculture Alumnus of Murray State," said Dr. Brian
Parr, head of the department of agricultural science, upon presenting her award.
The Outstanding Agriculture Alumnus Award is given to a Murray State alumnus who
graduated a minimum of 10 years before the time of selection. Like the young alumnus
award, the recipient of the Outstanding Agriculture Alumnus Award is an individual
who has contributed to the agriculture industry, the Hutson School of Agriculture,
Murray State and Murray State's Agricultural Alumni Association.
The recipient of the 2017 award, Jimmy Wray, is a 1994 graduate of Murray State with
a bachelor's degree in agricultural business. Wray is from Ballard County and began
his agricultural business career in the summer of 1994 as an intern with BASF. He
then moved to Muncie, Indiana, after graduation to take over a sales territory for
Ciba Geigy Chemical. Then, in 1997, he moved back home as a sales representative in
the Purchase Area for Monsanto to introduce Roundup Ready and BT crops to the
region. As Monsanto purchased seed companies like Asgrow and Dekalb, Wray discovered
a passion for the seed business and began to focus on hybrid and variety development
for the region. In 2002, Wray was promoted to manager of Monsanto's seed and trait
business for Kentucky, Tennessee, Arkansas and the bootheel of Missouri.
Later, in 2007, Wray left Monsanto to start JWray Seeds, which focused on selecting
corn, wheat and bean genetics to fit the specific needs of Kentucky and Tennessee
farmers through the Armor Seed Brand. In 2010, JWray Seeds and Cullum Seeds merged
to form Armor Seed Company, which then grew to approximately 1 million bags of
soybeans, 200,000 bags of wheat and 500,000 bags of corn sold throughout the
Mid-south and Delta regions. In September 2017, Armor Seed was acquired by Land
O'Lakes Inc., based out of Minnesota. Wray is currently managing the Armor Seed
business for Land O'Lakes and oversees the Kentucky American Seeds processing plant
in Hopkinsville, which was acquired in 2012. He still takes time to farm a few
hundred acres, enjoying running the excavator and dozer on farm-land improvement
projects.
Over the years, Wray has supported the Hutson School of Agriculture in a number of
ways, such as by providing seed for the Hutson Farm plots that allowed for the
selling of $75,000 worth of corn in the newly-donated farm's first year of
production. Additionally, Wray donated equipment to establish the hemp trials on the
Eagle Rest Plantation in Ballard County.
"In summary, [Wray] has set the bar high for himself and for Murray State
agriculture," Parr said. "Today we recognize him for 'clearing the bar' and present
him with the award of 2017 Outstanding Agriculture Alumnus."