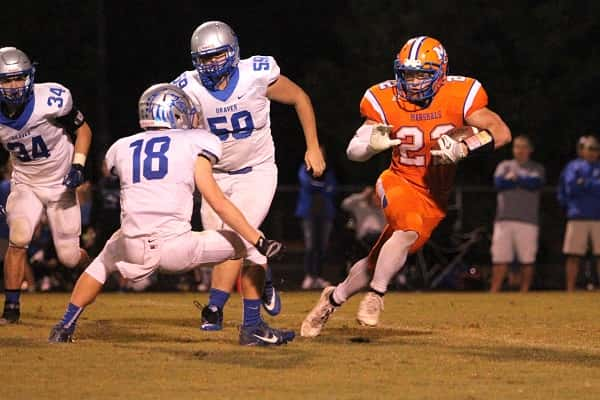 With identical records of 3-3, both Marshall County and Graves County were looking for that first district win after both lost last week's district openers while the Marshals were looking to break their 11-game losing streak to the Eagles.
Down 28-13 at halftime, the Marshals fell behind 34-20 in the third quarter but cut the Graves County lead back to 14 points late in the third quarter before the Eagles scored the next 21 points to win 55-20.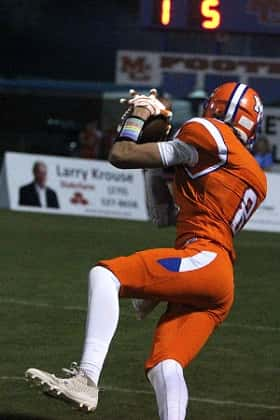 "I felt like going into the half we had a situation to kind of take hold of some of that momentum there", Coach Evan Merrick said. "We were in a situation to get that stop, of course that penalty extended their drive and they got the score right before the break."
Merrick said the frustrating thing is not fighting through set backs throughout the game and in the second half didn't see that in his team, saying that's something he's got to fix.
The Marshals fumbled the opening kick return that gave the Eagles excellent field position at the Marshall County 31 yard line, but their luck would change when Blake Myhand recovered a Graves County fumble.
They would drive 63 yards to the nine yard line before a fumble by Mason Green gave the Eagles the ball on the Marshals five yard line. The Eagles scored their first touchdown on a 32 yard pass from Ryan Mathis to Trevor Grant with the extra point tacked on by Luis Macias to lead 7-0 with 5:24 on the clock.
The Eagles scored again near the end of the first quarter on a 51 yard pass from Mathis to Gabe Harned to go up 14-0.
Following an interception, the Marshals put their first points on the board on a 55 yard pass from Smith to Lucas Nichols early in the second quarter but the Eagles found the end zone again on a nine yard pass from Mathis to Drew Cooper to go up 21-7.
On the Marshals next drive, Smith connected with Ty Buchmeier for a 52 yard touchdown to cut the Eagles lead to 21-13. That was followed by a Marshall stop but a roughing the kicker call on the punt gave Graves County a first down, going on to score with just four seconds left on a 44 yard pass from Mathis to Trevor Grant and a 28-13 halftime lead.
The Eagles went up 34-13 on a six yard run by Cody Goatley that the Marshals were able to answer, starting from their own 48 yard line after a personal foul penalty on the Eagles. Pass interference on the Eagles moved the ball to the Graves County 31 yard line. Green had gains of 23 and eight yards before going two yards in for a touchdown at 4:49 in the third quarter, trailing the Eagles 34-20.
From there, it was all Graves County, scoring three more times on an 11 yard touchdown run by Chase Whitis, a 56 yard pass from Mathis to Grant and a one yard touchdown run by Tavis Brown that capped off an 80 yard drive.
Graves County's 593 yards of offense was a season high with 367 of those coming on the ground from Whitis who had 10 carries for 184 yards and Harned with 14 carries for 120 yards. Mathis threw for 226 yards and four touchdowns, completing 17 of 28 with Grant as his main target, who pulled in four receptions for 147 yards and three touchdowns.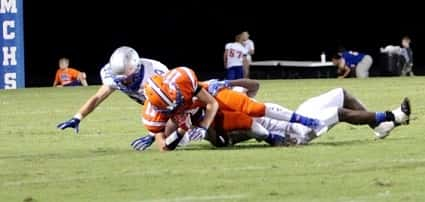 The Marshals had 294 yards of offense, 106 on the ground on 27 carries, 17 of those by Green who gained 85 yards. Smith threw for 188 yards, completing nine of 16 with two touchdowns. Leading receivers were Buchmeier with three receptions for 90 yards, Nichols two for 66 yards and Stevenson four for 51 yards.
The Marshals fall to 3-4 and will face Owensboro who are 2-4 following a 48-27 loss Friday to Christian County.
"I told the guys if it means something to you, we've got to find a way to focus and get this thing back on the tracks", Merrick said. "The district is tough, we know that, we've gone through two games, we've got two left. All our focus is on Owensboro, try to get healthy, and go up to Owensboro next week and get a win in that one."