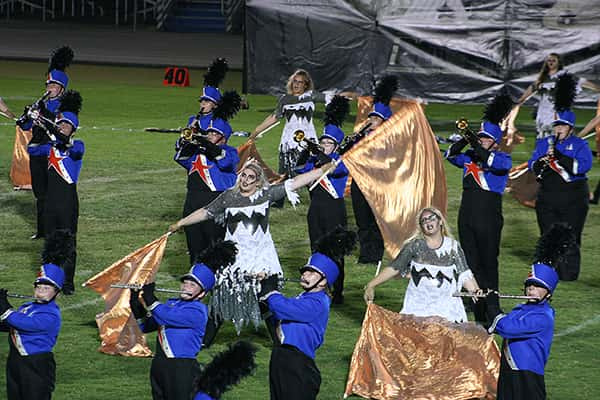 The Marshall County Marching Marshals took home top honors Saturday, with Grand Champion and first-place in class 5A finishes at the Graves County Screamin' Eagle Invitational in Mayfield.
The Marshals competed against five other bands at the event, just edging 5A competitor McCracken County for the win in class and overall.
The Marching Marshals earned a combined score of 72.4, topping second-place McCracken County's 70.2. While the Mustangs earned first-place color guard and percussion awards, the Marshals earned higher marks in musical effect and visual performance categories in class 5A; the Marshals split marks between judges in musical performance.
Mayfield High School earned third place in Saturday's competition; Henry County High School of Paris, Tenn., Paducah Tilghman and Crittenden County were the remaining competitors in the event.
The contest marked the Marshals' first grand champion win of the season; the band earned reserve grand champion honors at the McCracken County-hosted Music in Motion competition Sept. 9.
"(I'm) extremely proud of how hard the kids have worked, and they definitely earned their first-place victory Saturday night," said Ronnie Payton, Marching Marshals head director. "Now it's on to MSU next Saturday for Festival of Champions."
The Marshals will compete at the annual Festival of Champions Saturday, Sept. 30 at Murray State University in Murray. The competition will feature 14 bands in preliminary rounds beginning at 11 a.m.; the Marshals are scheduled to perform at 2:15 p.m.
Ten finalists will be chosen based on best overall preliminary scores to compete in a second round of performances, which will begin about 5:15 p.m.