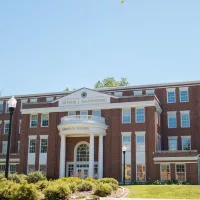 MURRAY, Ky. – The Arthur J. Bauernfeind College of Business at Murray State University and the Kentucky Department of Fish and Wildlife Resources have announced a new partnership to advance invasive carp removal efforts in Kentucky waterways.
Both entities see promise in a pairing of the internationally accredited business college with the state agency whose mission is conserving, protecting and enhancing Kentucky's fish and wildlife resources. The partnership is aimed at fostering development of entrepreneurship for the commercial and retail use of invasive carp that will result in the expansion of the processing industry in western Kentucky.
"Assisting in the reduction and control of this invasive species in such a way creates jobs and wealth for the region directly through new industry and indirectly through a vibrant recreational fishing and boating economy," said Chris Wooldridge, director of the Center for Economic and Entrepreneurial Development at Murray State University. "Taking this industry to the next level is necessary to have increased impact on the invasive carp population."
"Murray State University and the Arthur J. Bauernfeind College of Business seek, as part of our mission, to improve the quality of life in our region," said Dr. David Eaton, dean of the Arthur J. Bauernfeind College of Business. "This partnership will improve the quality of life in our region while enhancing job growth and economic development in our service region and throughout the Commonwealth."
At present, a robust commercial fishing industry on Kentucky Lake and Lake Barkley and surrounding rivers is one of the few control strategies proven effective at reducing invasive carp impacts on sport fishing and boating economies in western Kentucky.
Commercial fishers have harvested more than nine million pounds of invasive carp from Kentucky waters over the past year.
"We are optimistic that commercial harvest of invasive carp may be reducing populations in Lake Barkley and Kentucky Lake," said Dave Dreves, Fisheries Division director for Kentucky Fish and Wildlife. "Because of anticipated placement of deterrents at the dams forming both lakes and the unique spawning requirements of invasive carp, we believe there is a legitimate opportunity to fish down these populations in the lakes."
Kentucky Fish and Wildlife is mandated to regulate commercial fishing and it has worked to establish programs and advance regulatory changes through the Kentucky Fish and Wildlife Commission to enhance the effectiveness of commercial fishing for invasive carp. Murray State continues to support the region's economic growth and development by way of partnerships with public and private entities.
Together, they hope to leverage their resources and networks to:
Work with commercial fishers to innovate ways to industrialize the harvest of invasive carp to further reduce and control these populations

Streamline administrative processes and expedite approvals for innovative and effective harvest

Support the origination of individual entrepreneurs utilizing invasive carp in their business model

Work with local, state and federal partners to develop infrastructure to facilitate invasive carp processing in the region

Support commercialization and take-to-market efforts

Develop a regional plan and approach through multi-state organizations to address the problem of the invasive species
"To achieve that level of impact will require multiple partners with unique resources and skill sets," said Joshua Tompkins, a fisheries biologist for Kentucky Fish and Wildlife who helps to coordinate invasive carp abatement efforts in Kentucky. "Having access to Murray State's Arthur J. Bauernfeind College of Business can provide an opportunity to the industry for guidance in creating business plans and seeking financial incentives, and ultimately be a model for other areas that are interested in supporting similar invasive species management."
For more about the partnership, including how to get involved, contact Joshua Tompkins at joshua.tompkins@ky.gov about commercial fishing and Chris Wooldridge at cwooldridge@murraystate.edu about the invasive carp processing industry.
About Murray State University: Since 1922, Murray State University has provided a collaborative, opportunity-rich living and learning community that fosters personal growth and professional success through a high-quality college experience. Students receive support from inspiring faculty and staff and will join a distinctive campus community — the Racer Family. With nearly 10,000 students, Murray State prepares the next generation of leaders to join more than 80,000 successful alumni who make a difference in their community, across the country and around the world. We are Racers. The University's main campus is located in Murray, Kentucky, and includes five regional campuses in Ft. Campbell, Henderson, Hopkinsville, Madisonville and Paducah.
To learn more about Murray State University, please visit murraystate.edu.