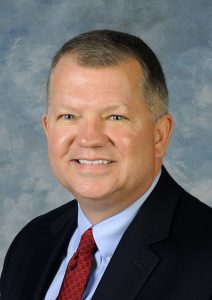 FRANKFORT, KY (May 25, 2023) – The Juvenile Justice Oversight Council (JJOC) will conduct its first meeting since the enactment of the 2023 Legislative Session's' Senate Bill 162, which was the start of a long-term reformation of Kentucky's Department for Juvenile Justice and a commitment to finally address the needs of juveniles with serious mental illness. It appropriated more than $25 million to DJJ for staff salaries, facility security upgrades, transportation costs and enhanced programming. Additionally, it provided the Department of Corrections with $30 million in funding to increase new and current correctional officer salaries to a minimum of $50,000 annually.
Senate Bill 162 was sponsored and championed by Senator Danny Carroll, R-Benton, who was chair of the legislative DJJ work group. As a result of his invaluable contribution to the DJJ crisis, Carroll was appointed an ex-officio member of JJOC by Senate President Robert Stivers, R-Manchester.
Friday's JJOC meeting will include testimony from ex-officio council members, DJJ Commissioner Vicki Reed, and Kentucky Justice and Public Safety Cabinet Secretary Kerry Harvey. The meeting will begin at 11 a.m. EDT in Capitol Annex, Room 171.
"I am grateful for the opportunity to continue participating in discussions and efforts to repair our broken juvenile justice system," Carroll said. "I am eager to receive updates and hopefully learn that progress has been made since the legislature's passage of Senate Bills 162 and House Bill 3."
Via a provision championed by Senate President Pro Tempore David Givens, R-Greensburg, Senate Bill 162 also officially directed the Kentucky Auditor of Public Accounts' office to contract with a third party to conduct a thorough performance review of DJJ. The provision defined the authority of the third-party entity, the scope of the review, and provided the necessary funding for the audit, $500,000 in the current fiscal year.
House Bill 3, sponsored by Representative Kevin Bratcher, R-Louisville, appropriated almost $20 million to assess and redesign the Jefferson County Youth Detention Center in downtown Louisville.
ABOUT JJOC
The council's purpose is to provide an independent review of the state juvenile justice system and offer recommendations to the Kentucky General Assembly. The council's membership comprises six members of the Kentucky General Assembly and 12 citizen members.
The council was established in 2014 and was set to expire on July 1, 2022, before being reconstituted to operate until at least 2030. JJOC was administratively attached to the Kentucky Justice and Public Safety Cabinet. A provision of Senate Bill 162 attached JJOC to the Legislative Research Commission. House and Senate Judiciary Standing Committee chairs serve as co-chairs of the council. They are Senator Whitney Westerfield, R-Fruit Hill, and Representative Daniel Elliott, R-Danville.
Visit THIS LINK for more details on JJOC and to access past meeting minutes and meeting materials. Live legislative coverage of Friday's meeting will be available via the Legislative Research Commission YouTube channel.