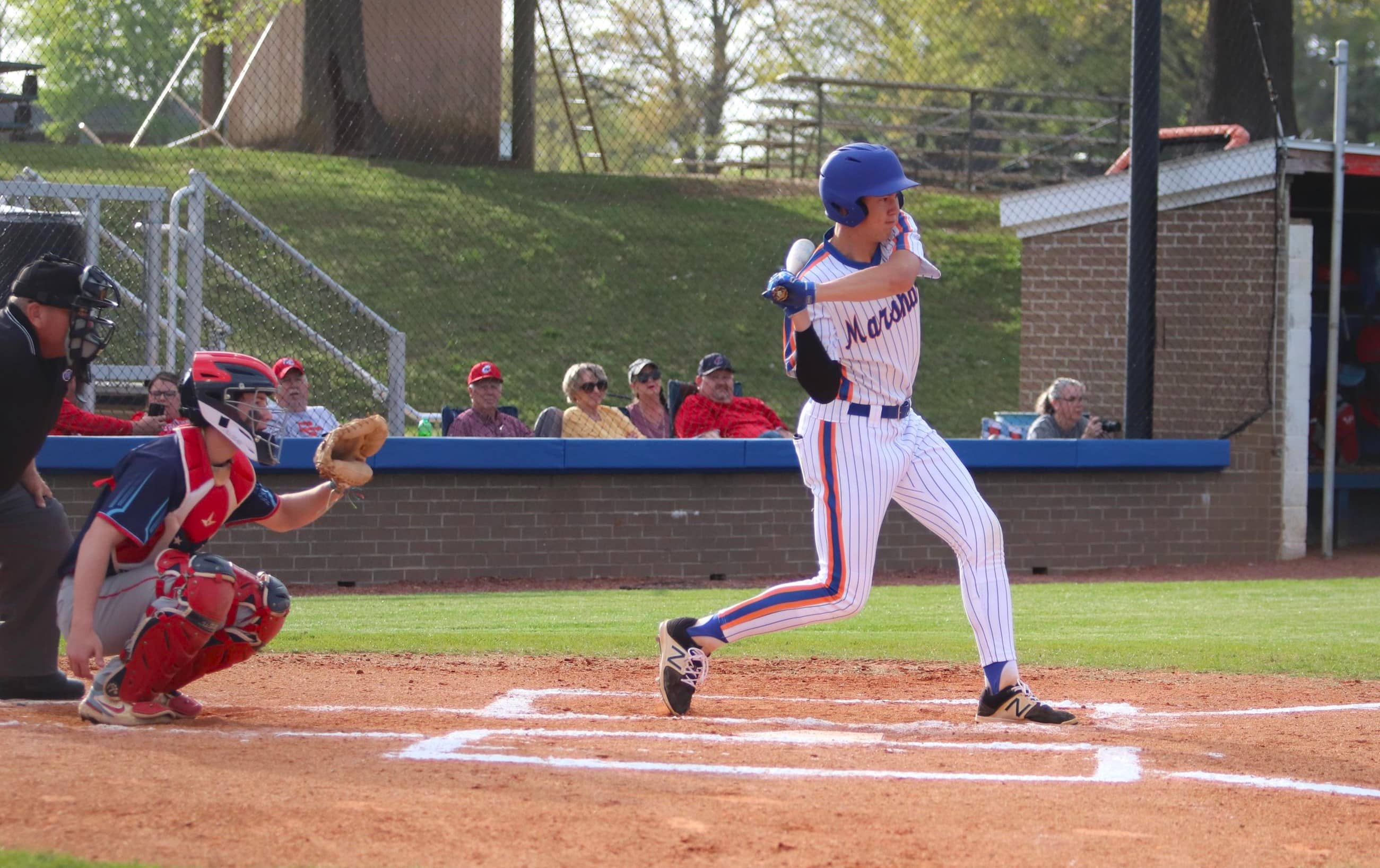 Marshall County's Marshals achieved a regular season district sweep over Calloway County this week. After Tuesday's 4-3 victory at home, the Marshals beat the Lakers 13-8 in Murray on Thursday to improve to 13-7 on the season.
The win came on 14 hits led by Ethan Landis who went 3-for-4 with a double and triple. Chase Shelton was 3-for-3 and brought in two runs. Gavin Clark in the clean-up spot and Alex Staples, each had four RBIs.
The Marshals utilized five pitchers with the win going to Clark with no earned runs and no hits in one inning on the mound.
Landis led the game off with a double followed by a single from Chase Shelton on a bunt. Clark hit into a fielder's choice which brought in the first run, Shelton and Clark scored on errors and Alex Staples made it a 4-0 game with Chase Hayden's line out to center field.
Calloway County cut the early Marshals lead in half in the bottom of the first inning on a 2-run home run by Cole Lockhart.
The Marshals hot bats continued in the second inning, putting three more runs on the board on a sacrifice fly by Shelton that scored Jace Driver who led off with a single. Conner McKinney hit a double that scored Landis who reached on a bunt and a single by Clark brought in McKinney for a 7-2 lead.
The Lakers closed the lead again with two runs in the bottom of the third but the Marshals stretched it back out to 9-4 with two runs in the top of the fourth. After leading off with a single, Shelton scored when Clark hit into a fielder's choice and Alex Staples brought in McKinney who reached when he was hit by a pitch.
The Lakers added another run in the bottom of the fourth which the Marshals answered, scoring one in the top of the fifth to lead 10-5. The Lakers continued to chip away at the Marshals lead with three more runs in the bottom of the sixth to cut the lead to two.
The Marshals put the game away in their 3-run seventh inning. They loaded the bases on a walk by Thomas Bagby and singles hit by Shelton and McKinney. A sacrifice by Clark brought in one run and Staples drove in two with a double to finish out the 13-8 win.
Saturday, Marshall County will host the Dinger Wooden Bat Classic. The Marshals will play Harding Academy, Tenn. at 10:00 a.m. in the first of three games. Harding Academy will play Gibault Catholic, Ill. at 12:30 followed by the Marshals taking on Gibault Catholic at 3:00.
Marshall    4  3  0  2  1  0  3   13  14  5
Calloway    2  0  2  1  0  3  0   8  5  4
Marshall (13-7): Landis 3/4 (2B, 3B), Shelton 3/3 (2 RBI), McKinney 2/4 (2B, RBI), Clark 1/4 (4 RBI), Staples 2/5 (4 RBI), Hayden 1/5 (RBI), Cope 1/4, Driver 1/4
Calloway (8-10): Cole Lockhart 2/2 (HR, 2 RBI), Conner Lockhart 1/2 (2B), McDaniel (RBI), Starks (RBI), Dennis 1/4 (2 RBI), Akin 1/4 (RBI)
Marshall: Oakley 3.0 (3 hits, 4 runs), Clark 1.0 (0 hits, 1 run), Driver 1.0 (1 hit, 3 runs), Bagby 1.0 (1 hit, 0 runs), Hayden 1.0 (0 hits, 0 runs)
Calloway: Pingel 1.2 (5 hits, 7 runs), Akin 5.1 (9 hits, 6 runs)