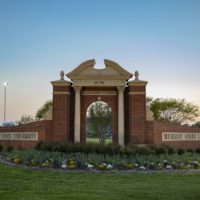 MURRAY, Ky. – Rick and Susie McDonald, parents of the late Randall Lee McDonald, have infused the Randy Lee McDonald Memorial Scholarship in memory of their son with a major gift of $100,000 to be available for current awards to Murray State University.
The McDonalds established this scholarship several years ago with the Murray State University Foundation as a way to memorialize Randall's fun-loving, competitive spirit and assist Murray State students with their educational and career goals. Now, the family has given the scholarship a major boost in funding, allowing them to touch the lives of many more students.
"These awards are so timely – some of Randall's friends' children would be college-aged, and he would love to know that his scholarship is helping them reach their dreams of attending Murray State University," said Rick McDonald. "Randy loved the Lyon County community and west Kentucky. We want to help that legacy continue in his name."
"We want to thank Rick and Susie for their generous gift in honor and memory of their son Randy," said Murray State University President Dr. Bob Jackson. "Rick and Susie never forgot their roots and are extremely supportive of the University, western Kentucky and especially Lyon County. We are deeply grateful for their support."
Randall grew up in Texas and was awarded a scholarship to pitch for Texas A&M University in 1978 and 1979. Later in life, he returned to his family's western Kentucky roots, and like many family members before him, enrolled at Murray State University. He graduated in 1994 with an accounting degree, passing all four parts of the CPA exam on the first try and attaining the highest score that year in Kentucky. Randall sadly passed away at a young 42 years of age in 2001.
Through their generous gift, his family allows Randall's legacy to live on through current and future Murray State students who dream big and work hard just like he did.
For more information about the Randy Lee McDonald Memorial Scholarship and how to contribute or apply, please contact Dr. Tina Bernot, executive director of development at cbernot@murraystate.edu or 270-809-3250.
About Murray State University: Since 1922, Murray State University has provided a collaborative, opportunity-rich living and learning community that fosters personal growth and professional success through a high-quality college experience. Students receive support from inspiring faculty and staff and will join a distinctive campus community — the Racer Family. With nearly 10,000 students, Murray State prepares the next generation of leaders to join more than 80,000 successful alumni who make a difference in their community, across the country and around the world. We are Racers. The University's main campus is located in Murray, Kentucky, and includes five regional campuses in Ft. Campbell, Henderson, Hopkinsville, Madisonville and Paducah.
To learn more about Murray State University, please visit murraystate.edu.