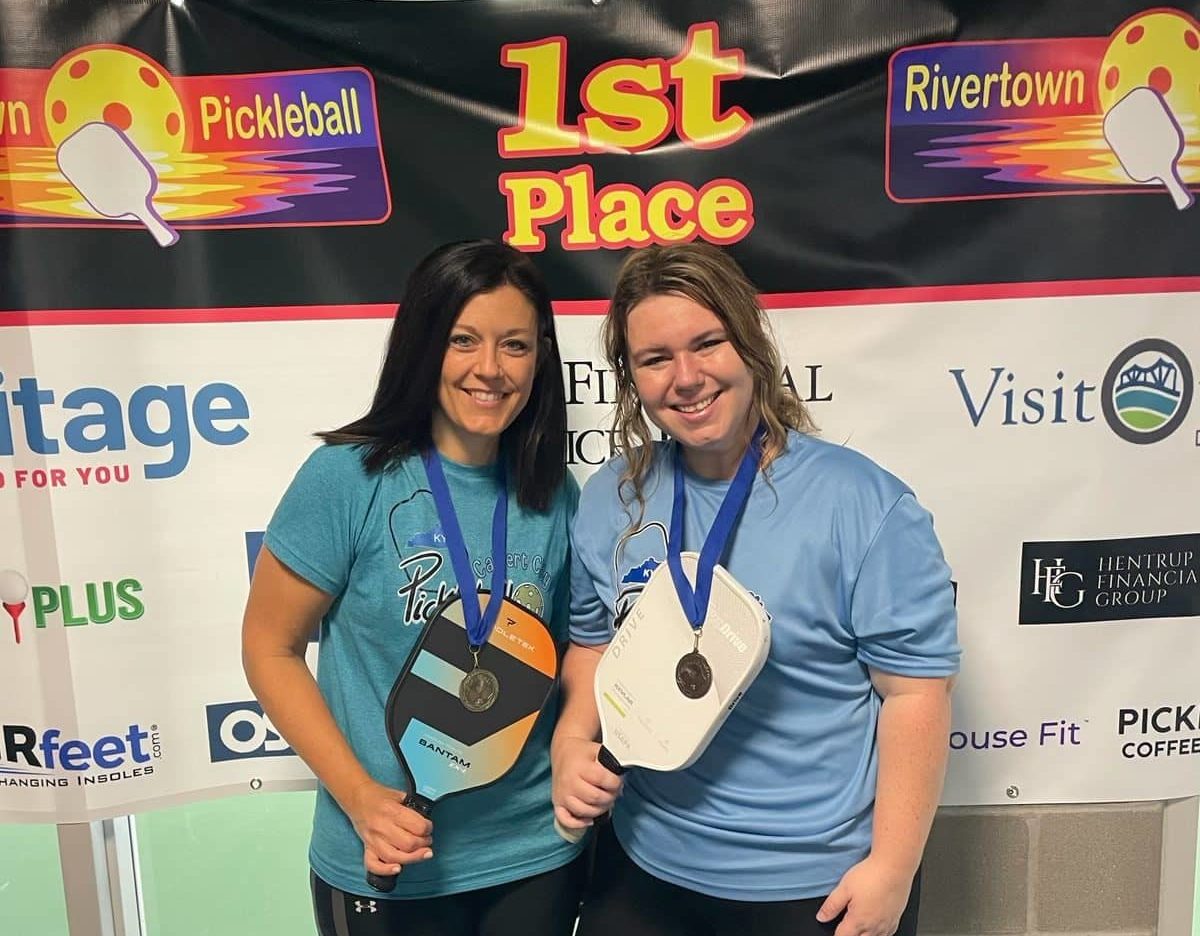 Some great pickleball was played at the Merchant Centre Court Tennis Center in Owensboro over the weekend. Hosted by Rivertown Pickleball Southern Indiana, proceeds are going to the new RPSI 10 court complex being built in Newburgh Indiana. With 365 entries over three days on 14 courts, players from far Western KY brought home 11 medals – 4 Gold, 2 Silver and 5 Bronze.
CCPB players work hard training, encouraging, and supporting one another and that work paid off for players. Jenny Travis and partner Haley Jamison won Gold in 4.5 Women's Doubles. Travis said afterwards, she went into this tournament with no expectations and feeling no pressure. It's the first time a CCPB player has medaled in a 4.5 event striking Gold.
Marvin Travis and Kayla Travis also had a great tournament placing 4th in 4.5 Mixed Doubles and Kayla and Kayla Yeh placing 4th in 4.5 Women's Doubles. Just a few years ago the Travis' were competing in 3.0 tournaments, now CCPB players newer to the game are winning at the 3.0 level and are going to be knocking at that upper-level door.
Peter John partnered with Amy Lockwood (her first medal) to win Silver in 3.0 Mixed Doubles and partnered with Mike Omar (his first medal) to win Bronze in 3.0 Men's Doubles.
Gold Medal Winners:
Jenny Travis and Haley Jamison – 4.5 Women's Doubles
Trina Eaton and Chris Operle – 4.0 Women's Doubles 50+
Kent Cadwell and Mike Wooten – 3.0 Men's Doubles 50+
Silver Medal Winners:
Peter John and Amy Lockwood – 3.0 Mixed Doubles
Bronze Medal Winners:
Trina Eaton and Chris Operle – 4.0 Women's Doubles 19+
Peter John and Mike Omar – 3.0 Men's Doubles 50+
Cheyanne and Jordan Ludovissie – 2.5 Mixed Doubles
Other participants included:
Todd Dotson, Chad Hunt, Brent Thompson, Brigette Thompson, Jacob Hill, Rhiannon Greer, Justin Stockdale, Kasey Miley, Austin Stockdale
Darlene and Parvin Latta
USA Pickleball Ambassadors Marshall County