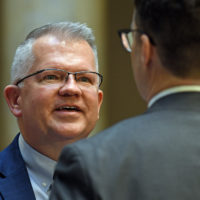 Commonwealth of Kentucky
Senator Danny Carroll
Water and Wastewater, Economic Development 
and Tourism Among Beneficiaries
FRANKFORT, KY (January 12, 2023) – Marshall County is set to receive nearly $12 million in federal grant funding for various projects throughout the county, including improvements to residents' water and wastewater services, traffic and access points at the industrial park, high school technical center and to strengthen the marketing efforts of local tourism.
Improvement Coming to Marshall County Residents' Water and Wastewater Services:
Calvert City
The city is awarded $300,379 to improve the city's existing water treatment plant pumping and control systems. The improvements will include the addition of variable frequency drives to the existing high-service pumps and actuator valve(s) and replacing the system PLC and HMI control systems.
Calvert City is also awarded $180,400 for a project that includes replacing approximately 530 linear feet of existing cast iron water main with a history of breaks and low service levels near the city's water plant.  The proposed project will replace the crossing at Cypress Creek with a new HDPE water main.
Hardin
The city is awarded $480,000 for Phase three of its wastewater rehabilitation project.  Phases one and two were completed in 2007 and 2012.  These budget-driven projects addressed some mainline sewer issues and significant manhole rehabilitation. Phase III will continue those efforts.
North Marshall
The North Marshall Water District is awarded $480,779 for a project replacing approximately 2.8 miles of 3-inch, 4-inch, 6-inch and 8-inch water lines in an area damaged by December 2021 tornadoes. The project includes main replacement, service line and meter replacements of mains along Cambridge Shores Drive, Concord Drive, Paradise Point, Piedmont Street, Sunset Drive, Lakeshore Drive, Cape Fear Drive, Lexington Drive, Kentucky Avenue, and Woolridge Street.
"I'm thrilled to see the Kentucky General Assembly's investment of one-time federal funds finding their way to Marshall County—notably the additional $250 million allocated for cleaner water and wastewater improvement projects in the 2023-24 budget," state Senator Danny Carroll, R-Benton, said. "Calvert City, Hardin and North Marshall residents will see a notable improvement thanks to these awards."
Funding for water and wastewater improvements authorized by Carroll and the Kentucky General Assembly is distributed through the Kentucky Infrastructure Authority (KIA), which allocates funding to projects meeting the state's Cleaner Water Program grant criteria. Since 2021, the Kentucky General Assembly has allocated $500 million in one-time federal funds for water and wastewater infrastructure improvements across the commonwealth.
Fiscal Court Awarded $527,128 to Improve Industrial Park Access Points:
These funds come through the Delta Regional Authority's (DRA) States' Economic Development Assistance Program, which strategically invests in helping improve the quality of life and boost economic development opportunities in the 252 counties DRA serves.
"I appreciate the Delta Regional Authority's investment in west Kentucky's economic success," Carroll said. "Each of my counties in the 2nd Senate District falls within the footprint of the DRA's States' Economic Development Assistance Program. The significant funding awarded to improve infrastructure and access to our industrial park is welcomed wholeheartedly. Local officials have done a superb job working with the Department for Local Government, making a case for why this project deserves this award money. I truly appreciate everyone involved in making this project possible."
Marshall County Tourist and Convention Commission Awarded $163,199 Thanks to Senate's $75 Million Proposed Allocation in the 2023-24 State Budget:
In light of the negative impacts of COVID-19 and government restrictions devastating Kentucky's tourism industry, the Senate championed appropriation of $75 million to Kentucky's Tourism, Arts and Heritage Cabinet. The governor did not include this funding in his budget proposal. It was first included in the Senate version, finally making it into the final version of House Bill 1, the 2023-24 biennial budget.
"Kentucky's tourism industry took a significant hit during the COVID-19 pandemic. The Senate recognized the harm the industry endured and provided support for Kentucky's tourism industry," Carroll said. "I am pleased our Marshall County tourism commission will receive a share of those funds to help bolster our local efforts."
Marshall County Local Area Vocational Center Receiving $9,590,200 for Renovation Project:
Carroll and the Kentucky General Assembly provided historic state funding for Local Area Vocational Education Centers (LAVEC) in 2022. Marshall County's funding share comes from an allocation of $155.6 million in ARPA funds in the 2022-23 budget specifically for LAVEC renovations.
"Since 2017, Kentucky has received significant outside economic investment and job creation, so we must continue addressing workforce challenges so that we can fill job openings," Carroll said. "Our local vocational schools are vital in preparing a skilled workforce. Renovations to the Marshall County High School Technical Center help achieve that goal."