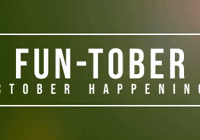 The month of October is filled with festivals, events, charity events, and fun, not to mention the breathtaking colors, in Grand Rivers. Plan your visit to lakes today!
The 46th Annual Hunter's Moon Festival will take place Saturday, October 8, 2022. The event is sponsored and hosted by the Grand Rivers Chamber of Commerce. The event will include food & retail vendors, children's activities, a kids costume parade, live entertainment, a parade, and more.

Prizes will be awarded for parade floats, 1st place ($500), 2nd place ($300), and 3rd place ($200). Additionally, the Best/Coolest Parade Car and Best Decorated Golf Cart will be awarded $100 each.

*all vendor space for 2022 has been filled
Jack is back and up to his old tricks (and new treats) for the 2022 "Great Pumpkin Hunt"! Starting October 17, 2022, Jack will make his way through town hiding sparkly pumpkins all around.

Watch the Grand Rivers Facebook page for a list of clues that will help you find the pumpkins!

To play Jack's "Pumpkin Hunt", find the pumpkins throughout town, take a picture of you with the pumpkin found, and return the pumpkin where you found it. Post your photos in the comments of the pinned post on the Grand Rivers Facebook page to win one of the great "Boo-Baskets". Winners will be announced on October 26, 2022.
Amelia's Run will take place on Saturday, October 22, with the 5K and 10K runs starting at 8 AM, and (New for 2022) the Kid's Fun Run beginning at 9 AM. This is a charitable run in memory and honor of Amelia B. Wilson, resident, and friend of Grand Rivers. The run is a benefit event to raise funds for the Kentucky Organ Donor Affiliates. In addition to the run, there will be kids' activities for those participating in the Kid's Fun Run. This event is for a great cause in memory of a great person and all participants (whether runners or runner supporters) are invited and welcome to attend. The run is managed and coordinated by Durbin Race Management.
Grab your broom, put on your witches' shoes, and get ready to run a muck, a muck, a muck, on Saturday, October 29th, at 7:00 PM at the Badgett Playhouse! Enjoy the FREE showing of "Hocus Pocus" presented by the Badgett Playhouse and sponsored by the Grand Rivers Tourism Commission. Come in costume for the costume contest!

The film is licensed by Swank Productions® for the one-time public showing.
The annual Grand Rivers Trunk-Or-Treat is always held on October 31 from 5 PM – 7 PM. The event is open for all Trick-Or-Treaters from all counties to come and enjoy.

Community members, businesses, organizations, and churches, set up 10 x 10 treat booths inside the Grand Rivers Community Center, outside under the covered porch, decorate trunks, golf carts, and make amazing displays and hand out treats (most in costumes). This event is more than your regular "trunk-or-treat", it's a Halloween experience that has become a tradition not only for the trick-or-treaters but, those competing to be the best treat booth at the event! The best treat booth receives the "Best Booth" Trophy and $100, 2nd place will receive $50, and 3rd place $25. There is no fee to set up a treat station but, registration is appreciated to assist with coordinating the event. Approximately 750 attendees in 2021!
Christmas Cards In The Park – 2021 Winners
The "Christmas Cards In The Park" contest is back for 2022 and registration is open!

Participants will be given a 4′ x 8′ sheet of sign material to paint, decorate, and embellish to create a giant Christmas Card that will be displayed in Little Lake Park during the Festival of Lights.

Spectators will have an opportunity to vote on their favorite card throughout the holiday season with the 1st place card receiving $500, 2nd place $300, and 3rd place $200.

The entry fee is $75.

Only 15 entries will be accepted for the 2022 contest so, reserve your space now!

You will be contacted when the sign material arrives and is ready for pick up.