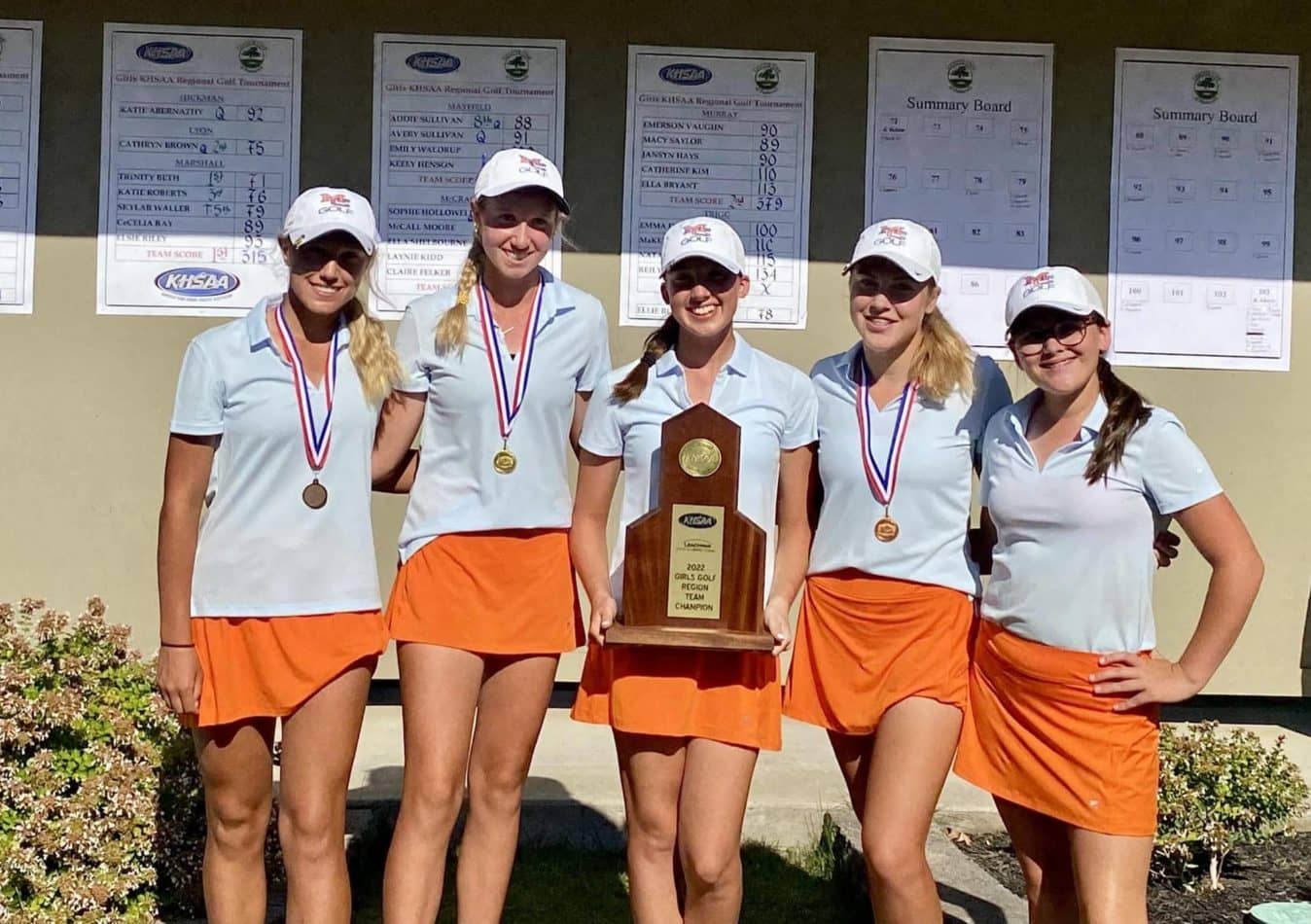 The Lady Marshals golf team won their sixth straight Regional Championship on Monday at Paducah Country Club. The win came by 54 strokes over second place Murray.
Trinity Beth, last year's Region 1 Player of the Year and Kentucky Ms. Golf, won the individual title for the second time with a 1-under 71 – four strokes better than last year's winner Cathryn Brown from Lyon County in second, who Beth finished runner-up to in 2021.
Following Beth, two other Lady Marshals finished in the medals on Monday. Katie Roberts finished third with a round of 76 and Skylar Waller shot 79 to finish in a tie for fifth. CeCelia Ray shot 89 and Elsie Riley 93.
Both Marshall County and Murray will advance to the sub-state tournament, a different format this year in high school golf.
Team scores: Marshall County 315, Murray 379, McCracken County 391, Mayfield 399
Joining the five Lady Marshals advancing to the sub-state tournament, Murray team members are Macy Sailer 89 (Murray), Emerson Vaughn 90 (Murray), Jansyn Hays 90 (Murray), Katherine Kim 110 (Murray) and Ella Bryant 113 (Murray).
Ten not on teams qualifying as individuals, Cathryn Brown 75 (Lyon County), Ellie Roof 78 (St. Mary), Madison Glisson 79 (Ballard Memorial), Sophie Hollowell 79 (McCracken County), Addie Sullivan 88 (Mayfield), Javen Campbell 91 (Calloway County), Avery Sullivan 91 (Mayfield), Katie Abernathy 92 (Hickman County), McCall Moore 96 (McCracken County) and Claire Knoth 99 (Caldwell County).
They will tee it up in the first round of the KHSAA Girls' State Golf Championships at Owensboro Country Club on Tuesday, Sept. 26.