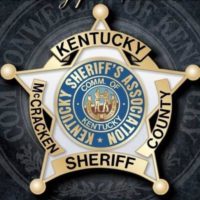 On September 17th, 2022, at approximately 4:15pm, A Deputy with the
McCracken County Sheriff's Office conducted a traffic stop on Yarbro
Ln. The vehicle was a 2004 Harley Davidson Motorcycle driven by
50-year-old Allen S. Nesler of Calloway County, KY.
During the investigation, Nesler gave Deputies a forged government
issued operator's license with a name that did not belong to him.
Through a more extensive investigation, Nesler's identity was
confirmed. It was confirmed that he had two outstanding active
warrants for his arrest. These warrants were for Trafficking Crystal
Methamphetamine and Probation Violation in Calloway County.
Also, during the investigation it was discovered that Nesler was in
possession approximately 18.0 grams of Crystal Methamphetamine, U.S
Currency, and other items related to Drug Paraphernalia.
Nesler has an extensive dangerous criminal history dating back over 20
years involving Robbery, Trafficking Methamphetamine, and Firearm
related charges.
Nesler was arrested and transported to the McCracken County Regional
Jail where he was lodged. Deputies were assisted by the Kentucky State
Police.
Arrested: Allen S. Nesler, 50 of Calloway County, KY
Charges:
* No Registration Plates
* Failure to Maintain Insurance
* Failure to Notify DOT of Address Change
* Theft of Identity W/O Another's Consent
* Criminal Possession of a Forged Instrument 1st Degree
* Giving Officer False Identifying Information
* Criminal Trespass 1st Degree
* Possession of Drug Paraphernalia
* Trafficking in a Cont. Sub. 1st Degree > or = 2gs(Methamphetamine)
Thank you,
Deputy J. Hayden U/21
McCracken County Sheriff's Office