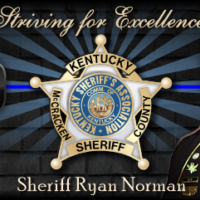 The McCracken County Sheriff's Office arrested two West Paducah women Tuesday afternoon on drug offenses following the execution of a search warrant on Lauren Lane in McCracken County.
McCracken County Sheriff's Office drug detectives conducted an investigation that revealed that Crystal Methamphetamine was being sold from 2839 Lauren Lane in the West Paducah area of McCracken County. Detectives obtained a search warrant for the residence and executed it on Tuesday afternoon. During a search of the residence detectives seized approximately 50 grams of Crystal Methamphetamine, Marijuana, digital scales, a loaded handgun, and assorted drug paraphernalia.
Detectives arrested 59-year-old Anita Cathey and her 29-year-old daughter Chelsea Vargas who were both living at the residence. Four children who were living at the residence were released to family member under the direction of cabinet for families and children.
Both Anita Cathey and Chelsea Vargas were lodged in the McCracken County Regional Jail.
Arrested: Anita F. Cathey 59, of Lauren Lane (McCracken County)
Charges: Firearm enhanced trafficking in Methamphetamine, possession of Marijuana and possession of drug paraphernalia
Arrested: Chelsea L. Vargas 29, of Lauren Lane (McCracken County)
Charges: Trafficking in Methamphetamine, possession of Marijuana and possession of drug paraphernalia