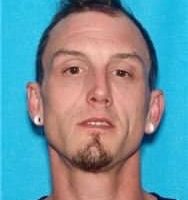 Hendersonville Police, Metro Police Department, Millersville Police Department. FBI Task Force, THP, and TBI. The investigation by each of the above jurisdictions working in unison led to Edwards being located in Louisville, KY. He engaged in a shootout with Kentucky State Police and Edwards is deceased.
Officer Cameron Ferrell was hired by Hendersonville Police Department on June 28, 2021. He was shot one day prior to his one-year anniversary. Prior to his employment with Hendersonville Police Department he worked at Gallatin Police Department for several years. He currently works on the "B" detail (1430 hrs to 2300 hrs) and is a member of the Hendersonville SWAT team. He has been released from the hospital and is recovering at home.
The gunman has been identified as Samuel Quinton Edwards, 34. He is wanted for shooting a
Hendersonville, TN Police Department
police officer tonight (non-critical) during a pursuit. The suspect abandoned his van on Gibson Drive in Madison and fled on foot. He is armed with 2 guns and officers have blanketed the area. A pickup truck with the keys left inside has been stolen from near the gunman's last known location. It is a
white 2009 Chevy Silverado. It has multiple dents, is missing the front grill and has front bumper damage. TN tag 88F-W55. See it? Call 911.
See him? Call 911 immediately.